What's more 'Burgh than having "berg" in your last name? Winning championships, for one, and ever since U.S. women's national team defender Meghan Klingenberg was a soccer player at Pine-Richland High School in Gibsonia, Penn., winning titles is all she's known.
The first title for "Kling," as she's commonly known to teammates and fans, came in 2005, as the Pine-Richland Lady Rams pulled off a major upset in the state finals when they knocked off then-No. 1 ranked team in the nation, Owen J. Roberts High School, on a first-half goal where Klingenberg got the assist.
The moment, as evident by the reactionary photos, is a memory the now-27-year-old Olympian still cherishes.
"That's a big moment, to win the state title with girls you were playing with since you were 6," the Gibsonia native says. "The World Cup trumps that one, of course, but looking at your first, it's kind of special. It shows you that it's worth it to go after a goal and to go after wanting to be your personal best."
But Kling's passion for soccer started long before she was a Lady Ram. In fact, it started in her grandma's backyard, playing with her cousins.
"Wow. That's a way-back question," Klingenberg says during a phone interview. "I first got interested (in soccer) because my cousins played. … Anything they did, I wanted to do."
Playing with her cousins in the backyard helped introduce Klingenberg to the game she's grown to love. But when asked how much she looks back at her time playing at Pine-Richland helped to prepare her for her current career as a member of the U.S. Women's National Team, a member of the 2016 U.S. Olympic team and standout for the NWSL team Portland Thorns FC, Klingenberg says high school didn't play as big a role as you may think.
"I wouldn't say that high school really prepared me. For me, it was about club soccer and the individual stuff on the side to help me perfect my skills," she says. "It wasn't about the game. It wasn't about the championships. It was about putting in the work when no one else was. I enjoyed doing those things."
Work, Work, Work, Work, Work
To get to the level she wanted, Klingenberg knew it was the behind-the-scenes work that would elevate her game to become one of the best in the world. To help her out, she enlisted the help of Joenal Castma, a former professional soccer player for teams including the Pittsburgh Riverhounds and former assistant coach with the Pitt women's soccer team.
"I still talk to him a bit. He's such an awesome guy," Klingenberg says. "When I was 14 until I was 18, I did one-on-one training with him. We would practice, jeez, twice a week, three times per week every single week."
"I met Kling one day on the pitch, and, at the time, she did not play for me, but I started training her," Castma says. "I recall asking her, 'What do you want to do with soccer?' Her response to me was, 'I want to play on the USWNT.' At that point, I thought, 'I have a girl with huge aspirations.'
"I recall saying, 'You can do whatever you want, as long as you are willing to put the time in.' The next four years, she came to play for me while I was also training her."
Klingenberg, who remains close with Castma, saw her mentor during the World Cup — he attended the Finals with her family.
Her dedication to the sport still stands out to Castma.
"Rain or shine, Kling and I were outside training. I recall one day it is was pouring outside, and I asked if she wanted to cancel, but she said, 'No, I'll meet you at the field,'" the Haitian-born Castma says. "With her motivation and drive, I could never say no. I knew she was determined to make it."
Klingenberg said Castma's knowledge of the game from a professional level helped her a lot, and not just with the techniques on the field.
"We would do all of these drills, and that helped me immensely because he knew what the professional level and touch was like," Klingenberg says. "Using his knowledge and expertise, I was able to get a lot better in a short amount of time. Of course, there were others that were incredible, as well. But no one put in as much effort as he did."
While Castma did push Klingenberg to be the best, it was easy for him, as it was always Klingenberg's desire to be the best player on the pitch, so she always drove herself to succeed.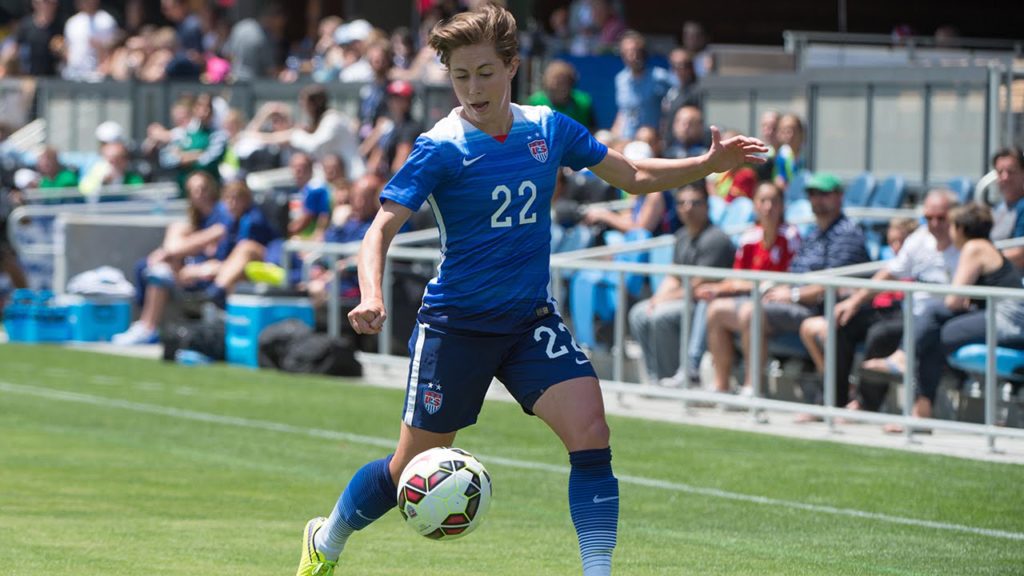 "She pushed herself more than I pushed her," Castma says. "I would always challenge her every week, and she mastered everything I showed her. So, again, she put in the time and training, and I gave her some tools. We always set goals, and she would achieve the goals within a week or two at most. Keep in mind, these were big goals.
"Meghan is the perfect example of a player who pushes themselves to be the best they can be. Despite all of her accolades, she remains extremely humble. When speaking with her, you would never know she is a World Cup champion. She also comes from an amazing family who also possess these characteristics of achieving goals and remaining humble."
Before becoming a World Cup champion, Klingenberg applied the lessons she learned from Castma to become a high school All-American, which led to her desire to play at the next level. With nearly eight million high school students playing sports, and only 480,000 of them playing collegiately, according to the NCAA, Klingenberg was able to live out one dream, but the dream of becoming a member of the USWNT was the ultimate goal.
"That was always a dream, yeah. That was always something I pictured myself doing, but I didn't know if it was realistic," Klingenberg says. "I just wanted to work hard to do that. I set my mind out to do that, and, thankfully, it happened. That's pretty darn cool."
Going To The Chapel
Before becoming the starting at left-back for the U.S., Klingenberg left Pittsburgh and headed south to attend the storied soccer program at the University of North Carolina under head coach Anson Dorrance, a member of the National Soccer Hall of Fame.
Dorrance, who has been the head coach of the Tar Heels women's soccer team since 1979, is widely regarded as one of the top college coaches of all time. His 22 national titles and winning percentage of more than 90 percent backs it up.
The growing list of successful alumni continues, as seven former Tar Heels women's soccer players are heading to Brazil for the Olympics, including Klingenberg.
"Obviously, it starts with selecting kids like Meghan who are special. Let's not pretend any differently," Dorrance says. "These are great kids, and we have been lucky. Our training methodology and training is unique. We train them in the Competitive Cauldron. They are competing in that it is a fact of public record."
The Competitive Cauldron is an intense form of one-on-one training that Dorrance uses at Chapel Hill, which, according to Dorrance, has been implemented by coaches such as Pete Carroll of the Seattle Seahawks.
"It's not for the faint of heart," Dorrance says. "It's for women who take responsibility. Our environment creates a competitive and hardened soccer warrior. I believe this makes a big difference in making a kid get to their potential."
Dorrance first met Klingenberg when she attended one of his summer camps when she was in high schoo. While he was impressed by her skills, something out stood out to Dorrance more.
"I liked everything about her," Dorrance says. "The quality that I liked the best is that she has this wonderful confidence about herself. One of the biggest issues in young women and young women in sport is that they have so many different confidence issues. She had this incredible desire to succeed.
"A part of her persona was that she had an engaging and attractive confidence. It wasn't arrogance, but it was a fun-loving confidence with a bit of bite in it, which always amused me and always entertained me."
Her freshman year at Chapel Hill, Klingenberg knew she had her work cut out for her.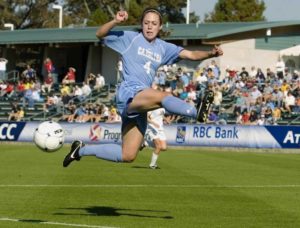 "I was just trying to make the starting team," Klingenberg says laughing. "They just won the (NCAA) title. I knew all of the girls, and my focus was to get as much playing time and experience as I could."
Klingenberg earned her playing time, starting 10 games as a freshman, 20 as a sophomore, 26 as a junior and being named Second Team All-America in her senior season.
"I can't say enough good things about Dorrance and my time at North Carolina. He's one of my favorite people in the world. I respect his thoughts and opinions so much," Klingenberg says. "He and the coaching staff have cultivated an incredible program through sheer effort. The culture that they have there and that they instill, I know they will be good for years to come because of the way they live their lives and the way they treat the girls.
"It's a really special place and environment. Not everyone can go there and can handle it, but those who do, we form a very special bond. I can't say enough good things about the program."
Dorrance echoed Klingenberg's sentiments about the program that it isn't for the faint of heart. And it's not always easy to spot who will be able to handle the pressure right away.
"It's very difficult to spot. Also, it's not always attained immediately," Dorrance says. "A favorite story of mine is Carla Overbeck. In her freshman year, she struggled with competing. We believe in training our players to duel, and winning all one-on-one competitions. It's honed in our Competitive Cauldron.
"In her freshman year, she didn't win one duel in any of the five ladders. She didn't beat anyone. In her senior year, she didn't lose a duel. She decided to compete between there. The ones that can figure out leave with it. The ones that leave with it are the ones that are on the U.S. roster."
Klingenberg joined names like Overbeck, Mia Hamm, Tobin Heath and countless other Tar Heel alumni to be named to represent her country.
"I kept getting chances and getting called in front of the coaches. I got to see it every day," Klingenberg says about her selection to the national team. "When I wasn't at that level, I knew I had to get better. For me, it was an interesting battle to get to where I am."
Returning Home With The Gold
After being named an alternate during the 2012 Olympic Games in London, Klingenberg got her chance to shine on the national stage when she took part in the 2015 World Cup as a starter.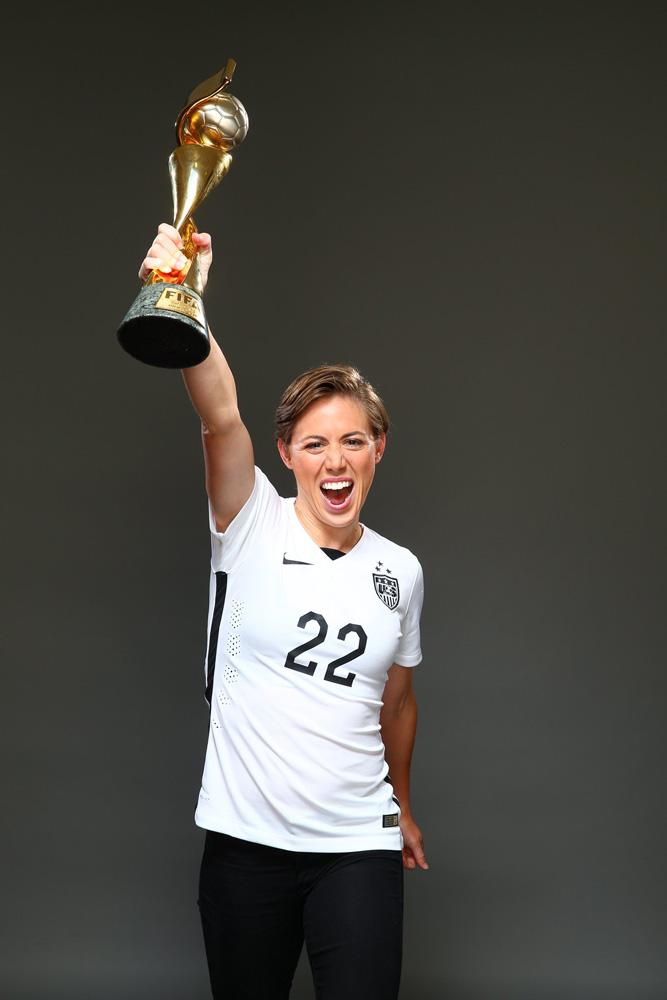 In the championship game, the U.S. lifted the trophy after a stunning 4-0 blowout of Japan. Despite being asked many times what it felt like to play in that game, Klingenberg struggles to put the moment into words.
"I get asked this question in probably 80 or 90 percent of the interviews I do. There's no way to describe those emotions," she says. "It's elation and satisfaction. It's also scared to death that we could get scored on and lose. It's a realization of a childhood dream. You can't put words to it.
"My goals have never been winning a World Cup or anything like that," Klingenberg says. "For me, it was always about getting better and better and better. All of these championships are a product of that goal of being my personal best."
Sitting there in the stands was Castma, who says he takes pride in Klingenberg's success.
"Rain or shine, the sweat and hard work was worth every second," Castma says.
And what better way to celebrate a World Cup victory than to return home to where it all started? Following the victory, on Aug. 16, 2015, the USWNT team took to the pitch for the first time since winning the World Cup in Heinz Field, the home of the Pittsburgh Steelers.
In front of her family and friends, Klingenberg and the rest of the U.S. women's team defeated Costa Rica, 8-0. A win for the team in and of itself would have been sweet enough, but, in the 55' minute, in front of 44,028 fans, Klingenberg buried a cross in the back of the net to give the women's team a 5-0 lead, and she ran over to the bench to celebrate.
When she got there, a special present was waiting for her: a Terrible Towel.
"The Terrible Towel was not planned. Honestly. Coach told me to run over there if I scored," Klingenberg says. "She threw a towel to me, and it was perfect execution — like she was (Steelers quarterback) Big Ben. Scoring in front of my friends and family and in my hometown is up there with the World Cup win. You don't get to do something like that too often.
"I loved sharing it with the Pittsburgh Fans. I know how much support they have given me. Celebrating with them is incredibly special."
Carrying The Torch
Up next for Klingenberg is a trip to Rio de Janeiro to represent the U.S. in the Olympics. With all the worries surrounding the Olympics, Klingenberg says she's excited but still has some nerves — but not because of the fears surrounding Brazil's ability to successfully pull off the Olympics.
"There are always nerves with a world tournament. There is so much pressure, and they are exhausting. It's always nerve-racking," she says. "It's super exciting, though. It's pretty cool to be able to call yourself an Olympian. When someone called me that the other day, it kind of stuck with me.
"I thought of it, and being able to say something like that is special. I've been trying to take it all in with the down time I've had. I think we are ready, and I think we have a great shot at winning and playing well. I'm excited."
Each step of the way, she'll have her city, family, friends and former coaches supporting her and watching her from up close and from afar.
"I will not miss a game," Castma says. "Kling is enjoying these years, and, personally, I think she is only getting started."
Featured image credit: Simon Bruty/Sports Illustrated