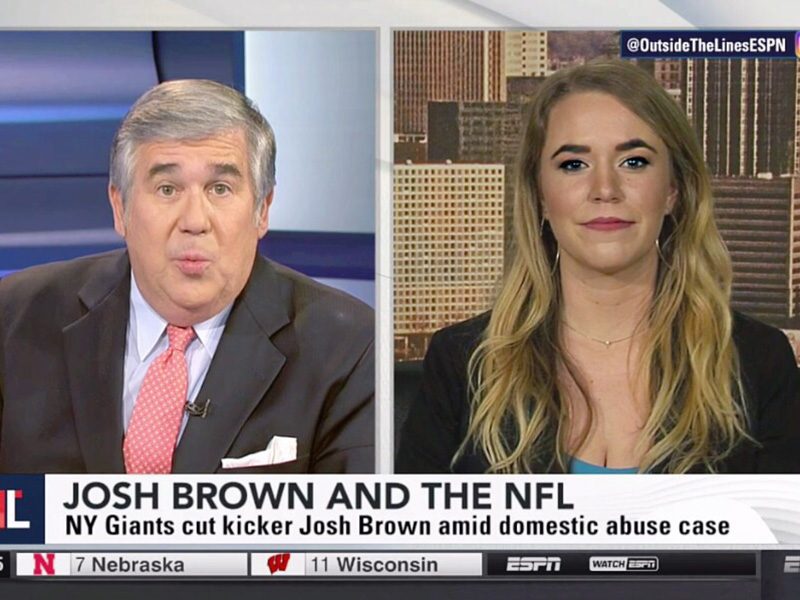 (Screenshot via ESPN)
Pittsburgh Sporting News editor-in-chief Shannon Carroll appeared Wednesday on ESPN's "Outside the Lines" to talk about domestic violence in the NFL and, particularly, the case surrounding New York Giants kicker Josh Brown.
She was brought on the program to talk about her recent piece on PSN, "The NFL has a clear double-standard regarding domestic violence." In her piece, Carroll wrote that she has been a football fan for as long as she can remember and that — until recently — she had never questioned her devotion to the sport.
She wrote: "The NFL's handling of domestic violence cases — right now, particularly the case of Giants kicker Josh Brown — has me wondering why I support a business that doesn't support women like me and that allows abusers to have a place in its league."
Brown was suspended for one game at the start of the season for domestic violence issues before more details came out (including journals detailing the abuse) and there was a public outcry.
Carroll told "Outside the Lines" host Bob Ley that she sees the league's stance regarding domestic violence as hypocritical.
She told Ley: "The league claims it cares about women, it claims that it cares about issues like domestic violence, but nothing it's done — even in the last two years — has shown that. With the one-game suspension of Josh Brown, why should I believe them? You know, the NFL seems to see this as a PR issue — here, let's just push rhinestone-encrusted t-shirts at women and make it better. But the NFL is treating women like we're stupid, and we're not stupid."