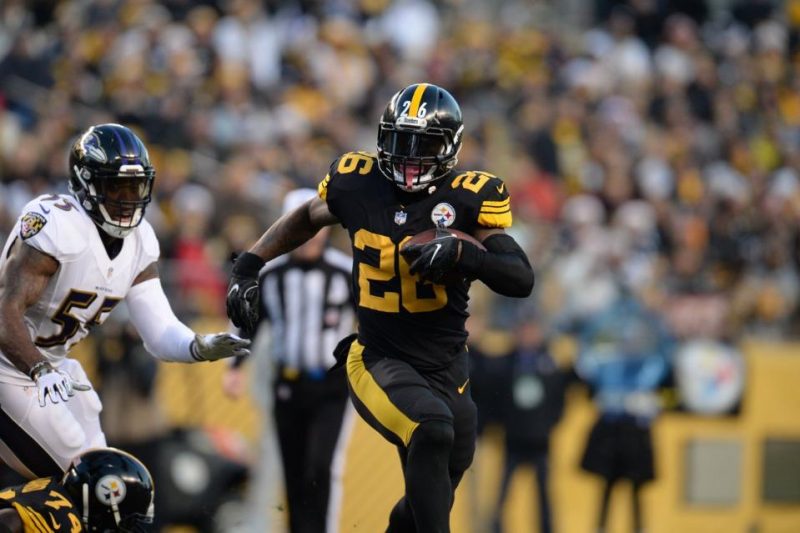 (Photo by Pittsburgh Steelers)
Le'Veon Bell is staying in the Steel City for at least one more season. Monday, the Pittsburgh Steelers announced they placed the exclusive franchise tag on star running back Bell, two days before the deadline to do so.
We have placed the franchise tag on RB Le'Veon Bell.

MORE: https://t.co/arRJJrbY4h pic.twitter.com/auifC2Z89C

— Pittsburgh Steelers (@steelers) February 27, 2017
The franchise tag is projected to be for a little more than $12 million (the average of the salaries of the five highest-paid running backs in the NFL.) Last season, Bell earned just under $1 million with a cap of $1.13 million. Last offseason, the two-time Pro Bowler released a rap song in which he said he wants to make $15 million a year.
The "exclusive" part of the franchise tag means Bell can only negotiate with Pittsburgh.
Both the Steelers and Bell have indicated that they'd like to work out a long-term deal — the two sides have until July 15 to come to terms. If they can't reach an agreement by then, Bell will play under the tag for the 2017 season.
In his each of his four seasons in the league, Bell has missed time due to injuries and drug-related suspensions. Despite missing the first three games of the 2016 because of a suspension, Bell finished fifth in the league with 1,268 rushing yards and seven touchdowns.
The dual-threat back (he also had 616 receiving yards and two touchdowns) was a legitimate MVP candidate last season. And his success on the ground is a crucial part of the Steelers' offense.
Looks like The Juice isn't loose; he's staying in Pittsburgh.