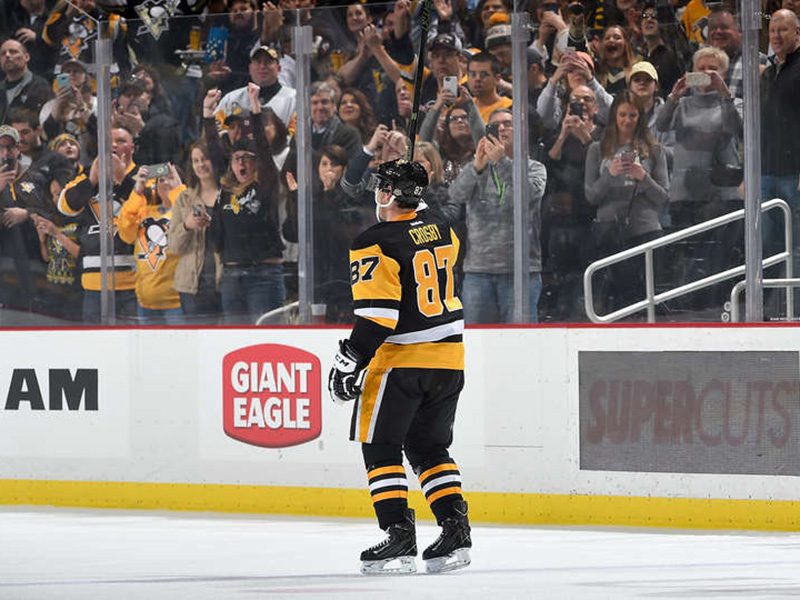 Sidney Crosby got point No. 1000 in Thursday night's game against the Winnipeg Jets. (Photo by: Joe Sargent/NHLI via Getty Images)
It's no secret that Sidney Crosby will end up as one of the best players to ever wear a Pittsburgh Penguins jersey.
Bringing two Stanley Cups to the Steel City, at the time being named the youngest captain in NHL history and now becoming the 86th player in league history to score 1,000 career points after Thursday's game against the Winnipeg Jets, Crosby is continually adding to his impressive resume.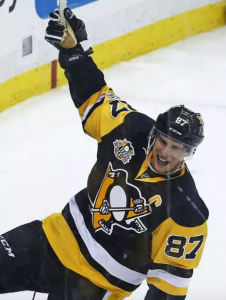 Not only is Crosby the Penguins sixth player to reach the 1000-point milestone, the speed at which he got there is equally impressive. Sid, the Not-So-Much-of-a-Kid-Anymore, reached 1,000 points in his 757th game, the 12th quickest of anyone in the 1,000-point club.
In the Penguins' morning skate Thursday (hours before Crosby got point No. 1,000), he said, "I'd like to just get it. It's been a while. I've kind of been hovering around it." Last week, Crosby said, "I understand that when you get to those numbers as you get older, only so many cracks you have at certain ones like that," Crosby said last week. Achievements like these can be a distraction, but they seem more like motivators for the 29-year-old.
Though he won't be able to bask in the glory for too long with another game coming around the corner and a tough fight ahead to repeat as Stanley Cup champions, after reaching the milestone, Crosby gave some insight on what was going through his mind.
"Yeah, it can get pretty emotional. You look up at the jumbotron, and (periods) go by quick. Time goes by quick and you really try to soak in the moments," Crosby said.
It was very fitting to see Crosby reach 1,000 points in front of his home fans at PPG Paints Arena on Thursday night against the Winnipeg Jets. Crosby got to No. 1000 on an assist on Chris Kunitz's goal in the first period.
That's our guy!#Crosby1000 pic.twitter.com/NntnP9fsMW

— Pittsburgh Penguins (@penguins) February 17, 2017
And Crosby got started on his quest to reach point No. 2,000 with an assist on Phil Kessel's third-period goal to send the game into overtime as well as scoring the game-winner with 22 seconds left to play.
"The fact he scores the game winner is apropos, given he gets the 1,000th point in the game," Penguins head coach Mike Sullivan said. "I think the sky's the limit for Sid. I think he's that good of a player."
Crosby has dazzled Pittsburgh fans for years — and it's unlikely he'll slow down anytime soon. Granted, he's had a few years where he struggled to stay healthy and, in turn, didn't perform to fans' expectations, but this milestone cements his legacy — not only as a Penguin but as an NHL pro skater. It also speaks to the longevity of Crosby's career.
His selflessness in crediting his teammates through the years in his post-game interview after the game says it all. Crosby is a player who truly does make the difference. When he's not scoring, he's passing guys open. When he isn't passing guys open, he plays as the decoy to give his teammates more space.
He's the epitome of a team player.
And his teammates recognize both that and his ability. After the game, defenseman Kris Letang, said, "Oh man, I just wanted to be on the ice. For not even 30 years old, it is pretty incredible." Goaltender Marc-Andre Fleury said, "I'm so proud of him. I have a lot of respect for him. He's a great friend and captain, works hard, and he deserves it."
Our favorite dynamic duo. 👬 pic.twitter.com/uZsHtN8BG2

— Pittsburgh Penguins (@penguins) February 17, 2017
With as high of a ceiling as Crosby has and his continual growth as a skater, scorer and captain, it's impossible to predict where he'll end up when compared to the all-time greats. We can only admire what has been accomplished by one of the — if not the — greatest players in the league right now.
With the way Crosby has been playing, we may just now be witnessing a player in his prime. Considering his accomplishments thus far, the Hall of Fame may not be a questions of if — but when.