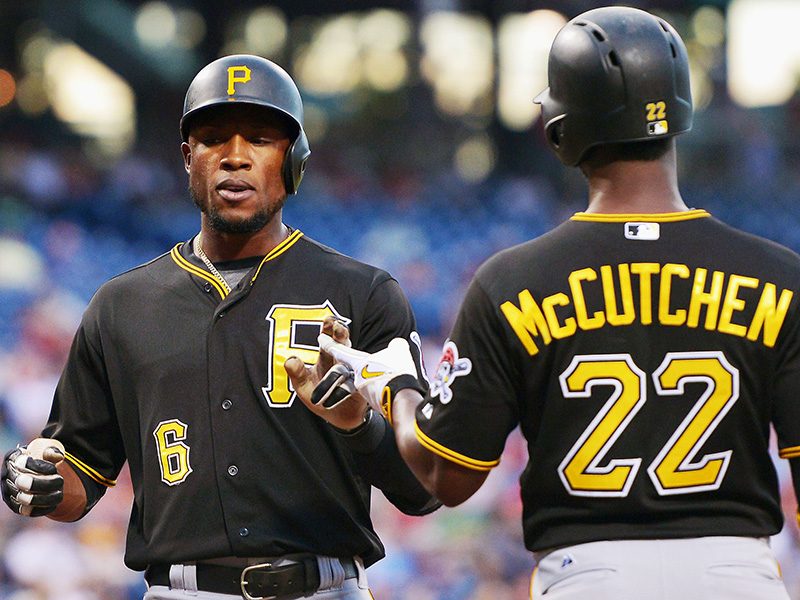 Starling Marte says he'll be taking over for teammate Andrew McCutchen in center field. (Photo by: Drew Hallowell/Getty Images)
All offseason, there's been talk of moves regarding Pittsburgh Pirates outfielder Andrew McCutchen. Now, it appears McCutchen is indeed being moved — just to a different position.
Pirates outfielder Starling Marte told MLB Dominicana that he would be playing center field next season, moving over from left field. This means McCutchen and Gregory Polanco will be Pittsburgh's corner outfielders for the 2017 season.
El OF @Starlingmart confirma que jugará en la pradera central para la próxima temporada por los Piratas de Pittsburgh. #MLBDominicana pic.twitter.com/AXerU0x2t9

— MLB Dominicana (@MLBDominicana) February 4, 2017
(Amusingly, an internet translation of the tweet reads "The OF @Starlingmart confirms that it will play in the central Prairie for next season by the Pittsburgh Pirates," which is a fairly accurate description of center field at PNC Park.)
The 28-year-old Marte is a two-time Gold Glove winner in left field (back-to-back awards in 2015 and 2016), while McCutchen's defensive play has declined in recent years. In 2016, McCutchen was the worst defensive center fielder in MLB (see: his -28 defensive runs saved).
Last season, Marte had 17 assists from left field (first in assists by a National League outfielder) and had 16 assists in 2015 (also first by an NL outfielder.) McCutchen, a former MVP, just isn't the same player and has been prone to costly defensive mistakes.
Moving Marte to his left makes sense.
It might also make sense to move McCutchen to right field and put Polanco in left, seeing as PNC Park's left field is one of the trickiest in the majors.
Marte is going to be a big part of the Pirates' future. Now, he appears to be set to do so in the outfield's most important position, where his defensive abilities can shine even more.