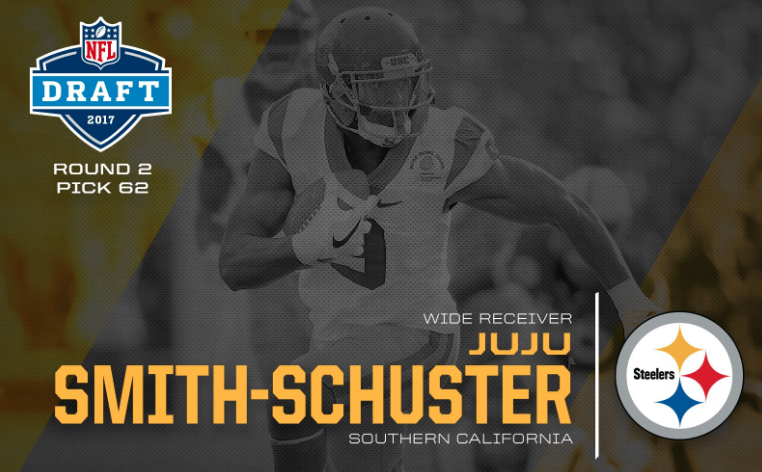 (Photo via: @steelers/Twitter)
The Pittsburgh Steelers are hoping their second-round pick brings some good juju to the Steel City.
With the No. 62 overall pick, the Steelers selected USC wide receiver JuJu Smith-Schuster. As a Trojan, Smith-Schuster (the youngest player in the 2016 NFL Draft at 20 years old) tallied 10 touchdowns in each of his last two seasons and had 2,368 receiving yards. His best season came in 2015, when he had 89 catches for 1,454 and averaged 16.3 yards per catch.
PITTSBURGH WHAT'S UPPPPPPP!!!!!!!! So proud to be a Steeler!!!!!

— Juju Smith-Schuster (@TEAM_JUJU9) April 29, 2017
The last time the Steelers took a Trojan was in 2003. That guy's name? Troy Polamalu.
Smith said he was surprised Pittsburgh took him — he only had one meeting with the Steelers' brass (at the combine) — but he was clearly thrilled. After finding out he would be donning the black and gold, Smith-Schuster went for a little swim in the Pacific Ocean — fully-clothed.
We Live Out Here!!!!! Fam goin crazy! pic.twitter.com/PBqxjcisaP

— Juju Smith-Schuster (@TEAM_JUJU9) April 29, 2017
With the selection of Smith-Schuster, the Steelers now have 12 wideouts on their roster. The team already has Antonio Brown, Sammie Coates, Darrius Heyward-Bey, Cobi Hamilton, Demarcus Ayers and Eli Rogers, as well as Martavis Bryant, assuming he can stay out of trouble.
Offensive coordinator Todd Haley said Pittsburgh wasn't worried about a surplus of wide receivers and was instead focused on getting the best player possible.
"We're trying to find good players all the time that create competition," Haley said. "And we do have a number of players at the receiver position that we're excited about, and this is now another young guy that we add to the group that will just elevate that competition even more. And when you have great competition, I think you tend to see the cream rise to the top, so to speak."
Smith-Schuster doesn't have the speed that both Brown and Bryant do, but Smith-Schuster, an Anquan Boldin-like wideout, does have a spectacular presence on the field and outstanding size — 6-foot-1, 215 pounds. He's got great hands and a phenomenal work ethic and passion for the game to go along with spectacular in-game awareness.
His strength isn't in separation, and he needs to get better at accelerating out of his cuts.
But he's got grit. Smith-Schuster seems to love running routes over the middle, and he'll make Hines Ward proud with the way he delivers bone-crushing blocks.
He's going to fit perfectly in the Steelers' locker room.
"(He's) not a guy that's afraid to stick his nose in there, block safeties, even linebackers some, corners, obviously," Haley said.
Haley extolled Smith-Schuster's passion and called his new wide receiver a "kind of a do-it-all guy." Pittsburgh's offensive coordinator especially liked Smith-Schuster's ability to come down with 50-50 balls, catching the ball in "combative situations."
Haley and the rest of Pittsburgh's front offense see Smith-Schuster's age as a huge boon.
"As you know, here, the last few years, we've had good success with young guys like that, that we feel we're getting early enough to really make an impact on their development," Haley said.
Pittsburgh may have had a bit of an inside man when it came to learning about Smith-Schuster. Legendary Steeler wide receiver Lynn Swann is the Trojans' athletic director, and the young wide receiver said he talked to Swann a lot.
Smith-Schuster is known for his emotional and competitive approach to football, and he's ready to strap on his cleats and take to Heinz Field.
"I'll do anything possible to bring the Steelers back to the Super Bowl," Smith-Schuster said. "Whether it's on special teams, it's being a backup, being a role player — anything it takes."