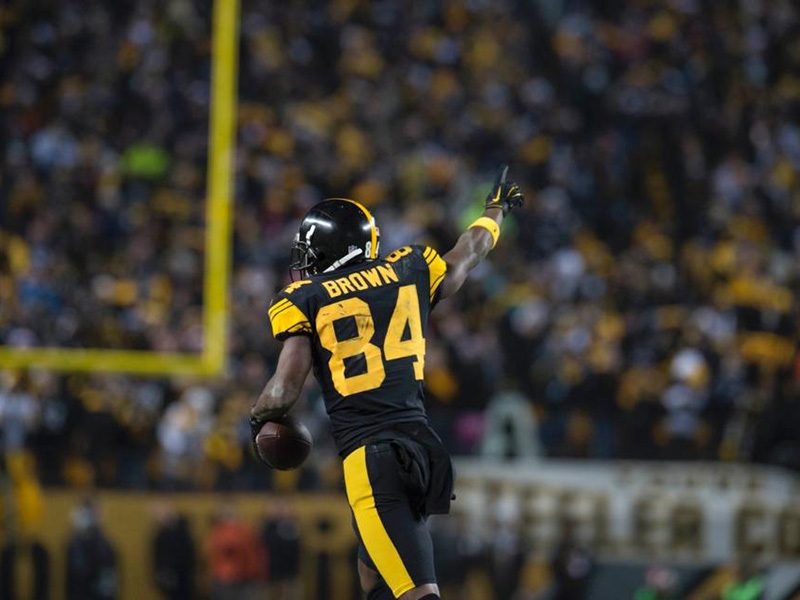 (Photo by Pittsburgh Steelers)
There are 14 seconds left on the clock. It's second down. The Pittsburgh Steelers have no timeouts left. Pittsburgh is losing 27-24 to their AFC rival the Baltimore Ravens in a must-win game for, essentially, a playoff spot.
The ball is snapped. Quarterback Ben Roethlisberger immediately looks left to wide receiver Antonio Brown, who is streaking over the middle. 13 seconds left. 12. 11. Brown catches the ball. He looks like he's stopped a yard short. Game over.
Or is it?
With three Ravens all over him, Brown blows through the defenders to make an incredibly self-aware, heads-up play to just barely stretch the ball over the line. Touchdown. Nine seconds left.
It was a Christmas miracle.
The Steelers won, 31-27, and, with the win, clinched the AFC North division title and sent the Ravens and their playoff dreams packing. For the fifth time in 10 seasons under head coach Mike Tomlin, Pittsburgh is the king of the north.
Big Ben. @AntonioBrown…

Wow. Wow. Wow. Wow. Wow. Wow. Wow. Wow. Wow. Wow. #HereWeGo https://t.co/wBSLw9XRS6

— NFL (@NFL) December 26, 2016
It was a slow start for the Steelers. Despite scoring on its first drive (a touchdown pass to tight end Xavier Grimble), Pittsburgh's offense stalled for the rest of the first half and for much of the third quarter. Through those three quarters, Roethlisberger threw two interceptions, and Brown was almost nowhere to be found.
But the Steelers' lethal offense came alive in the fourth quarter, scoring three touchdowns in less than 12 minutes. Roethlisberger found running back Le'Veon Bell for a receiving touchdown, Bell took it into the endzone as a back, and Brown caught the aforementioned game winner.
In the first time these two teams met, Bell had a measly 32 yards. But, Sunday, Bell easily surpassed that — in just the first quarter. In total, Bell racked up 122 yards against the AFC's best run defense and was the bright spot of Pittsburgh's offense for much of the game. He finished with the two touchdowns, and he continues to prove he's one of the league's best backs, showcasing his patience, vision and strength in Sunday's win.
It helps that Bell was running behind one of the top offensive lines in the league, a line that kept Roethlisberger out of the greedy clutches of Ravens linebacker Terrell Suggs (and any other Baltimore player, for that matter.) Per usual, the line gave Roethlisberger time to extend plays and seemed to be a big difference-maker from the last time the two teams met — when center Maurkice Pouncey missed much of the game with a finger injury and tackle Marcus Gilbert was returning after missing three games with an ankle injury.
Not to be outdone, Brown, too, reminded people why he's the best wideout in the league — he finished with 10 catches for 96 yards (his longest catch was for 26 yards.) And his final touchdown is something that should top highlight for weeks (if not months) to come.
And all this success came despite Roethlisberger's somewhat shaky play. The two picks were his fault, and both interceptions set up the Ravens in the red zone. But big plays from tight end Jesse James (who had a 21-yard catch early in the fourth quarter) and wide receiver Eli Rogers (who made the game-saving play with a sensational leaping catch on a throw that was a little high) as well a 35-yard defensive pass interference penalty kept Pittsburgh in it.
The Steelers' defense was just good enough. It sacked Flacco twice (linebackers Lawrence Timmons and Bud Dupree) but struggled to get much pressure on the opposing quarterback. There were some tackling problems — especially by cornerback Ross Cockrell, who seemed to go high on just about every tackle — and Baltimore's running backs finished with 122 yards.
Pittsburgh also allowed 262 yards to the Ravens' receiving corps, which was led by wide receiver Steve Smith Sr. (seven catches for 79 yards) and tight end Dennis Pitta (eight catches for 75 yards).
But in the end, the Steelers' "bend, don't break" defense held up late — for the most part. The Ravens scored with less than two minutes left, and it seemed like the late touchdown might seal the game in Baltimore's favor. But the play ended up working out in Pittsburgh's favor because its offense got the ball back with enough time to drive down field.
In the end, it really came down to the fact that the Ravens had to settle for field goals (including one that Baltimore missed due to a bad snap), while Pittsburgh scored touchdowns.
Merry Christmas, Steelers fans.