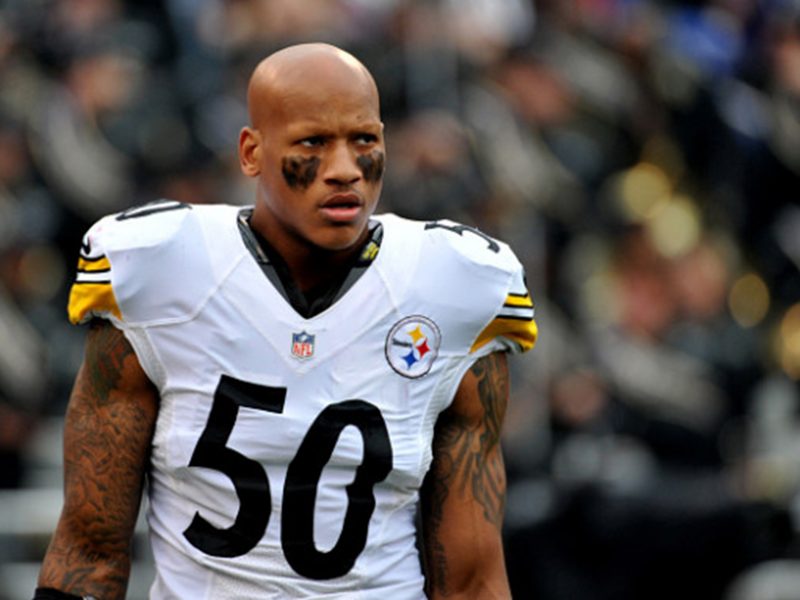 Our three reporters say linebacker Ryan Shazier is one of the Pro Bowl's biggest snubs. (Photo by: Nick Cammett/Diamond Images/Getty Images)
While five Pittsburgh Steelers were named to this year's Pro Bowl — quarterback Ben Roethlisberger, wide receiver Antonio Brown, running back Le'Veon Bell, center Maurkice Pouncey and guard David DeCastro — we couldn't help but think that there were some other Steelers who deserved a trip to Orlando, Florida.
So we asked three of our reporters which Pittsburgh players who didn't get a Pro Bowl nod deserved one.
Shannon Carroll
On the fifth day of Christmas, voters gave to me… five Steeler pro bowlers.
But as deserving as Pittsburgh's five selections are, I can't help but think that number could — and should — have been higher.
There's no denying the Steelers' offense is one of the most talented (and terrifying) in the NFL, but Pittsburgh's defense has quietly gone to work and come up huge for the team down the playoff stretch. The Steelers are the fifth-best rushing defense, the 14th-best passing defense and the eighth-best total defense. The defense is also giving up an average of just 19.7 points per game — and it has been especially tight in the first half, giving up many of its points in garbage time at the end of the game.
In other words, how in the heck were there no Pro Bowlers from this Steelers defense? That's all kinds of messed up.
Here are three players I believe deserve a trip to Orlando.
3. Mike Mitchell, FS
Early in the season, if you told me I'd be picking a member of Pittsburgh's secondary as a Pro Bowl snub, I'd likely have laughed in your face. The Steelers' defensive backs were getting picked apart.
But somewhere along the way, that changed — and that's largely to do with the play of free safety Mike Mitchell.
Mitchell is a veteran presence in a very young secondary, and he and rookie safety Sean Davis have become quite the dynamic duo. Playing alongside Mitchell, Davis has gained more and more confidence, and he's begun to play deeper, allowing Mitchell to play in the box, where he's free to be at his best — physical and intimidating.
2. Stephon Tuitt, DE
When defensive end — and all-around superstar — Cam Heyward announced in mid-November that he'd miss the rest of the season with a torn pectoral injury, you could feel the air go out of Steelers fans. But the emergence of Stephon Tuitt has eased fans' worries.
In just his third NFL season, the 23-year-old has four sacks and two forced fumbles, with two games still to play. He's big and fast, and is disruptive. He plugs holes well, making him a crucial part of Pittsburgh's run defense, which is allowing an average of four yards per attempt and 89.1 yards per game.
Whatever Tuitt has been eating and drinking — raw 72-ounce T-bone steaks, the tears of his opponents — keep giving it to him.
1. Ryan Shazier, ILB
I'm not sure I have the words to describe linebacker Ryan Shazier (and I was almost an English major at UC Berkeley). This guy is nuts. He's brilliant. He's immensely talented, and he seems to be everywhere on the field — all at once. I'm not sure there's another inside linebacker in the NFL who is as explosive as Shazier is.
Shazier has had a great year statistically — 69 total tackles, three-and-a-half sacks, three forced fumbles and one interception — but his presence on the field can't be defined by a stat sheet. His sideline-to-sideline speed is his calling card, which, along with his outrageously good initial burst, gives him the ability to cover wideouts and track down running backs. And he makes big plays, a la a certain former Steeler safety.
This snub galls me. I get that C.J. Mosley (Ravens) and Dont'a Hightower (New England Patriots) are having good seasons. And I get that Shazier missed three games this season with a knee injury.
But this guy shouldn't just be a Pro Bowler, he should be an All-Pro.
Rachael McKriger
While I like the Steeler selections for the 2017 NFL Pro Bowl, I can't help but scratch my head wondering why no defensive or special teams players were named.
Here's the thing about Pro Bowl voting: It's all a popularity contest, and, let's face it, defenders like Richard Sherman, Luke Kuechly and Josh Norman are automatically going to get voted in because of their names. Heck, I'm sure people even voted for J.J. Watt, and he's been out for the whole season.
Pittsburgh has five offensive players in the Pro Bowl, and it's great that the Steelers' offense is popular within the NFL. Still, where's the respect for the defense and special teams? Here are the three players I think belong in the Pro Bowl.
3. Chris Boswell, K
Chris Boswell isn't as flashy as Justin Tucker. I get that. But that's good for Pittsburgh, because that means the Steelers are getting more touchdowns instead of field goals.
It isn't just the game Boswell had Sunday — six attempted, six made — that should send him to the Pro Bowl, it's the entire season he's having.
Boswell has made 20/24 field goals and all 29 of his extra point attempts. On top of that, he had a potential game-saving tackle against the Bengals that almost surely prevented a touchdown. Boswell is gritty and is a darn good placekicker. He should be punching his ticket to Orlando.
2. Ryan Shazier, ILB
Give the linebacker some love, because he certainly deserves it.
Shazier is having a strong 2016. He's second on the Steelers' defense in tackles with 69; forty-three of those were solo tackles. He's also tied with Arthur Moats for the third-most sacks on the team with 3.5, and Shazier has one pick this season.
Forcing fumbles are also a common trend for Shazier, who has recorded three forced fumbles, picking up one. In three games, he's led the Pittsburgh's defense in tackles.
And he's done all this while fighting through a knee injury. Where's the respect for that?
1. James Harrison, OLB
The man who never ages.
James Harrison broke the Steelers' career sacks record this season, and he's still adding to the number. Harrison has 81.5 career sacks and is leading the Steelers in 2016 with five. He's recorded 42 tackles this season (30 solo). In addition, "Deebo" has two forced fumbles and added one interception to his resume.
Maybe the respect will have to come in the form of another Lombardi trophy.
Clare Carroll
In 2017, the Pro Bowl will return to the NFC vs. AFC format, where the two sides are pitted against one another in a grueling battle with very high stakes where the players leave everything they have out on the field.
Oh, wait. I forgot – the Pro Bowl means nothing.
People look at the nominations each year like they actually mean something. Spoiler alert: The winners are largely because of fan votes, and the Pro Bowl doesn't matter. Even so, players seem to like to be nominated and get the recognition. Unfortunately for many of the Steelers players, the Pro Bowl selections are nothing more than a popularity contest. The Three Bs (Big Ben, Brown and Bell) were the obvious choices, and Pouncey and DeCastro deservedly got recognition, too.
All five players have been selected before. We need some new Pittsburgh blood.
Even if people don't take the Pro Bowl seriously, here are three (well, two plus a group) Steelers players who deserve to be recognized for the work they've been doing.
3. Lawrence Timmons, ILB
It's criminal that no one on Pittsburgh's defense was selected for the Pro Bowl. The defense has stepped up in a major way in the past five or so weeks, and it has been crucial in the Steelers' latest wins.
Lawrence Timmons has been playing his best football over the last few games. He had two interceptions in the team's last three games – all games Pittsburgh won. He's reliable and consistent and has come up with big plays in crucial times.
In the recent win over the Cincinnati Bengals, Timmons led the defense with five solo tackles and was crucial in a goal-line stop that forced the Bengals to kick a field goal; that helped Pittsburgh seal up the win and stay atop the AFC North.
2. The Offensive Line
Forget the saying that "defense wins championships." Haven't you heard the phrase, "Offensive lines win Super Bowls"?
If you're looking for someone to to select for the Pro Bowl, just take your pick from the Steelers' offensive line. Pouncey and DeCastro were recognized, but Marcus Gilbert, Ramon Foster and Alejandro Villanueva deserve recognition, too.
Offensive lines don't usually get as much credit, but, this season, the o-line has given Roethlisberger time to make plays, created holes for Bell to have space to run and generally imposed its will on opponents. Bell has been running especially well this year, he's said, because of the offensive line: "Those guys give me a lot of room and space to make things happen, and they allow me to get to the second level pretty much untouched. They deserve all the credit."
Roethlisberger has been sacked just 17 times this season, which is the third fewest in the league among quarterbacks with at least ten starts. The offensive line lets Ben be Ben.
I know an entire offensive line can't make the Pro Bowl, but I think a special exception should be made for the Steelers. This line is going to carry Pittsburgh to the playoffs.
1. Ryan Shazier, ILB
The cold never bothered him anyway.
Without a doubt, Shazier deserves to be recognized with a Pro Bowl spot for his outstanding play. He's the biggest snub of the bunch. Shazier is a dynamic playmaker who always seems to be everywhere on the field doing everything. Some people play at a very high level for some of a game, but Shazier lives at that level for all of it. He's all the way on Mt. Everest.
He missed a few games earlier in the season due to a knee injury and has battled a variety of injuries in his three years with the Steelers. But this shouldn't matter. Shazier has 3.5 sacks, three forced fumbles, one interception and 43 tackles in his 11 games this season.
The defense has been taking shape over the past few weeks and is gaining confidence, with Shazier often leading the charge. He's the X-factor on Pittsburgh's defense, and he's been crucial to the Steelers winning games.
I know I wouldn't want to face him.