In college, time flies. The "greatest four years of your life" go by in an instant. With the exams, social life and extra-curricular activities, time is precious for a college student.
For a student-athlete, the time management skill comes into play even more, as they aren't only juggling their time in the classroom and out, but also in the gym or on the field.
Student athletes have an argument that they should be paid, given the amount of money the institution is making off of them, and with the amount of time they spend in practice, in the gym, on the road and preparing for games, let's face it, it's basically a job.
Being a student athlete stretches a college student to the max, but what if there was another role being brought unexpectedly into their life?
What if the star player on the court suddenly was referred to as something else? What if instead of being called a sharpshooter or a slice-and-dice guard, they were now called mom and dad?
It happened to two Pittsburgh-area athletes, who advanced to this journey in different ways, but can relate all the same.
Kelly Johnson and Barry Smith, from Mt. Lebanon and Penn Hills, respectively, have more in common than being standouts on the court at Point Park University in downtown Pittsburgh. They were both transfers from the NCAA to the NAIA, but they both had to make a decision on continuing their collegiate careers after the unexpected news that they were having a child with their respective partners.
"I was devastated, obviously. I didn't think it could happen to me," said Johnson, who transferred to Point Park from Clarion University after scoring 13.7 points per game during her freshman year. "I was scared. My dad was huge with basketball with me and putting time in with it, so I was scared what he would think."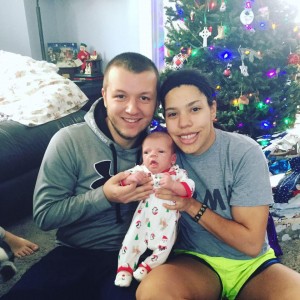 Johnson, who had a full ride to Clarion University, transferred because she didn't like the coaching staff that the Golden Eagles had, which was led by 25-year veteran coach of the program, Gie Parsons. While the college basketball season was coming to its climax in March, Johnson had some March Madness of her own to deal with, as she found out she was pregnant by taking a test with her boyfriend and best friend.
After telling her second-oldest brother, the sibling she's closest to of the five Johnson children, she then told her mother, followed by the rest of her family via text the day after.
Johnson's pregnancy added to the list of big moments in the Johnson family over the next several months, as her sister is due in February, her other sister is due in April, her brother is having a baby in June and her other brother is getting married in August.
After telling her family, her attention turned to her future, wondering what type of impact her pregnancy would have on her collegiate and athletic life, to go along with the obvious impact on her personal life.
"I was trying to figure out how I could be a mother, student and an athlete. I knew that it was going to be hard," Johnson said, admitting that it may have crossed her mind one time that she didn't want to have the baby early on in the pregnancy because of how hard her family took it. "My teammates kept telling me that there is this girl at Duquesne that is doing it, and she has to travel more since they are Division I. If she was doing it, I could try. I just didn't want to try and fail. I can't give up my kid."
Smith felt the same way about his son, too. The Penn Hills product attended The Citadel from 2010 to 2012, before transferring to play at Bethune-Cookman University in Daytona Beach, Fla.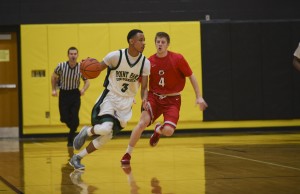 While attending Bethune-Cookman, Smith met his girlfriend while playing for the Wildcats. In the first-quarter of 2013, Smith found out that he was going to be a father, and his girlfriend gave birth to his son in November 2013.
"I was scared, excited, nervous and I had to provide for another person. I mean, honestly, I was more scared than anything," said Smith, a December 2015 Point Park graduate in Criminal Justice. "I wanted to make sure I could provide and love for him the way he should be."
In order to do that, Smith transferred from Bethune-Cookman in 2014 to Point Park University to be closer to his son and to his girlfriend, who lives in Washington, D.C. Luckily for Smith, given the situation at hand, the timing was as good as it could be for the couple to have the child, so Smith was still able to attend college and play basketball, instead of feeling like he had to drop out and get a job at that time.
"It was good timing because my girlfriend, his mom, just finished school in December. She was done with school, and I was down in Florida," Smith said. "I was getting a stipend for about $500 a month. I was able to provide decent enough for him.
"On the basketball end, it helped because she was at home, and I could go on the road when I needed to. I definitely wasn't going to drop out. That was my junior year and my second school I transferred to. I knew I had to get a degree."
When Smith made the decision to continue his academic and athletic career, he knew he had to sacrifice part of his time.
"The social life aspect was done with. I couldn't go out and party or anything. I just had to balance it all out with being on the road and with school," he said. "I know it's frustrating with kids that age with the crying and screaming. I had to make sure she was OK. I had to give her a break and let her go out with her friends."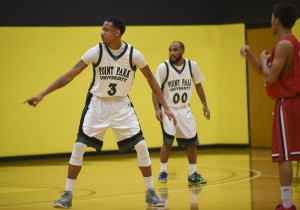 And being able to move back home, Smith had the support of his family, as well as his girlfriend's family, too. The support system was in place to allow Smith to move forward.
"I never really felt that I couldn't do it [raise a child]. I left Florida in May, so I had help with my family," Smith said. "It wasn't nearly as hard as being 15 hours away from him. If I need a break, my parents watch him. Her family will help, too."
As far as Johnson goes, though, her future in the classroom and on the court isn't as clear.
"I'm not enrolled this semester. I did take summer classes when I was pregnant, and I have contemplated enrollment for next semester," she said. "Every time I go to a game, I'm asked if I am coming back. Coach said I can bring him to any game. He and my boyfriend are both really supportive."
Her coach, Tony Grenek, first thought Johnson was transferring, but then guessed that she was pregnant after she wasn't coming around to practices and workouts. But he's been nothing but supportive of her off of the court, something she isn't sure she would have received at Clarion.
"He was more concerned for me. He was upset because he had to recruit to fill my position, but he's been really supportive," Johnson said. "If that happened to me at Clarion, rumors would have been started by coaching staff, and I would have been kicked off the team. Coach and his wife were supportive and said they would do anything they could to help and he would welcome me back."
Johnson has been working out with a high school basketball team now to get back in shape and get familiar with the ball in her hands again, adding that if the baby was born earlier in the year, she could have been able to play this year.
When debating if she is going to continue her collegiate career, her son is the first thing that comes to mind.
"I think the biggest part would be leaving him. He's my No. 1 priority right now. It would be hard giving up my first love for something I love even more now," Johnson said. "It would be hard having someone take care of him because I'm playing a game. I think that would be my hardest thing. I also wouldn't want to fall behind in school.
"I guess I'll play it by ear."
For Smith, he said that if his girlfriend asked him to stop playing basketball at the time, he probably would've kept playing. But now, looking back on it, he would have stopped. But stepping on the court for his senior season felt good for him.
"I think Point Park out of the three schools I've been to, it was the best time I had playing. It was fun, and it wasn't a job," Smith said. "I enjoyed my teammates and the road trips. It wasn't an escape, but it felt good. My life, my son, my basketball experience; everything was good."
Photos courtesy of Point Park University Athletics, Kelly Johnson on Facebook