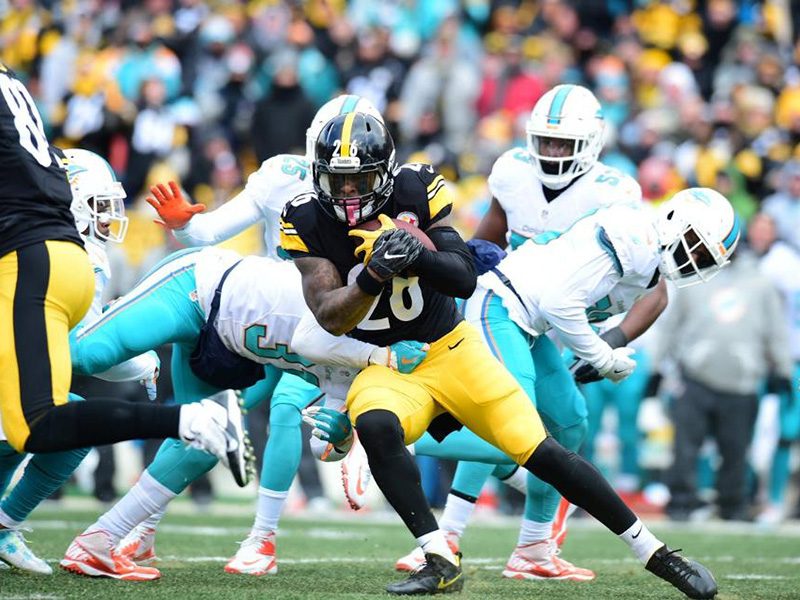 Bell's 167 rushing yards set the Steelers' record for most yards in a playoff game. (Photo by: Pittsburgh Steelers)
It's off to Kansas City for the Pittsburgh Steelers.
The Steelers (12-5) took their first step in the quest for the seventh Super Bowl championship in franchise history with a dominating 30-12 victory over the Miami Dolphins (10-7) in front of a sellout crowd that braved the bone-chilling cold at Heinz Field.
Next up is a trip to Arrowhead Stadium to face a Chiefs team that has won five of its past six games and looks to make its first Super Bowl appearance since the team won Super Bowl IV in 1970.
But before we look ahead to the AFC divisional round, let's look at the best and worst from Sunday in a playoff addition of Three up, three down.
Three up:
Stars shine early to charge out to a commanding lead
Prior to the game, there was plenty of talk about the Steelers having four All-Pro level players together in a playoff game for the first time. With Ben Roethlisberger, Le'Veon Bell, Antonio Brown and Maurkice Pouncey healthy and ready to go, the offense wasted little time lighting up a Dolphins defense that came into the game susceptible to both the run and pass.
On the first three drives, the Steelers scored touchdowns.
The first two, both on dazzling, catch-and-run plays by Brown, highlighted why he is arguably the best receiver in the game. The first quarter hadn't even finished and Brown had two 50-plus yard scores. Each play also was highlighted by tremendous downfield blocking including not one, but two, clear-out blocks by tight end Jesse James.
Roethlisberger started out white-hot despite sub-zero wind chills, completing his first 11 passes while taking advantage of an injury-depleted Miami secondary, ending up with a with a passer rating of 105.3 — despite throwing two interceptions in 18 pass attempts.
I'm running out of ways to express what a incredible and immensely talented running back Bell is. Pittsburgh's third scoring drive in the second quarter showcased Bell at his very best; he carried the ball 10 times for 78 yards and finished the drive off with a one-yard touchdown plunge that gave the Steelers a commanding 20-3 lead.
Bell would finish with 167 rushing yards and two scores. That total broke Franco Harris' playoff record of 158 yards set in Super Bowl IX in 1975.
Now, to Pouncey. What a difference a healthy Pouncey makes. The nearly flawless play of the offensive line he anchors shows what the group is capable of when it's intact. The Dolphins simply had no answers on defense and couldn't do much of anything to stop the Steelers vaunted offensive attack.
Veterans Harrison, Timmons continue late season tear
I'll say it again: Maybe it's time to reconsider letting linebacker Lawrence Timmons walk this off-season. Since many speculated that his skills had significantly diminished (including yours truly), Timmons has gone on an absolute tear. Sunday's game might have been Timmons best in recent memory; he had 14 tackles, two sacks and was a stalwart all day in limiting Miami running back Jay Ajayi to 33 yards rushing (after he gashed the Steelers for over 200 yards in a blowout win in October).
Who remembers Timmons puking on the field in south Florida while Ajayi was running wild? A lot sure has changed in three months.
Let's not forget the ageless wonder James Harrison (he's 38-years-old), who sacked Dolphins quarterback Matt Moore 1.5 times, added 10 tackles and might have made the play of the game when he forced a Moore fumble deep in Pittsburgh's territory right before halftime. With the Steelers up 20-6 and the Dolphins set to receive the opening kickoff of the second half, a touchdown there might have changed the game completely. Instead, Harrison made another crucial play and, for all intents and purposes, took out any air the Dolphins might have still had in their sails.
Young defensive players keep getting better for the stretch run
Much of the talk about second-year linebacker Bud Dupree was regarding his ferocious hit on Moore that drew a debatable personal foul penalty, but, make no mistake, Dupree was exceptional the entire game and is catching fire at the perfect time.
After joining the unit in late November after recovering from an injury, Dupree has gotten better by the week. Now with four sacks in his past four games, he looks to be the perfect compliment to Harrison at outside linebacker.
Dupree isn't the only young player who is stepping up on this defense. Now in his third full season, linebacker Ryan Shazier might not appreciate being called "young" but he's missed considerable time with injuries, making his number of games lower than the average third-year linebacker. Shazier's play has been exceptional in his first season staying relatively healthy, and his pick of Moore was a thing of beauty and demonstrates what a nice compliment he is to the veteran Timmons.
Ajayi's rough day at the office can be attributed to a number of things, but the play of young defensive linemen like Javon Hargrave, L.T. Walton and, yes, Daniel McCullers has been a true difference-maker. The play of the young guys on the defensive line has been a marked improvement, making such a difference for the defense — and it's helped veteran Stephon Tuitt immensely.
Speaking of Tuitt, his stat line of four tackles doesn't do him nearly enough justice. He was disruptive the entire game, and you could tell he was ready to go after missing the past two weeks with an ankle injury.
Three down:
Special teams once again below the line
A missed extra point, absolutely nothing from the return game and giving up 119 yards to Miami on four kickoff returns. At some point, we'll have to ask if this will eventually be the Achilles heal that will be the fatal end of the Steelers' playoff push.
Considering that the Chiefs' dynamic return specialist Tyreek Hill awaits, the Steelers have to figure out how to do a better job in a game where big plays in the third phase might be the difference maker.
Finally, could somebody please figure out why the team still has Fitzgerald Toussaint and Sammie Coates returning kicks? It's time for a change.
Ben's ankle "tweak" spawns questions, concern
I think it's fair to ask why Roethlisberger was dropping back to pass in the final moments of a three score game. I don't have a problem with him being in the game at the end, by why is he not handing the ball off in that situation? Doesn't make sense to give Toussaint or even DeAngelo Williams the ball late and simply run out the clock?
Now with Roethlisberger once again dealing with a physical issue in the playoffs (right there with death and taxes, it seems) Pittsburgh fans will be holding their collective breath as they await more information on the severity of the injury.
Why, Joey, why?
As reported last night, linebackers coach Joey Porter was arrested for an altercation involving both a bar employee and a police officer in the South Side. Needless to say, the last thing the team needs is this type of distraction during the playoffs, especially when it's a member of the coaching staff. Porter, despite a rocky personal past, should know better at this point.
It'll be interesting to see how the team handles this internally considering the wildly popular Porter is facing multiple criminal charges over the incident.
There's never a good time for an incident like this, but the timing is awful and takes some of the luster off of a convincing playoff win.