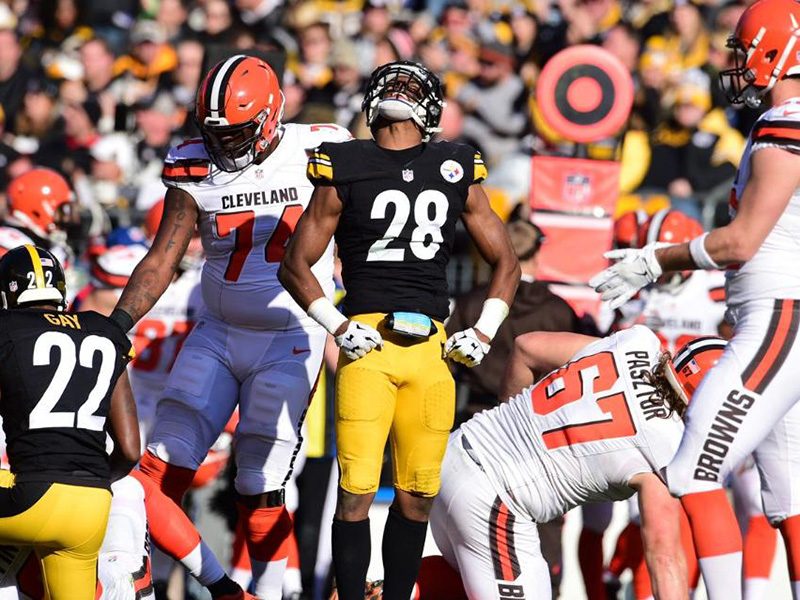 (Photo by Pittsburgh Steelers)
It didn't mean a thing in terms of playoff implications, but Pittsburgh Steelers head coach Mike Tomlin made it clear this week that his team would do everything it could (outside of playing Ben Roethlisberger, Antonio Brown, Le'Veon Bell and Maurkice Pouncey) to finish the regular season on a winning note.
Well it wasn't pretty, but the Steelers (11-5) won their seventh-straight game in a sloppy 27-24 overtime win over the Cleveland Browns (1-15).
Now, the Steelers will prepare for a rematch with the Miami Dolphins (10-6) in the AFC Wild Card round this Sunday at Heinz Field with kickoff set for 1:05 p.m. EST.
But before we look ahead, let's look at the final regular-season edition of "Three up, three down."
Three up:
Landry Jones takes a page from Roethlisberger' playbook with a big fourth-quarter performance
Backup quarterback Landry Jones knew all week that he would be getting the starting nod against the Browns and that, for all intents and purposes, this would be the impending free agent's last chance to prove he can be a reliable backup for Roethlisberger.
Based on his dreadful performance in the first half, it would be fair to say that Jones did little to convince anyone he should be back next season.
But with the Steelers trailing 14-7 in the fourth quarter, Jones caught fire and threw two touchdown passes, the first to Demarcus Ayers and the second, a game winning 26-yard toss, to Cobi Hamilton in the final moments of overtime.
Jones is certainly flawed, and the Browns clearly are an awful team, but give him credit for making the necessary plays to help the team win its seventh-straight game heading into the postseason.
Jones not alone as a multitude of backups step in and step up
Tomlin made it clear that his team is in the "business of winning" and that his team — regardless of it plays — would play to win. Credit the aforementioned Jones, Ayers and Hamilton for making key contributions and plays on offense, while B.J. Finney stepped in and played outstanding in his first start at center.
After missing  nearly two months with a knee injury, running back DeAngelo Williams was able to overcome a tough start to score on a 11-yard touchdown pass that was nothing short of dazzling. He then got the bulk of his 67 rushing yards in the second half, which included a one-yard touchdown plunge to tie the game 14-14 early in the fourth quarter.
Williams 94 total yards and two scores in the regular-season finale should give the Steelers confidence that they have a solid option behind Bell in the playoffs.
Continuing the theme of stepping up…
Along with Landry Jones, there's another Jones on Pittsburgh's roster who has struggled to make a case for his long-term viability with the franchise: linebacker Jarvis Jones. However, on Sunday, Jones played like the player the team hoped he would be as first-round draft pick, registering his first sack in over a year and forcing a crucial fumble late to keep the Browns from a pivotal score.
Too little too late? Likely, but it was a solid day for Jones, who might have bolstered his case for being kept off the inactive list next week in the Wild Card game.
And how about the play by wide reciever Darrius Heyward-Bey to force a fumble by Browns defensive back Briean Boddy-Calhoun after he had intercepted a Jones pass and looked to heading in for a score late in third quarter? The effort there by DHB was simply incredible and was likely the biggest game-changing play of all.
Lastly, credit to Daniel McCullers for his second solid showing in consecutive weeks, registering five tackles and a sack.
Three down:
Steelers defense gashed for over 200 yards on the ground
Giving up over 250 yards on the ground is never a recipe for winning, and that's exactly what happened to Pittsburgh's rushing defense yesterday.
The Steelers obviously got the win, and the addition of Stephon Tuitt and James Harrison will certainly help going forward, but the Dolphins put up huge rushing numbers in a regular-season win over Pittsburgh in early October, so this is a big concern.
Special teams once again shaky
I hate to beat a dead horse, but two of the biggest issues that have dogged the team much of the season is poor special teams play and shoddy tackling by the defense.
Once again, the Steelers' return coverage is far from acceptable, and the special teams unit gave up a 36-yard kickoff return while doing next-to-nothing themselves retuning kicks.
This group has to be a worry heading into the playoffs, but with Heyward-Bey and injured special teams standout Robert Golden likely ready to contribute in the postseason, it will might just be tightened up.
Injuries to Hargrave and Mathews could have serious playoff implications
Pittsburgh's defensive line depth has been tested much of the season, and now that nose tackle Javon Hargrave (concussion) and defensive end Ricardo Mathews (ankle) were banged up in yesterday's contest to leave their status for Sunday in doubt, it looks to be tested again.
Hargrave has been exceptional as a rookie and will now be placed in concussion protocol for the second time this season. His availability in the playoffs is going to be important due to him being the best interior defensive lineman on the roster, while Mathews has been leaned on as the key reserve at defensive end late in the season.
Credit to McCullers, Johnny Maxey and L.T. Walton for filling the void up front, but it's going to hurt if Mathews and, particularly, Hargrave, can't go moving forward.