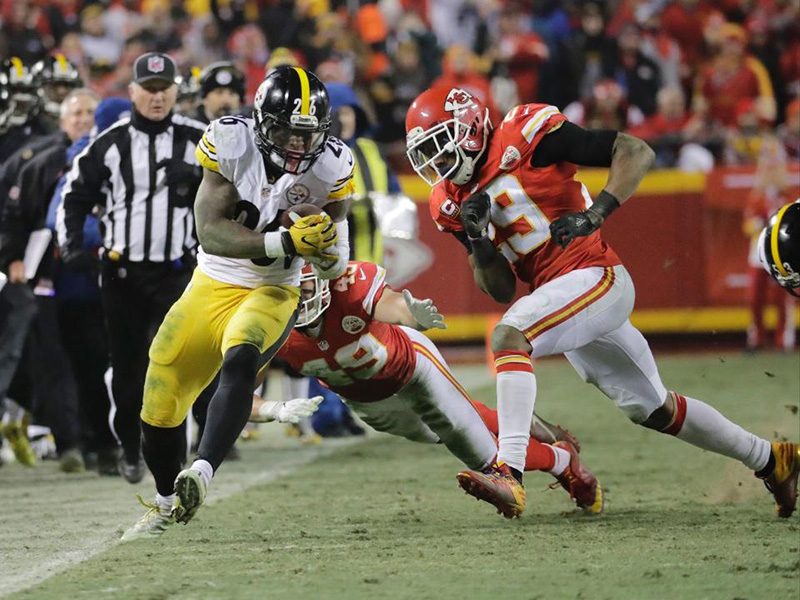 Le'Veon Bell broke the franchise record for most rushing yards in a playoff game — a record he set last week. (Photo by: Pittsburgh Steelers)
It won't go into the NFL Film vaults as an instant classic, but the Pittsburgh Steelers did just enough to escape with a 18-16 victory over the Kansas City Chiefs on Sunday night. Now, Pittsburgh will finally get their chance at playoff redemption against the New England Patriots when the two teams meet this coming Sunday in the AFC Championship Game.
The victory gives the Steelers a shot to end the Patriots' Super Bowl quest on their home field — just like New England did in Pittsburgh in 2001 and 2004.
Survive and advance. That's exactly what the Steelers did last night thanks to running back Le'Veon Bell, an impressive effort by the defense and — oh yeah — six Chris Boswell field goals.
The team is off to Foxboro but, first, here's another playoff edition of "Three up, three down."
Three up:
Bell runs by with a little help from his friends
So I guess having Le'Veon Bell healthy for the playoffs is kind of important? Considering that team and league records continue to fall after he played in only his second playoff contest last night, I'll guess that's an affirmative.
Bell rushed for 170 yards — 101 yards in the first half — to break his own franchise record for most rushing yards in a playoff game (before that, Franco Harris' record stood for 41 years). Combine Bell's yardage with his 168-yard performance last week against the Dolphins and his 337-yard total over his first two playoff games is a league record.
As great as Bell was, it was the performance of Pittsburgh's offensive line that was most impressive in the win, so that group gets my game ball (sorry, Boswell.) The group physically overwhelmed Kansas City's front seven, opening holes for Bell, and the o-line's pass protection was impeccable.
Tight end Jesse James had the most important performance of his young career, catching five passes for 83 yards and effectively giving the Steelers a second receiving weapon against a terrific Chiefs secondary. James outperformed Chiefs All-Pro tight end Travis Kelce on the stat line — who saw that coming?
Although Antonio Brown was unable to secure what would have been a touchdown in the first half, he did, once again, break the 100-yard plateau. His 7-yard catch on 3rd and 3 won't be remembered for being one of his most impressive, but it was the most important. After a special teams gaffe by kick returner Justin Gilbert left Pittsburgh deep in its own territory, the offense needed a first down with 2:38 remaining to run out the clock. Brown's grab took care of that, and it sealed an AFC Championship berth.
Harrison wants another ring (and Pittsburgh's defense keeps getting better)
We know how old James Harrison is (38 years old), and we know that he's putting together a resume that might garner him serious consideration for the Hall of Fame. I'd rather focus on how remarkably well the ageless wonder has played over the team's nine-game winning streak.
Sunday, Harrison carried the defense with another stellar performance (three tackles for loss, two pressures and a sack) that really can't be measured in stats alone. How many crucial plays has Harrison made in recent weeks? The biggest might have been his effort to induce a holding call on Chiefs tackle Eric Fisher that nullified a two-point conversion that would have tied the game at 18.
Considering the Steelers' defense limited the Chiefs to 227 total yards (just 61 on the ground), you have to love the way the defense is trending heading into New England. It's the play of the front seven that's been the most impressive; linebackers Ryan Shazier and Bud Dupree were dominant, while defensive end Stephon Tuitt and nose tackle Javon Hargrave helped anchor a defensive line that was outstanding against the Chiefs.
So I guess we can give out another game ball
I know I said my game ball goes to the offensive line, but considering Boswell set a playoff record while scoring all 18 of his team's points, I suppose we can find a way to share.
Six field goals, folks — an NFL playoff record. And all were obviously critical.
I'm not sure Boswell is quite at the level of the truly elite kickers in the league, but it's time to start bringing him into the discussion. The kid (he's 25 years old) is composed and consistent, and that's a great way to find your niche as a kicker. It's just amazing to think a little over a year ago, Pittsburgh's kicking situation was an abject disaster.
Not anymore.
Three down:
Abysmal red zone offense must be fixed or the journey ends in Foxboro
Seven red zone opportunities is impressive against a very strong Kansas City defense. Six field goals and an interception over those seven trips most certainly is not.
Pittsburgh's offense continues to struggle to score touchdowns in the red zone, and last night's effort in this area was downright terrible. Is it the play calling? One can certainly argue that both times the team was inside the five it would have made sense to give the ball to Bell, who was running behind a dominating offensive line. It could also be argued that one of the best quarterbacks in the NFL has to find ways to make plays in these big spots.
Roethlisberger was 1 for 7 for one yard and an interception in the red zone. That's just not going to cut it. And it won't get any easier against a New England defense that will be even better than the Chiefs' next Sunday.
Granted, there's no way the Steelers are in the playoffs without Roethlisberger, but his play has been erratic and far too inconsistent in recent weeks. He'll be the key in Foxboro; the Patriots will make the Pittsburgh franchise's most important player beat them.
The question is: Will he?
So that's why there was hesitation to make changes in the return game
Often overlooked in the decision-making process of who will handle the kickoff and punt return duties is whether the return man can approach the mental aspects of returning and make smart decisions. Well, we got a case study of that when Gilbert made a gaffe that could have been fatal and would have made him notorious within Steelers Nation.
After the Chiefs elected not to go for the onside kick, they instead kicked the ball deep to Gilbert, who inexplicably chose to run backward and was tackled at Pittsburgh's own five-yard line with just over two-and-a-half minutes left in the game. If the Chiefs made a stop there, they would have been in position to kick the winning field goal down by two.
Gilbert was bailed out, but that was just a terrible mistake.
What makes the situation tough is Gilbert had a nice 28-yard return earlier in the game. Will that be enough for him to keep the job?
Delay did the team no favors
I get why the NFL decided to push the kickoff back seven hours because of fears of an ice storm (that largely missed its mark), but the decision, as I noted when it was announced, was another significant hurdle set in front of the Steelers.
I also noted at the time that the delay would, in essence, take away an additional rest day for the winning team, while the Patriots got to relax on their couches — and that's a shame for the Steelers. Playing at the originally scheduled time would have mean getting back to Pittsburgh by 10 p.m. or so last night. Instead, the team played until midnight, hopped on a plane and didn't get home until sometime around dawn.
It's a tough break for the Steelers, and it seems to be a consistent playoff theme in recent years.
Let's hope it's a little extra motivation for the team — it seems to be for Harrison.