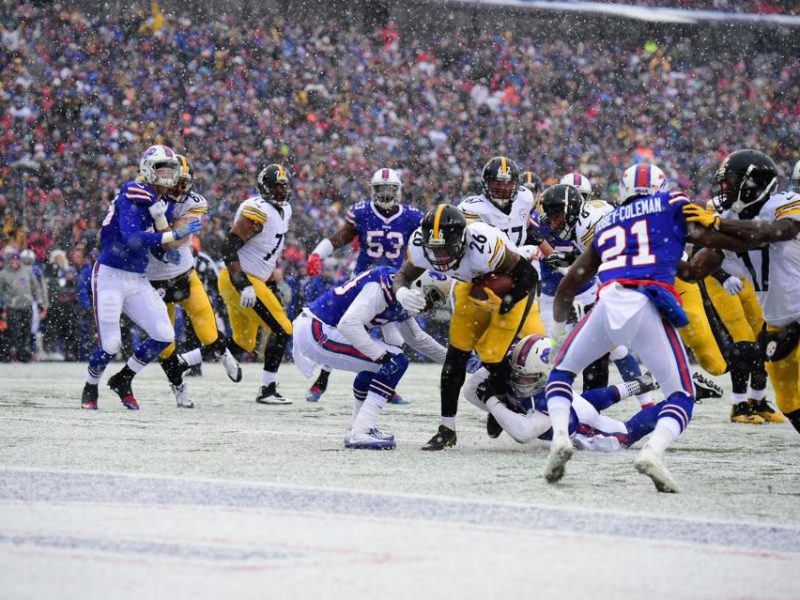 Don't look now, but the Pittsburgh Steelers are — once again — catching fire in December.
After four straight losses looked to have the team's playoff hopes on life support, the Steelers (8-5)  have now reeled off four consecutive wins, the latest an impressive 27-20 win over the Buffalo Bills (6-7) at Ralph Wilson Stadium.
The win pushes the Steelers closer to an AFC North division crown with another critical road test head this Sunday when the team travels to Cincinnati to face the Bengals.
There's plenty to discuss in this week's installment of "Three up, three down," so let's get to it.
Three up:
Bell has a record-setting performance — and how about that offensive line? 
It was a record-setting day for Steelers All-Everything running back Le'Veon Bell, who finished the day with 236 rushing yards and three touchdowns. That rushing total breaks the Pittsburgh record previously held by Willie Parker (223), and Bell's 41 total touches were also a franchise best.
Bell finished with 298 total yards, which was more than the 275 yards the Bills gained as a team. Despite missing the first three games, Bell now has 1,053 yards rushing on the season.
Make no mistake, the Steelers' offensive line should get much of the credit for Bell's record setting day. Along with the incredible blocking of fullback Roosevelt Nix, this unit had a nearly flawless day setting the table for Bell. Nix had several notable blocks throughout, but his clear-out block on Bell's third touchdown of the day will get plenty of attention in the film room.
Give credit to second-year guard B.J. Finney for once again filling in for an injured Ramon Foster and having the best game of Finney's career. The undrafted free agent is looking like an absolute steal and a player who will be a future starter for years to come.
As great as Bell was, the men blocking for him were just as good. With challenging tests ahead against the Bengals and Ravens, this offensive line will need to continue to shine.
Bud Dupree makes his presence known, and the defense keeps getting better
This Pittsburgh defense is starting to look like a group that can be a Super Bowl unit. Despite losing defensive end Cam Heyward for the season (torn pectoral) and having three rookies earn starting nods this season, this defense just keeps getting better.
Linebacker Bud Dupree — who led the team in snaps played and in essence was playing only his second game of the season after having abdominal surgery — was flat-out dominant. Dupree was credited with two sacks and added three tackles for loss while being a disruptive force throughout the game. The emergence of Dupree allowed the Steelers to essentially play the second-year player and James Harrison as a tandem the entire game. Sunday's game might have been the start of something special with Dupree and Harrison playing the edge the rest of the way.
Fellow linebacker Ryan Shazier might have had the best game of his impressive season; he was all over the field and finished with eight tackles and a sack. A healthy Shazier is such a difference-maker for this unit because of his unique combination of speed and playmaking ability at inside linebacker.
The defensive line also can't be given enough credit for its performance. L.T. Walton and Daniel McCullers made noticeable, significant contributions, and Ricardo Mathews is proving to be a viable replacement for Heyward at defensive end.
Rookie defensive backs Artie Burns (cornerback) and Sean Davis (safety) are developing into more than just starters — they're becoming legitimate high-end contributors and difference-makers for the defense. Burns notched his third interception, and the trio of Burns, Ross Cockrell and Willie Gay are quietly proving to be outstanding this season.
Davis looks like a future star at safety, and his ability to play close to the line of scrimmage in order to disrupt both the run and passing game against the Bills was Polamalu-esque. Davis tallied seven tackles, added 1.5 sacks for the day and did great work in pass coverage.
Kudos to Coach
Does anyone else remember many fans — and even some media members — calling for the ousting of head coach Mike Tomlin after a heartbreaking last-minute loss to the 11-2 Dallas Cowboys? I sure do, and it looks even more ridiculous after Tomlin notched his 100th career win in 157 games yesterday in Buffalo.
To put this in the proper context, Tomlin joins Mike Ditka, Tony Dungy, Joe Gibbs, John Madden, Mike McCarthy, George Seifert and Don Shula as the only head coaches to reach the 100-win pinnacle in their first 10 seasons — pretty impressive company.
Tomlin, who has never had a losing season in his 10 years as a head coach, also became the third coach in franchise history to have 100 or more wins, an NFL first. Tomlin still has some work to do to catch Steelers legends Chuck Noll (193 wins) and Bill Cowher (149), but the accomplishment earned him a game ball yesterday, presented by Steelers quarterback Ben Roethlisberger.
Three down:
Big Ben's road woes continue
A win is a win, but it's hard not to be a little concerned with Roethlisberger's continued struggles on the road. He threw three interceptions against the Bills, and two of them short-circuited promising scoring drives and gave the Bills momentum despite being otherwise dominated in the game.
To be fair, a miscommunication between Roethlisberger and Ladarius Green looked to lead to the first pick, but the second in the endzone on what looked to be a sure-fire touchdown toss to Jesse James was particularly egregious.
It was a tough day in Buffalo for Big Ben, and, considering he's taking a trip to face a Bengals defense that has had plenty of success in the past against him, he's going to have to figure things out quickly.
Sloppy tackling rears it's ugly head (again) in the second half
Again, it's hard to be overly critical of Pittsburgh's defense considering it held the league's best rushing attack to 67 yards and to less than 300 total yards for the game. However, the poor tackling in the second half needs to be rectified moving forward. More than anything, it shows a little bit of a lack of focus, and, considering that poor tackling helped the Bills get within a touchdown late, it shouldn't be ignored.
Much ado about nothing? 
Reports surfaced shortly before kickoff that the New York Giants had accused the Steelers of using deflated footballs in last week's game at Heinz Field. Although the Giants didn't file an official complaint and the claims initially appear to lack merit according to league officials, you have to hope this doesn't become an unnecessary distraction for the team down the stretch.
Let's hope the Steelers don't have their own version of "Deflategate" on the horizon.