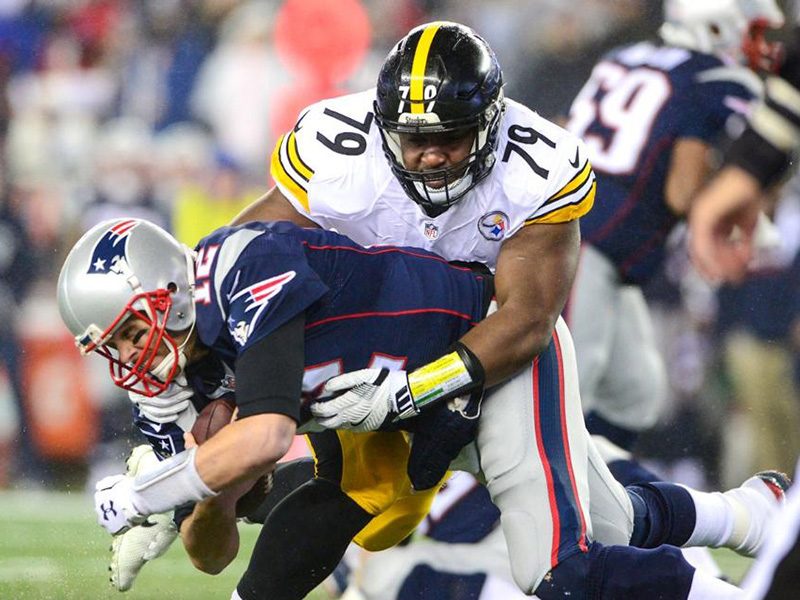 Nose tackle Javon Hargrave (79) sacks Patriots quarterback Tom Brady in the AFC Championship Game. Brady was sacked twice. (Photo by: Pittsburgh Steelers)
Another playoff matchup between the Pittsburgh Steelers and New England Patriots, another frustrating, season-ending loss for the Black and Gold. Although it'd been 12 years since the two teams last met in a playoff contest, the Patriots (16-2) once again found a way to ruin an otherwise rewarding season for the Steelers (13-6) with a resounding 36-17 win in the AFC Championship Game at Gillette Stadium in Foxboro, Mass.
It's the Steelers' third loss to the Patriots in the AFC title game since the 2001 season, and it now leaves New England alone on top of the Super Bowl appearance record with nine (the Steelers, Dallas Cowboys and Denver Broncos all have eight).
In this season's final edition of "Three up, three down," let's look back on another frustrating playoff loss to the Patriots.
Three up:
Lawrence Timmons solid in what might be his last hurrah? 
Linebacker Lawrence Timmons was one of the few bright spots on a Pittsburgh defense that was torched for 36 points. If it was the final game for Timmons as a Steeler after 10 seasons, he went out with a hurrah, racking up 14 tackles on the night. Considering his early season swoon that included vomiting on the field at Miami and having a forgettable game at home against the Patriots, Timmons' surge in play over the second half of the season mirrored that of his team and defensive unit — Coincidence? I think not.
Count me as someone who thinks the Steelers need to figure out a way to keep Timmons in Pittsburgh. He's is a proven vet who can still play, and he's an important leader for a defense filled with young players, too.
Among those young players is nose tackle Javon Hargrave, who looks like he was an absolute steal in last year's draft. Getting a player in the third round who can make such an immediate impact like Hargrave did this year is an absolute win for Pittsburgh. Hargrave played exceptionally against the Patriots, one of the few defenders who did.
Rogers and James developing into reliable weapons
Before the season began, neither wide receiver Eli Rogers or tight end Jesse James were expected to be key components of the passing game. With Martavis Bryant, Markus Wheaton and free-agent-signee Ladarius Green expected to fight to be the No. 2 receiver to No. 1 All-Pro Antonio Brown, Rogers and James were essentially afterthoughts .
Of course, we now know that Bryant was suspended, that Wheaton barely played because of an injured shoulder and that Green dealt with a series of injuries that kept him out for much of the year.
Cue significantly larger roles for Rogers and James, who both did a commendable job while improving late in the season.
Rogers ended last night's game seven catches for 77 yards, while James added five for 48. Rogers did have a fumble, and James was stopped a yard short of the goal line on a drive the Steelers failed to convert into a touchdown, but Rogers' and James' development shows promise for next season.
Few losses to roster on a young team that came up a game short
It's hard to extrapolate positives amidst the disappointment of losing the AFC Championship Game, but the Steelers have a lot of positives heading into the off-season.
For one, free agency and potential cap issues will, for the most part, have little impact on the team. On defense, decisions will have to be made about re-signing veterans Timmons, Willie Gay and James Harrison, but, beyond that, pretty much everyone of note is expected to be back.
Yes, running back Le'Veon Bell will be re-signed — or, at the very least, franchised — and Pittsburgh is hoping Bryant's drug-related-suspension days are behind him. Bryant alone could mean incredible things for an offense that just seemed to be a weapon or two short from being elite.
There are always going to be questions, but, all told, this team has a chance to be even better next season. Especially with the entire offensive line back and quarterback Ben Roethlisberger still in top form.
Three down:
Poor tackling, blown coverages, too much zone
When you play against arguably the best quarterback ever with a spot in the Super Bowl on the line, you better be sharp defensively. The Steelers weren't, and that was all she wrote.
It starts with the poor tackling that has plagued the defense intermittently all season. Cornerback Artie Burns had a bad miss that led to a 41-yard catch and run by Julian Edelman, and the secondary as a whole seemed to almost give up in the second half, allowing New England running back LeGarrette Blount to plow for additional yards after contact.
Blown assignments in coverage helped make Patriots wide receiver Chris Hogan look like the second coming of Wes Welker in his prime. Hogan carved up Pittsburgh's secondary for nine catches for 180 yards and two touchdowns, while Edelman also broke the century mark (8-118-1)
Safety Mike Mitchell had a forgettable game. His decision to bite on the flea-flicker touchdown pass to Hogan in the second quarter was a stupid one. As a veteran safety playing deep coverage on that play, biting like that is simply awful. Although Mitchell has had a decent year, his might be the position to best focus on in the off-season.
Most frustrating was the Steelers' decision to sit back much of the game in zone coverage, giving Tom Brady plenty of time to pick apart the scheme with short passes. Much of Brady's team-playoff-record 384 passing yards started with simple short throws where receivers cut loose through voids in the zone coverages.
It's easy to criticize from the couch or the press box, but, at some point, this team has to realize you can't sit back against Brady.
Drops, near misses doom Pittsburgh's passing attack
I already referred to James getting stopped just short of the goal line and the Steelers' inability to find the endzone, but that was likely when this game was lost. When you have the ball at the one-yard line, have your big quarterback sneak the ball in behind your All-Pro center and All-Pro guard.
Instead of the score being 17-13 at half with Pittsburgh getting the ball to open the second half, New England make a huge goal-line stop to go into half up 17-9 and with a ton of momentum.
It was just an awful sequence.
Speaking of awful, in August, nobody would have expected either Sammie Coates or Cobi Hamilton to make plays in the AFC Championship. We saw why last night; both had key drops on passes that might have gone for touchdowns. Either play is made, and it might have completely changed the dynamic of the game.
Coates heads into Year 3 at a crossroad. Comparisons to Limas Sweed are never good for job security, and another season like this won't bode well for Coates.
Finally, despite of the respectable final numbers and the key drops by his young receivers, Roethlisberger didn't have the elite performance needed from him to get a win. After the game, he called out individual players in the heat of the moment, which was very bad form from the leader of the team.
Bell injury hurts, tough sequence for officials stacks deck in second half
Once again, Bell couldn't make it though the playoffs healthy, and the loss of the best back in the NFL early in the first quarter was a sign it wasn't the Steelers' night. Without Bell, Pittsburgh's offense was unable to establish the run, which allowed the Patriots' defense to focus on Roethlisberger and Brown.
The injury devastated the Steelers' chances and could, perhaps, start a conversation about whether or not Bell can be relied on in big spots after three straight seasons of missing all or some of the playoffs due to various injuries.
I preface my final point by saying New England was clearly the better team and deserved to win, but the sequence of poor officiating early in the third quarter was the final nail in the Steelers' coffin. It started with a clear missed pass interference call on Logan Ryan where he hit Rogers early with Ryan's back to the ball on Pittsburgh's first possession of the second half. Instead of continuing the drive, the Steelers were forced to punt, giving the Patriots great field position at their own 41.
Then came the final sequence that had plenty of people talking. On third and inches with the Patriots up 17-9, Brady attempted a sneak to convert, and he appeared to clearly fumble. It also seemed apparent that Hargrave recovered the ball. After some confusion regarding what exactly the call was, Tomlin challenged that it should be Steelers ball. Replays seemed to indicate as much, but the ruling still somehow didn't go Pittsburgh's way.
The Patriots retained possession, ultimately kicking a field goal to make it a two-score game at 20-9.
Again, the refs didn't cost the Steelers the game, but those two missed calls took away any reasonable shot to make a comeback — and that's a shame.