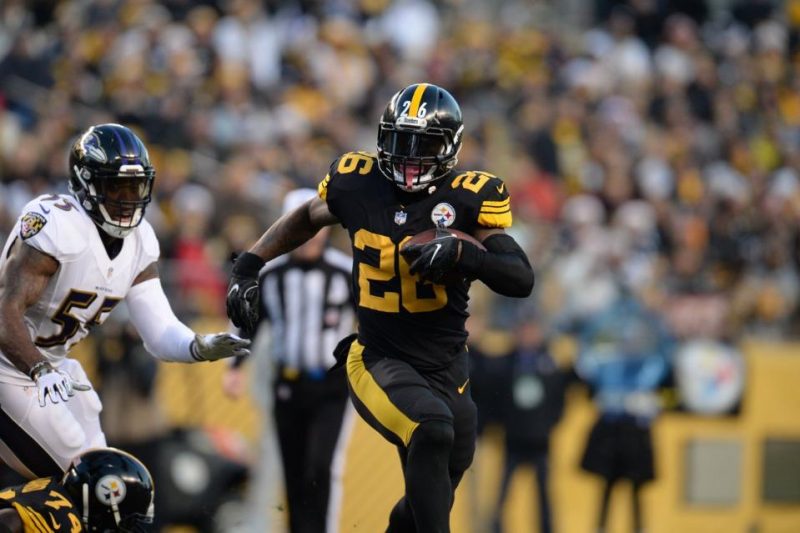 (Photo by Pittsburgh Steelers)
The Christmas Day Comeback?
That's what many are calling the Pittsburgh Steelers' (10-5) division-clinching 31-27 win over their biggest rival, the Baltimore Ravens (8-7), in front of a sold-out Heinz Field crowd.
The fans certainly got all they could have possibly wished for on Christmas as Pittsburgh quarterback Ben Roethlisberger led the team back from a 20-10 fourth quarter deficit to get the win and lock up the third seed in the AFC playoffs that are set to begin in two weeks.
It wasn't hard to find much to love about this instant classic, so let's look at the Christmas edition of "Three up, three down."
Three up:
Roethlisberger & Co. cap remarkable fourth quarter with unbelievable final drive
I'll admit that, in a momentary lapse of reasoning, I lost faith in Roethlisberger yesterday. Two costly interceptions and a 10-point fourth quarter deficit with the division title on the line had me questioning the play of the franchise's greatest quarterback.
Roethlisberger sure did make me eat my words.
He has long sealed his status as a Hall of Fame quarterback, but his epic fourth quarter performance was the stuff of legend. Take away two spikes on the final drive to stop the clock, and Roethlisberger completed 14 of his final 15 passes for 164 yards and two touchdowns.
Listen, we can talk about stats all we want, but, as impressive as they are, it's all about the ability of Roethlisberger to come up big at the crucial moments — to put his team on his shoulders and carry them to victory. That was the talk after the game, too, with people mentioning the confidence they had in Big Ben to find a way to march down the field and score with just over a minute left on the clock.
The touchdown itself, a four-yard reception by Antonio Brown, will go down as one of the biggest and best in franchise history. (It's being referred to as the "Immaculate Extension.") Brown's effort to fight off defenders and find his way into the endzone by stretching the ball across the goal line was incredible and, very likely, do or die. Out of time outs and with only nine seconds left on the clock, there was a very good chance that play would have been the final one of the game.
Brown's nine second-half catches paced the passing attack, but let's not forget the efforts of Eli Rogers, who had an incredible leaping catch to convert a third down on the final drive. Jesse James and Xavier Grimble did admirable work replacing the injured Ladarius Green, combining for five catches for 69 yards and a touchdown.
Consider this: The Steelers' passing game was forced to rely on Rogers, Grimble and James, along with receivers Cobi Hamilton and Demarcus Ayers, both of whom started the season on the practice squad.
Simply amazing.
I'd be remiss if I didn't mention that it was another spectacular day at the office for Le'Veon Bell. Bell scored two touchdowns and combined for 137 total yards for the day (122 on the ground) against one of the league's top run defenses. Bell likely won't get serious MVP consideration, but he should.
For all the talk of skill players…
This season, the play of the offensive line has been nothing short of outstanding. Yes, there have been some mental gaffes and penalties along the way, but, over Pittsburgh's six-game winning streak, Roethlisberger has been sacked a mere three times. Bell is having an All-Pro season not just because of his remarkable talent, but because his line has played so well.
Against Baltimore, Ramon Foster had a great game, as did arguably the most underrated tackle in football, Marcus Gilbert, who spent much of his day making edge rusher Elvis Dumervil (one credited tackle) look invisible. Ravens linebacker and Steeler-killer Terrell Suggs didn't even appear on the stat line after Alejandro Villanueva held him at bay all day long.
It wasn't perfect, but, led by the ageless James Harrison, the defense does enough for a win
You'd have to imagine that, much like Roethlisberger, another long-time Steelers legend in James Harrison wasn't going to allow the team to lose and potentially miss out on the playoffs. Harrison racked up a team-leading 11 tackles (nine sol0) and helped will the defense to make just enough plays to fend off the Ravens.
Linebacker Lawrence Timmons continues to make the case for a new contract this off-season with another incredible effort that included 10 tackles, a forced fumble and a sack.
One player who has garnered very little attention or credit this season has been cornerback Ross Cockrell. Cockrell has quietly been Pittsburgh's most consistent player at the position and only allowed one completion in coverage all day. Not too bad for a player found on the waiver wire last season.
Finally, raise your hand if you'd have believed a Steelers defensive line without both Cameron Heyward and Stephon Tuitt could find a way to play well in what essentially was a playoff game. What a job by Javon Hargrave, Daniel McCullers, L.T. Walton, a banged up Ricardo Mathews and practice squad player Johnny Maxey.
Three Down:
Shoddy tackling must be fixed heading into playoffs
Pittsburgh's defense once again struggled to make tackles yesterday. This was particularly the case in the secondary, where rookies Artie Burns and Sean Davis had numerous misses and veterans Willie Gay and Mike Mitchell also had a tough day tackling.
This must get fixed ASAP if the Steelers hope to advance in the playoffs.
Another defensive issue that needs to be addressed? 
No one will question that the Steelers' defense has improved dramatically over the team's current six-game winning streak, but getting off the field on third downs has been something the unit has struggled with.
The Ravens were nine of 17 yesterday on third down conversions and were able to extend multiple drives. Granted, few teams have been as good as Pittsburgh when it comes to red-zone defense, but getting off the field on third downs could help tip the scales against playoff-caliber opponents.
Come on, Terry, aren't you better than that? 
If you happened to miss former Steeler quarterback and Hall of Famer Terry Bradshaw's "cheerleader" comments in regard to Pittsburgh head coach Mike Tomlin earlier this week, you missed another sad episode of Bradshaw coming off as a petty, jealous old-timer desperate for attention. It's pretty sad when you attack a head coach whose numbers are among the best in the league history and include five division titles and seven playoff appearances over a 10-year span.
Why take a shot at the organization days before its massive game against Baltimore?
What Bradshaw had to gain by disparaging Tomlin's abilities in the face of his accomplishments is hard to figure out, but, either way, it was a bad look Terry.