The Pittsburgh Penguins have announced the full roster and schedule for the 2015 prospect development camp. The camp will be held July 14-18 at Consol Energy Center.
The final practice session at 3 p.m. on Saturday, July 18 will be open to the public.
The camp will be run by first-year Wilkes-Barre/Scranton Penguins head coach Mike Sullivan, Wheeling Nailers head coach Clark Donatelli and goaltender development coach Mike Buckley.
37 players will take part in the four-day camp. Below is a breakdown of each of the 23 forwards invited to camp. Defenseman and goaltenders will be featured in part two.
Anthony Angello, 19, Omaha (USHL)
Angello was the Penguins 5th-round draft pick in 2014. He scored 19 goals and had 90 penalty minutes with USHL Omaha and will be a freshman at Cornell this fall.
Josh Archibald, 22, Wilkes-Barre/Scranton (AHL) and Wheeling (ECHL)
Archibald split time between the Penguins' two affiliates in his first professional season. He scored seven goals and had 11 points in nine games with Wheeling, but had a hard time staying in the lineup in Wilkes-Barre, skating in just 45 games. The 2011 sixth-round pick should be expected to have a bigger role in the AHL this season.
Tyler Biggs, 22, Toronto (AHL) and Orlando (ECHL)
The former Toronto Maple Leafs first-round pick will not skate at prospect camp. He is recovering from an Achilles injury. Biggs will be given a shot to make an impact in Wilkes-Barre this fall, but his 2014-15 AHL numbers (two goals and three assists in 47 games) aren't promising.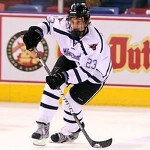 Teddy Blueger, 20, Minnesota-Mankato (WCHA)
The most pro-ready of the Penguins collegiate prospects, Blueger is expected to return to the Mavericks for his senior season. The Pens second-round pick in 2012, he had 10 goals in 37 games in 2014-15, including four power-play goals.
Milos Bubela, 22, Rensselaer (ECAC)
Bubela, invited to the camp on a tryout, is a big, Slovakian right-winger who still has one year of eligibility at R.P.I. He scored eight goals and had seven assists in 35 games in 2014-15.
Blaine Byron, 20, Maine (Hockey East)
Byron, a sixth-round pick in 2013, is a skilled center and was second on the Black Bears with 12 goals in 2014-15. Byron has two years of eligibility left at Maine.
Jean-Sebastien Dea, 21, Wilkes-Barre/Scranton (AHL) and Wheeling (ECHL)
Much the same as Archibald, Dea had great success in Wheeling last season, scoring four goals and recording three assists in 14 games, but couldn't find a full-time AHL role, appearing in just 43 games. Dea, who was signed as an undrafted free agent in 2013, led the AHL Penguins with power play goals, scoring seven in his limited action. Expect Dea to compete for a top-six AHL role this season.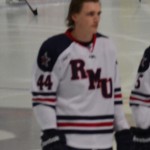 Brandon Denham, 23, Robert Morris (AHC)
Denham is a monster forward (6-foot-4, 205 pounds) with good instincts around the net. He had nine goals and 18 assists with the Colonials in 2014-15, and is expected to return there for his senior season. Denham, in camp on a tryout, also worked out with the Winnipeg Jets at their prospect camp this offseason.
Jake Guentzel, 20, Nebraska-Omaha (NCHC)
Guentzel took a huge step forward in his second season at Omaha, doubling his goal total and leading the team in scoring. Guentzel and fellow sophomore Austin Ortega were a dynamic scoring threat for the Mavericks. Guentzel will be 21 this fall, so he may be a candidate to leave school early, but I would expect him to return to UNO for at least one more season. He was the Penguins third-round pick in 2013.
Troy Josephs, 21, Clarkson (ECAC)
Josephs turned into quite the playmaker in his second season at Clarkson, and his 14 assists were good for second on the team. At 6-foot-1, 184 pounds, the lanky Josephs still needs to bulk up to be a legitimate NHL prospect. Pittsburgh fans will get two chances to see Josephs this season, as the Golden Knights will skate in the 2015 Three Rivers Classic in December. Josephs was the Penguins seventh-round pick in 2013.
Sam Lafferty, 20, Brown (ECAC)
Lafferty, a Hollidaysburg, Pa native, enrolled at Brown a season earlier than expected and was a freshman in 2014-15. He didn't look too out of place, scoring four goals and tallying eight assists in 31 games, good enough for fifth in scoring on the offensively-challenged Bears. Lafferty was the Penguins fourth-round pick in 2014 and is expected to finish his three remaining seasons at Brown before turning pro.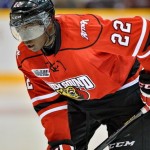 Jaden Lindo, 19, Owen Sound (OHL)
One of the Penguins few prospects from Canadian juniors, Lindo got off to a slow start in 2014-15 while recovering from major knee surgery. The Penguins sixth-round pick in 2014 played in just 49 games, scoring seven goals and recording two assists. He'll be back in the OHL for another year in 2015-16.
Ty Loney, 23, Denver (NCHC) and Norfolk (AHL)
Loney, son of longtime Penguins left-winger Troy Loney, signed an AHL contract with Wilkes-Barre/Scranton after graduating from the University of Denver in the spring. Loney had 10 goals and six assists for the Pioneers and got a taste of the pro game with an end-of-year tryout with AHL Norfolk, where he had four points in five games. Loney should be in mix for a bottom-six spot in Wilkes-Barre.
Matia Marcantuoni, 21, Wilkes-Barre/Scranton (AHL) and Wheeling (ECHL)
Marcantuoni's rookie professional season saw him spend time in both Wheeling and Wilkes-Barre in 2014-15. The speedy center had good ECHL numbers, with four goals and six assists in 11 games, but was inconsistent offensively in the AHL. The Penguins' 2012 fourth-round pick will have to get his hands to catch up with his feet if he wants to be more than a role player at the next level.
Nikita Pavlychev, 18, Des Moines (USHL)
There should be no problem picking out Pavlychev on the ice. The 6-foot-7, 200-pound Russian center is mammoth. The Pens seventh-round pick in June's draft will spend another year in the USHL before attending Penn State next fall, and is considered to be a long-term project.
Bryan Rust, 23, Pittsburgh (NHL) and Wilkes-Barre/Scranton (AHL)
Due to the crazy injury bug the Penguins were struck with last season, Rust spent some time on a line with Sidney Crosby. Buoyed by his NHL experience, Notre Dame alum had a solid season with WBS, scoring 13 goals and adding 14 assists in just 45 games. The Penguins' third-round pick in 2010, Rust will be a primary call-up option for the Penguins on the wings this season if he's unable to make the team out of camp.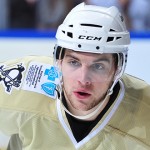 Conor Sheary, 23, Wilkes-Barre/Scranton (AHL)
Sheary burst onto the scene as an undrafted free agent out of Massachusetts on an AHL contract a year ago. The rookie forward had 20 goals and 25 assists for the Baby Pens and was rewarded with a two-year NHL contract this summer. Expect Sheary to again be on the Penguins' best AHL scorers and get his first taste of the NHL in 2015-16.
Dominik Simon, 20, Plzen (Czech Extraleague)
Simon is in an interesting place, prospect-wise. The Penguins fifth-round pick in 2015 could stay with his professional team in the Czech Republic, play one season as an overager in Canadian junior, sign with the Penguins and start his career in the AHL or bolt to Russia for a big KHL payday. His decisions going forward will have a big impact on his prospect status. His impressive Czech numbers (18 goals and 12 assists in 52 games) show that both his talent level and ability to play against veteran players are high.
Daniel Sprong, 18, Charlottetown (QMJHL)
Sprong, the Penguins second-round pick in 2015, is immediately the team's most offensively talented forward prospect. He potted 39 goals and added 49 assists for the Islanders in 2014-15, impressive numbers even in the high-scoring QMJHL. His defense will be a work in progress, but he possesses raw skill that can't be taught. He will return to P.E.I. for another junior season.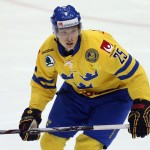 Oskar Sundqvist, 21, Skelleftea (SHL) and Wilkes-Barre/Scranton (AHL)
Sundqvist is the most NHL-ready of the Penguins' prospects, and if opening night were tonight, he would most likely be the team's fourth-line center. Sundqvist plays a good all-around game, mixing defense with offense and more than a little grit. He was the Penguins' third-round pick in 2012.
Frederik Tiffels, 20, Western Michigan (NCHC)
Tiffels, the Penguins' sixth-round pick in 2015, had a monster freshman year at Western Michigan, scoring nine goals and adding 10 assists in just 29 games. The German winger could be a candidate to leave school early because of his age, but spending time under former NHL head coach Andy Murray with the Broncos won't hurt his development at all.
Scott Wilson, 23, Pittsburgh (NHL) and Wilkes-Barre/Scranton (AHL)
Wilson had some tough injury luck in 2014-15 that prevented him from getting a good look at the NHL level. He was injured in the first period of his first NHL game. In the AHL, he had solid numbers, with 19 goals and 22 assists in 55 games. Wilson, a seventh-round pick in 2011, will be on the NHL/AHL bubble come training camp time. Wilson won't skate at camp due to a wrist injury.
Anton Zlobin, 22, Wilkes-Barre/Scranton (AHL)
Zlobin had his 2014-15 season end before it really got started, as he suffered a season-ending injury just six games into the season. He needs to have a good camp to get his career back on track, as players such as Tom Kuhnhackl and Dominik Uher thrived when given greater roles in Zlobin's absence. Zlobin was the Pens' sixth-round pick in 2012.
Photo credit: Charlottetown Islanders (main), WCHA, Owen Sound Attack, Brian Mitchell, Wilkes-Barre/Scranton Penguins & The Score (insets)