With the Pittsburgh Penguins and Wheeling Nailers renewing their affiliation agreement for an ECHL-best 17th consecutive season last week, we took a look at the five best Penguins players to have graduated from their Double-A affiliate since 1998.
Honorable Mention Bobby Farnham: Farnham has just 11 NHL games under his belt, so his career rating is far from complete, but he climbed the ladder the hard way, starting off on an ECHL contract in 2012-13. After 3 goals and 46 penalty minutes in 9 games with the Nailers, he was given an AHL contract by Wilkes-Barre/Scranton. Farnham has a chance to secure a fourth line spot in the NHL this season.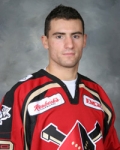 #5 Paul Bissonnette: Bissonnette is certainly not the most talented player to grace WesBanco Arena ice over the years, but he is a true Nailers success story.
After nearly cracking the Penguins roster out of training camp as an 18-year old fouth-round draft pick in 2003-04, Bissonnette saw minimal playing time as a rookie defenseman in Wilkes-Barre in 2005-06.
In 2006-07, he spent 65 games with the Nailers and re-invented himself as an enforcer, racking up 115 penalty minutes and beginning the transition to left wing that would land him in the NHL just two seasons later.
Bissonnette only played 15 games with the Penguins before being claimed on waivers by the Phoenix Coyotes. He spent five seasons in the desert, playing in 187 regular-season games for the Coyotes and even suiting up for three playoff games.
Now, he's back in the AHL, where he just won the Calder Cup with the Manchester Monarchs in the Los Angeles Kings organization.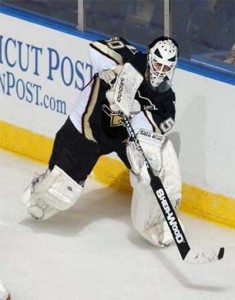 #4 Dany Sabourin: The Penguins signed Sabourin for the 2004-05 season after he washed out of the Calgary Flames organization after four pro years. He quickly turned things around with the Nailers, however, turning in a 1.67 goals-against average and a .942 save percentage.
In 2005-06, he moved up to Wilkes-Barre, where he won the Baz Bastien Award for AHL Goaltender of the Year. He spent a season and a half as the primary backup for the Penguins, playing in 44 games with the club with a 2.88 GAA and a .899 save percentage.
He was traded to Edmonton at the trade deadline in 2009, just missing his chance at a Stanley Cup ring. Sabourin has spent the last two seasons with the Graz 99ers in Austria's Erste Bank Eishockey Liga. He'll play in France in 2015-16.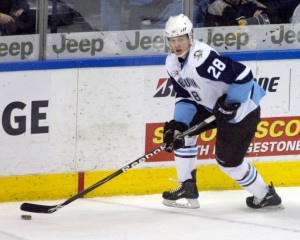 #3 Nick Johnson: Johnson, a third-round pick out of Dartmouth, didn't need a lot of seasoning when he was sent to Wheeling as a rookie in 2008-09. He lit up the ECHL, scoring 14 goals and recording 10 assists in 19 games before being called up to Wilkes-Barre.
He spent 10 games with Pittsburgh over the next two seasons, but a concussion in 2011 left him sidelined for the second half of the year. The following offseason, he was claimed by Minnesota on waivers.
After stops in Phoenix and Boston, he has 113 NHL games under his belt, and spent last season in Sweden playing for Vaxjo HC of the Swedish Hockey League.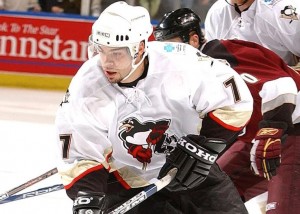 #2 Michel Ouellet: Over the years, many goal scorers have come out of the QMJHL with gaudy numbers only to flop as pros. Ouellet was not one of them. He potted 20 goals and added 26 assists as a rookie with the Nailers in 2002-03, and then went on to back-to-back 30-goal season with Wilkes-Barre.
He played two seasons in Pittsburgh, where he occasionally skated alongside Sidney Crosby. In his 123 games with the Penguins, he finished with 35 goals and 45 assists.
He signed with the Tampa Bay Lightning as a free agent in 2007, and spent the following season between the NHL and AHL in the Vancouver organization. Ouellet, now 33, is the director of player development for the Rimouski Oceanic of the QMJHL.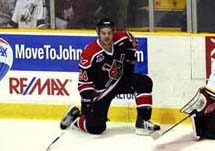 #1 Mark Letestu: As an undrafted free agent who left Western Michigan University after just one season, Letestu had a lot to prove as a professional rookie in 2007-08. He responded well to the challenge and played just 6 games with Wheeling, quickly moving up to the AHL.
He would again prove doubters wrong as the undersized center went on to a 60-point season with Wilkes-Barre in 2008-09. Two years later, with Crosby and Evgeni Malkin sideline with injuries, Letestu got his shot at the NHL and responded with 14 goals and 14 assists in his rookie season.
Letestu was traded to Columbus in 2011 for a fourth-round draft pick. He played four seasons with the Blue Jackets, playing in 233 games and scoring 43 goals and 55 assists.
He recently signed a three-year, $5.4 million free agent contract with the Edmonton Oilers.
Photo credit: Brain Mitchell