For the U.S. women's national soccer team, a lot has changed in a month. The group of 23 women that captured the hearts of America en route to a World Cup win in July will take the field again for the first time since their title win in Pittsburgh on Sunday.
"It's exciting," said captain Carli Lloyd. "It's crazy to think that it's a little over a month ago that we played in that final. It feels like it's been a year ago. It's been a whirlwind and it's been busy and it's exciting."
In between media engagements and a ticker tape parade, Lloyd, Pittsburgh native Meghan Klingenberg and midfielder Morgan Brian have been playing for their club team – the Houston Dash of the NWSL – as they are fighting for a playoff berth. Others, such as veteran striker Abby Wambach, have taken some much-needed vacation time.
Lloyd, who scored a hat trick in the World Cup final against Japan, has seen quite the change due to her instant celebrity status.
"I think that I realized it when I got back to the states," Lloyd said. "Everywhere I was going, people were picking up the dinner tab or paying for something or getting a picture with me. Just when I think I'm kind of incognito and just going about my business, hanging with friends and family, people jump out and say congratulations."
For head coach Jill Ellis, the World Cup title came along with a multi-year contract extension from U.S. Soccer, but she feels that things haven't changed from her perspective.
"I've always said I don't have a rear view mirror," she said. "I was just talking to (the team) on the bus. It's like the World Cup is already on the back burner. It's always about what's in front of you.
"It hasn't changed for me personally. There's still a drive and responsibility to have this team continue to get better and find players and continue to develop. It was nice to win the World Cup and I think that's given me the opportunity to continue in this role, but there's the same focus and the same accountability on my part."
So while for the fans and the players, the ten-game victory tour that will kick off at Heinz Field is all about celebrating the team's victory, for Ellis, the process of evaluating players for the 2016 Olympics in Rio de Janeiro has already begun.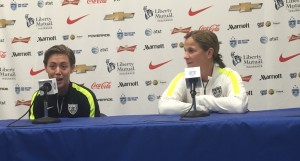 "It has to be a blend," Ellis said. "I talked to the players last night. Certainly, with this program, and always trying to be at the forefront, you always have to have one eye on the future, so I think it's certainly a recognition and acknowledgement not just for the players, but also for our fans to celebrate what we accomplished this summer.
"But always, with a short window between the World Cup and the Olympics – qualifiers start in February – I think towards the latter stages of this tour, certainly we'll be starting to look towards the future."
The journey towards another title begins against Costa Rica on Sunday, and Klingenberg isn't overlooking "Las Ticas."
"To me, this is an opportunity to make a statement," Klingenberg said. "It's a statement game. They're one of the best teams in our region and we're going to have to face them in (Olympic qualifying) and to me, it's an opportunity to show the world and show CONCACAF we're not taking this lightly. We want to go after gold in the Olympics and that's what we're going to do."
For Lloyd, who played a starring role in the team's World Cup knockout stage games, this tour is about taking her game to even greater heights.
"I'm not done," she said. "I've got five years left. There's no doubt that I can go another (World Cup) cycle. I want to become the greatest ever, and there's lots of room for improvement.
When people say, 'How do you top this?' I hope to top it. I hope to continue to get better and help this team to more gold medals."