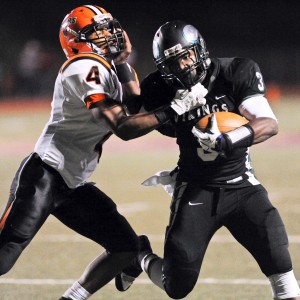 Single-A
#2 North Catholic vs #1 Sto Rox (11:00 A.M.)
In what might be the best all around game of the day, Bob Ravenstahl's 12-0 Trojans take on Dan Bradley's 12-0 Vikings. Sto Rox is my pick to come away with the championship. At the beginning of the season, I was all in on North Catholic, and running back P.J. Fulmore has done nothing but proved he's one of the premiere running backs in the whole WPIAL. Teammates Ryan Kirby and Jarred Fragapane have been huge contributors in North Catholic's outstanding season, but Sto Rox has the all-around edge this Saturday at Heinz. Beating Clairton was huge for Sto-Rox last Friday, as they handed the Bears their first WPIAL playoff loss since 2007. From week to week, I continue to praise quarterback Lenny Williams, and he shows up every Friday night and is the leader of the #1 seeded Sto-Rox Vikings. His company on offense makes it that much better, and Brendan Blair and Mallory Claybourne have been huge keys to Williams' success this season, which will help lead the Vikings to their first WPIAL championship since 1987.
Winner: Sto Rox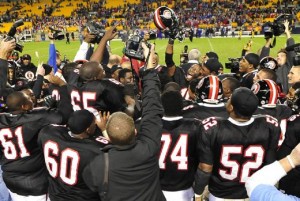 Double-A
#1 Aliquippa vs #2 South Fayette (5:00 P.M.)
Just like the Single-A matchup, the one seed has the edge in this weeks championship game. In 2010, South Fayette beat Aliquippa in the title game, but since then, the Quips have won back-to-back titles and are looking for a "threepeat" this Saturday. While Brent Brumbaugh has been spectacular for South Fayette this season, the combination of Terry Swanson and Dravon Henry has been one of the best in WPIAL history, as the two became the first duo to ever rush for 4,000 combined yards. Henry and Swanson will lead the charge again this weekend for the Quips, and it's just too tough to contain the two of them, whether it's against South Fayette's great defense or not. Coming into the year, Aliquippa was a state championship pick, and all they did was dominate the Double-A level. While this weeks matchup against South Fayette might not be a blowout like the Quips are used to seeing, it'll be a victory, and the third consecutive WPIAL championship victory at that.
Winner: Aliquippa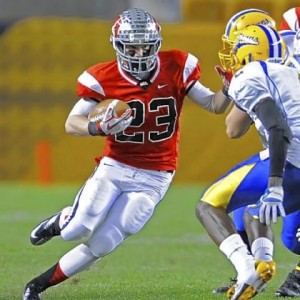 Triple-A
#4 Central Valley vs #1 West Allegheny (8:00 P.M.)
Fresh off of an impressive victory over Thomas Jefferson, Central Valley comes into this weeks match up as the underdog. The Indians of West Allegheny are looking for their second championship in a row and have an all-around solid football team that could get it done. Central Valley's run game is their strength, and their only loss this season was week five against West Allegheny, when they were defeated by a 13-7 score. West Allegheny hasn't lost yet, and the only game they came close to doing so was that week five match up. Jordan Whitehead and JaQuan Patterson make up a solid duo of running backs for the Warriors, but they might be over matched against West A. Chayse Dillon has done his job for the Indians this season as a running back and was a workhorse for the undefeated squad. His offensive partners, Andrew Koester and Tory Delmonico, will help get the job done. A Central Valley upset isn't out of the question, and to be honest, I wouldn't be surprised if it happened, but as of now, my gut is telling me to roll with the one-seed.
Winner: West Allegheny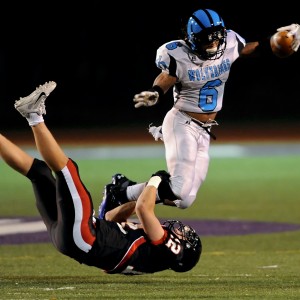 Quad-A
#2 Central Catholic vs #4 Woodland Hills (2:00 P.M)
This isn't either team's first rodeo. Central Catholic and Woody High are two teams that have played for the championship before, and we have a dog fight ahead of us this Saturday. Central has been tremendous all year long and is yet to lose, while Woodland Hills has won every game since their 0-2 start. The Vikings are somewhat one-dimensional, and love to run the ball with senior Luigi Lista-Brinza. Unfortunately, Lista-Brinza was injured in the second quarter of last weeks semifinal game against Penn Trafford. He is questionable for the championship, and all signs are pointing to him being active, but there are questions as to whether or not he will be 100%. His backup, Riley Redman, stepped up last week after his injury running for two touchdowns on 74 yards. Woodland Hills likes to run the ball with sophomore Miles Sanders, and you also can't forget about some of the Wolverines' other weapons in Harry Randall and Trevon Mathis. Mathis did it all for the Wolverines last week in their upset victory over the #1 seeded Upper St. Clair Panthers, as he caught a touchdown, along with returning a kick 96 yards for another score. The Wolverines are seeking their sixth WPIAL title, while the Vikings are in search of their fourth. This weekend, I'm all in on Woodland Hills. They have come short of the championship a couple times these past few seasons, and I think they're going to be hungry and ready to go come Saturday. As for Central Catholic, the injury to Lista-Brinza last weekend may play a big role in this matchup, and whether he plays this weekend or not, I take the #4 seed Woodland Hills Wolverines in a hard-fought victory over the Central Catholic Vikings.
Winner: Woodland Hills