Single-A
#1 Sto-Rox vs #9 Apollo-Ridge (at Deer Lakes)
Winner: Sto Rox
#12 Fort Cherry vs #4 Clairton (at Elizabeth Forward)
Winner: Clairton
#7 Avonworth vs #2 Cardinals Wuerl North Catholic (at Hampton)
Winner: Cardinal Wuerl North Catholic
#3 Monessen vs #6 Neshannock (at Chartiers Houston)
Winner: Neshannock
Game of the Week: Avonworth vs Cardinal Wuerl North Catholic
This Single-A showdown features the first and second best teams out of the Eastern Conference in which the only loss by either team was week six when North Catholic defeated Avonworth 21-12. The rival schools meet again this week at Hampton High School with elimination on the line. The Antelopes defense was one of the best in the WPIAL only allowing 8.3 points per game in the regular season, and their offense has weapons in Matt Donovan, Moses Giles, and Jesse Zubik. If the defense is able to shutdown one of the best running backs in the WPIAL, P.J. Fulmore, the Antelopes will have a great chance of knocking off the two seed North Catholic Trojans in a low-scoring affair.
Monessen vs Neshannock is a very good game too. Monessen's biggest win was their victory over Clairton which ended the Bears' 66-game winning streak, and Neshannock nearly beat the best team in Single-A, Sto Rox, which definitely makes this a game to look out for.
Upset Watch: Apollo-Ridge over Sto Rox
Perhaps seeded too low, Apollo-Ridge had a very impressive 2013 season. Their two losses came in double overtime against North Catholic, and a high-scoring shootout against Avonworth. Sto Rox is the best Single-A team in the WPIAL, and excel in their passing and rushing attack. The Vikings quarterback, Lenny Williams, is one of the best in the WPIAL and his favorite target, Mallory Claybourne, caught for close to half of the yards Williams threw for in 2013. Brendan Blair is a very good running back for the Vikings, and they are the clear favorite in this matchup. As for Apollo-Ridge, do-it-all quarterback Jesse Zelonka will have to be at the top of his game. Zelonka threw for 22 touchdowns in 2013, while rushing for close to 800 yards out of the quarterback position. His favorite target, Tre Tipton, was said by some to be the best player in single-A coming into the season, and he has the potential to give Sto Rox trouble throughout the game. Though Sto Rox is the best team in Single-A and will most likely win this game, Apollo-Ridge has the chance to shock all WPIAL football fans with a victory.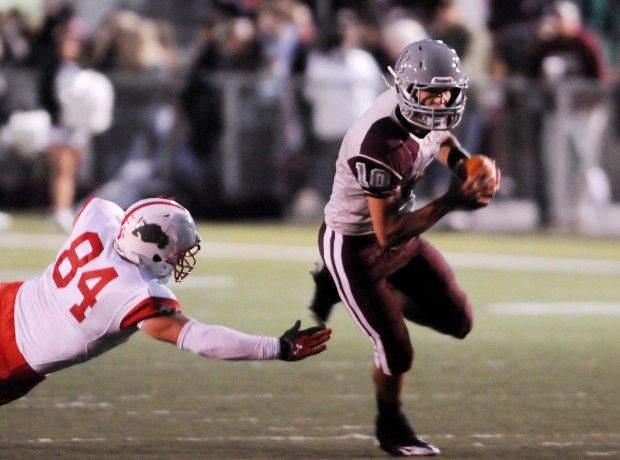 Double-A
#8 Quaker Valley vs #1 Aliquippa (at Moon)
Winner: Aliquippa
#4 Mount Pleasant vs #12 Beaver (at Plum)
Winner: Mount Pleasant
#2 South Fayette vs #10 Seton-LaSalle (at Peters Township)
Winner: South Fayette
#14 Yough vs #6 Beaver Falls (at Big Mac Stadium in Canonsburg)
Winner: Beaver Falls
Game of the Week: South Fayette vs Seton-LaSalle
South Fayette is one of the more well-rounded teams in Double-A, and they have multiple players who can get it done on the offensive side of the ball. Quarterback Brett Brumbaugh, running back Grant Fetchet, and wide receivers Justin Watson and Conner Beck make up a powerful offense that averaged more points (49.8) than any other team in the WPIAL this season. It'll be tough for Seton-LaSalle to knock off South Fayette, but it's definitely not out of the question. The two teams that made up the top of the Century Conference will go to war, and Seton-LaSalle has most likely been doing their best to forget about the week five game between the two teams, which they lost 45-3 to South Fayette. South Fayette is the clear favorite in this game, and baring a miracle, should cruise to an easy victory, but you can never overlook the underdog in a conference playoff matchup.
Upset Watch: Beaver over Mount Pleasant
Despite this being the game of the week to watch in Double-A, I have to mark this one up as the "upset watch."
Mount Pleasant running back Tyler Mellors had a phenomenal season rushing for over 1500 yards and 28 touchdowns. He averaged ten yards a carry, and was easily one of the most valuable players in the state. Outside of Mellors, Beaver doesn't have much to worry about. Shutting down the senior running back Mellors might be too much of a task for Beaver, but if they're able to pull that off, they can cruise to the semifinals as a 12-seed. On Beaver's side of the ball, quarterback Alex Rowse threw for more yards than any quarterback in the WPIAL this season. His 2,445 passing yards and 37 touchdowns made him one of the best quarterbacks in the state, and he picked apart just about every defense he faced this season. Wide receivers Darius Wise, Dylan Goff, and Kresten Wallace all played big roles in the regular season, and Beaver has a good shot at pulling off an upset if they can keep Mellors rushing attack to a minimum.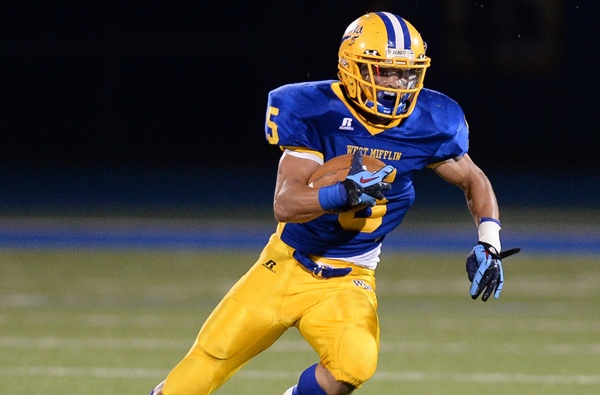 Triple-A
#1 West Allegheny vs #9 Indiana (at Martorelli Stadium in the North Hills)
Winner: West Allegheny
#4 Franklin Regional vs #5 West Mifflin (at East Allegheny)
Winner: West Mifflin
#2 Thomas Jefferson vs #7 Highlands (at Chartiers Valley)
Winner: Thomas Jefferson
#3 Central Valley vs #6 Mars (at Ambridge)
Winner: Central Valley
Game of the Week: Franklin Regional vs West Mifflin
The best player in this game is without a doubt West Mifflin's Jimmy Wheeler. The senior running back ran for  close to 2,400 yards in the regular season, and averaged 9.2 yards per carry. Franklin Regional doesn't have much of a shot at shutting down Wheeler, which is why I think West Mifflin will pull off the one-seed upset in this one. Their rushing attack isn't bad, and it consists of a two-headed running attack of Paul Emanuele and Brett Zanotto. Quarterback Charan Singh ran for just as many yards as he passed for this past season, and the three players combined to run for over 1,900 yards. These two teams did not face each other this season, and I pick West Mifflin to squeak by with a victory behind the dominance of Jimmy Wheeler.
Upset Watch: Mars over Central Valley
The chances of West Allegheny and Thomas Jefferson losing are slim to none, which gives me no other choice but this game for my upset alert. Both teams hold 9-1 records, and the only way Mars will win is if they get a big showing out of Josh Schultheis, who has carried the Fighting Planets all season long as the team's leading running back. Mars' passing attack isn't anything special, and if Central Valley shuts down the junior Schultheis, they can walk onto an easy victory. Central Valley is an all-around solid football team, and could be 10-0 if it wasn't for a tough 6-point loss to the #1 seed West Allegheny during the regular season. They have one player to contain, and if they do so, it'll be a victory for them. If not, they'll have a tough night and might ultimately see an exit from the playoffs.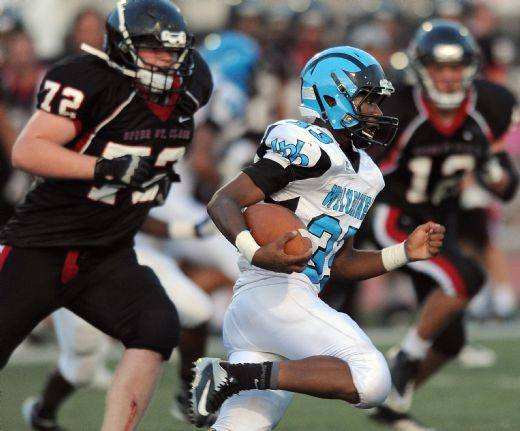 Quad-A
#1 Upper St. Clair vs #9 North Allegheny (at Baldwin)
Winner: Upper St. Clair
#4 Woodland Hills vs #5 Seneca Valley (at North Allegheny)
Winner: Woodland Hills
#2 Pittsburgh Central Catholic vs #7 Gateway (at Fox Chapel)
Winner: Pittsburgh Central Catholic
#3 McKeesport vs #6 Penn-Trafford (at Norwin)
Winner: McKeesport
Game of the Week: Woodland Hills vs Seneca Valley
This matchup between the Wolverines and Raiders is a toss up, and there isn't really a clear favorite. Seneca Valley, who only lost one game in the regular season to Central Catholic, finished second in the Northern Eight Conference. Junior quarterback/linebacker T.J. Holl has played very well all season in the passing and rushing game, and his father, Don Holl, is the head coach for the Seneca Valley team that had a surprising 8-1 regular season record. On the other side of the ball, Woodland Hills is a run-heavy team led by sophomore Miles Sanders. Accompanying Sanders is Harry Randall, Art Thompkins, and Jo-El Shaw who make up one of the most lethal rushing attacks in the WPIAL. The Raiders and Wolverines go to battle Friday night at North Allegheny, and this game is definitely one to look out for in a classic #4 vs #5 showdown.
Upset Watch: Gateway over Pittsburgh Central Catholic
Despite being ranked as the seventh best team in Quad-A, the Gateway Gators are just as talented as any team in the WPIAL. With roughly nine division-1 football recruits, the Gators have all the tools to pull of an upset. They were ranked as the second best team in the WPIAL coming into the season by multiple newspapers, and their foursome of wide receivers are tough to match up against at any level. Ricky Rogers, Delvon Randall, Anthony Davis, and the best of the four, Montae Nicholson, will all be playing football at big time colleges next season, and they make up an unbelievable wide receiving core. Nicholson, who has offers from just about every big name school in the country, is one of the most gifted players in the state, and the Vikings will need to keep him out of the game if they look to win. Even though Central Catholic will most likely come out with the victory over Gateway, the Gators have all the potential and talent to pull of a huge upset in Quad-A.
All games are scheduled for Friday night at 7:30. Follow @_DrewBrown for updates on the games.