The quarterfinal games are in the books, and this week features eight exciting games in which the teams will play for their opportunity of a WPIAL championship next week at Heinz Field.
Single-A
North Catholic vs Neshannock (at Mars)
Neshannock pulled off the upset last week beating Monessan, while North Catholic squeaked out a hard-fought 14-7 victory over Avonworth. Junior running back P.J. Fulmore for North Catholic is a difference maker and will send Bob Ravenstahl's squad to Heinz Field.
Winner: North Catholic
Sto-Rox vs Clairton (at Chartiers-Houston)
I know it's hard to believe, but Clairton will be losing their first WPIAL playoff game since 2007 this Friday night. The "Bout Dat" era is all but over, and the speed of Lenny Williams, Mallory Claybourne, and company will result in a non-Clairton Bears Single-A championship for the first time in six seasons.
Winner: Sto-Rox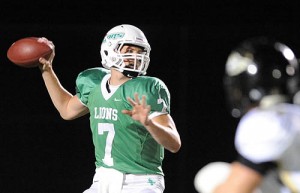 Double-A
South Fayette vs Beaver Falls (at Montour)
South Fayette quarterback Brett Brumbaugh is setting records for his squad and will have another huge game Friday night against Beaver Falls. Despite winning handily last Friday night against Yough, the Tiger pass coverage doesn't have what it takes to shut down the Lions powerful passing game.
Winner: South Fayette
Alipquippa vs Beaver (at Ambridge)
Beaver Area pulled off the big upset last week against #4 seed Mt. Pleasant, and was helped out a lot throughout the game by Mt. Pleasant miscues. Unfortunately, the Beavers impressive run as a #12 seed will come to an end this weekend against #1 seed Aliquippa. The Bobcats have proved they can run with the big dogs, but they won't be able to keep up with Dravon Henry and Terry Swanson this Friday.
Winner: Aliquippa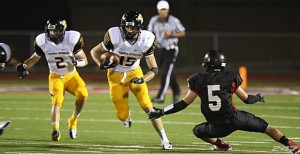 Triple-A
Thomas Jefferson vs Central Valley (at Chartiers Valley)
Central Valley running back Jordan Whitehead always has the potential to go off and have a huge game, but he might have trouble doing so against a tough Thomas Jefferson defense. Chase Winovich and Austin Kemp make up a deadly offensive attack for the Jaguars and the best all-around team in Triple-A should cruise to the championship round against West Allegheny.
Winner: Thomas Jefferson
West Allegheny vs Franklin Regional (at North Allegheny)
Following a tight 14-12 victory over West Mifflin, the Panthers square off with #1 seeded Indians. The Indians passing game was the key to their easy victory over Indiana last week, and they have the upper hand on Franklin Regional this week. The Panthers could give Bob Palko's crew a run for their money, but the all-around solid offense of the Indians should carry the squad to their second consecutive appearance at Heinz Field.
Winner: West Allegheny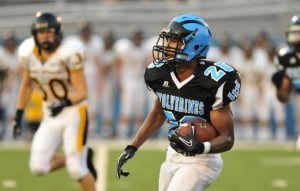 Quad-A
Upper St. Clair vs Woodland Hills (at Baldwin)
Woodland Hills looked impressive in their victory over Seneca Valley a week ago, while Upper St. Clair was on upset alert against North Allegheny for a short time period. Thanks to a second-half explosion and injury to North Allegheny's best player, the Panthers won this week but have their hands full with a scary Wolverines squad this week at Baldwin. Even though the Panthers beat the Wolverines week one at the Wolvarina by a score of 16-10, Woody High has come together as a team since their 0-2 start. They have the speed on defense to contain USC's Joe Repischak and their quick paced offense will get them to Heinz Field for the fourth time in five seasons.
Winner: Woodland Hills
Central Catholic vs Penn Trafford (at West Mifflin)
Penn Trafford is for real, and pulled off a huge upset last week beating #3 McKeesport. After coming into the playoffs on fire, they have beat Penn Hills and McKeesport and go into this Friday night's matchup as the underdog against the Central Catholic Vikings. The Vikings defense should be able to contain Devin Austin and Tom Stinelli, and running back Luigi Lista-Brinza will rush for another big game behind the massive offensive line of Central Catholic.
Winner: Central Catholic
All games are Friday night at 7:30 P.M.