Former Robert Morris captain Cody Wydo made his professional debut with the Wheeling Nailers on Friday night, and he did it in style. Wydo scored a goal and an assist to lead the Nailers to a 2-1 victory over the Fort Wayne Komets.
Several RMU students and a large group of his teammates made the 60-mile trip to Wheeling to cheer him on and Wydo, the school's all-time leading scorer and a Hobey Baker finalist, didn't disappoint.
The game was tight checking and scoreless through the first two periods. It was the Komets who finally broke through when Eric Faille's wrister found it's way through a screen and past Eric Hartzell to give Fort Wayne a 1-0 lead. The goal was Faille's 23rd of the season and assisted by Shawn Szydlowski and Drew Daniels.
Just 35 seconds later, Wydo ignited the Nailers – and Colonials – faithful when he fired a wrist shot over the glove of a screened Pat Nagle to tie the game at 1-1.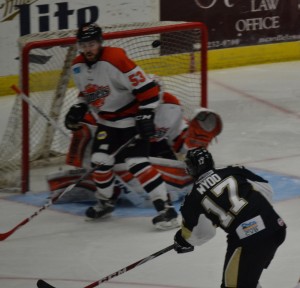 "I just came into the zone a little later, and the defenseman Burton made really good drop pass," Wydo said of his first professional goal. "I picked my head up, saw that I had time, took a couple of strides into the zone, and the shot went back across my body and beat him high glove."
"I think that's everyone's dream, to score in the first game," he added.
At that point, crowd of 2359 really got behind the Nailers, and on Wydo's next shift, they struck again. He took a pass from Derek Army and whipped a shot towards the net that deflected off Sahir Gill and in behind Nagle to give Wheeling a 2-1 lead.
"I thought it was a good line rush," said Gill of the game-winning goal. "It was a pretty simple play; nothing too fancy about it. Those are the kind of goals that are probably going to go in this time of year. It was a good bounce, and a good shot by Cody."
The Army-Gill-Wydo line really seemed to come on as the game went on and Wydo got more comfortable in his pro debut.
"It's great to see him to get off to a good start," said Nailers head coach Clark Donatelli "He played really well for his first game."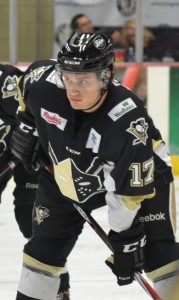 Donatelli seems to have found a gem in Wydo, who was the leading NCAA goal scorer when he left Robert Morris. Donatelli thinks that his newest recruit is capable of accomplishing even more in his professional career.
"He's gonna use his skating, he's a really good, fast skater," said Donatelli "He gets to the hard areas to make plays. He's just going to have to play. Right now, he got his feet wet and had a real good first game, but I think you're going to see a lot more from him. He can do a lot more out there. I'm glad he got the first one out of the way. He's a very dynamic player and he's going to be very good at this level.
"We're going to try to get him to the American League. He's looking good so far. He's got a fine future ahead of him."
The two points were huge for Wydo, but the two points in the standings were even bigger for the Nailers as they knocked off the second-place Komets and remained tied with Cincinnati for the fourth and final playoff spot in the ECHL's North Division.
"It's a great time to be here, especially with everyone trying to push to get into that last spot in the playoffs," Wydo said.
Donatelli pointed to the solid leadership group that has remained intact on his team as a reason for the success of Wydo and other players that have recently been brought in by the Nailers.
"You have to have the glue," Donatelli said "Our leadership group is sound. We've got (Zack) Torquato, we've got Chaz Johnson, we've got (captain Shane) Bakker and (Mike) Rathchuk, those guys have all been through the process, they've been to the American League and back, and they teach the kids on and off the ice how to be a pro and the work ethic that it takes and how hard it is to be a hockey player and the young guys just fall in line. It all starts with the veterans and the leadership group working hard out there. Without hard work, you don't have anything."
The Nailers continue their four-game home stand with a 7:35 p.m. faceoff against the Reading Royals on Saturday and finish up with a 4:00 p.m. start against the Cincinnati Cyclones on Sunday.
Photo credit: Brian Mitchell