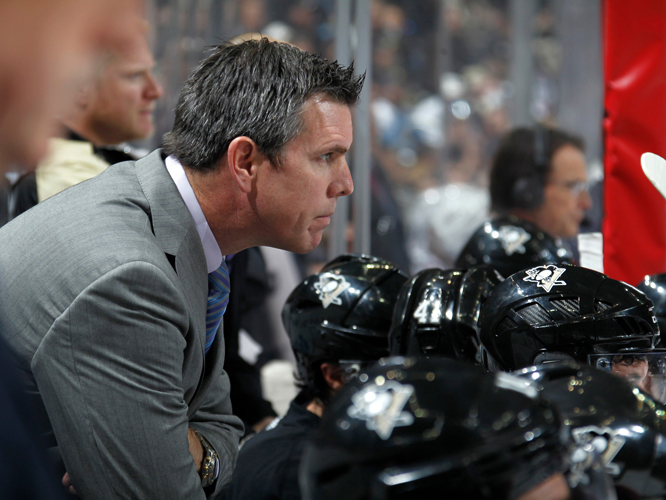 (Photo by Greg Shamus/Pittsburgh Penguins)
Exactly one year ago today, the Pittsburgh Penguins made quite possibly their biggest coaching change in decades — and very much for the better.
Let's be honest, when it comes to the coaching carousel, the Penguins aren't like their neighbors the Pittsburgh Steelers, which have had three head coaches in 47 years. In the last seven years, Pittsburgh has cycled through four coaches: Michel Therrien, Dan Bylsma, Mike Johnston and, now, Sullivan.
While Sullivan only has a year under his belt coaching one of the most talented teams in the league, there's been a noticeable difference since his installation as head coach.
Sullivan was the head coach of the AHL affiliate Wilkes-Barre/Scranton Penguins when he was named Pittsburgh's head coach on December 12, 2015. Since then, he's 66-24-8 (including the playoffs), a winning percentage of .673.
To put that in perspective, all three previous coaches combined had a winning percentage of .565, including playoffs. Yes, Sullivan's sample size is much smaller and he has more talent to work with, but there have been three very talented constants for all the coaches: Sidney Crosby, Evgeni Malkin and Marc-Andre Fleury.
After Bylsma coached Pittsburgh to a championship in 2008-09, it felt like it would be the start of a new era of Penguins hockey. In some cases, it was, but the team battled injuries – and itself, in many cases — which ultimately led to one disappointing season after the next.
Fast forward to today, and things have changed considerably. Not only are the Penguins winning more frequently, it seems like Sullivan has gained the respect of all three core players, something previous coaches appeared to lack.
Sullivan has a more authoritarian coaching style, something this roster needs. It wasn't too long ago that the Penguins earned the reputation of whining over calls. A lot of this was due to the team's lack of discipline as well as just the pure fact that Pittsburgh was underperforming.
In his short time with Pittsburgh, not only has Sullivan brought the Penguins a Stanley Cup, but he's also coached a very diverse group of players, from superstars like Crosby and Malkin to raw talent like Conor Sheary and Tom Kuhnhackl. Sullivan is a player's coach.
Teaching smart and fast hockey with an emphasis on bombarding the net with shots, Sullivan is a perfect fit for this roster and has changed the way Pittsburgh plays the game. He also used youth as an advantage, too — he's 48 years old — something not every coach can pull off.
Just look at the way Sullivan galvanized Sheary, Kuhnhackl and Bryan Rust — at the end of their Stanley Cup winning season, they looked all like long-time pros.
Sullivan even has a positive impact on seasoned veterans like Matt Cullen, who played last season like he was in his 20s.
But don't just take my word on what Sullivan has brought to the team, listen to the praise players have for Sullivan following any game.
Here's what Crosby had to say about the changes Sullivan brought when he took over as head coach: "When there's a coaching change, especially as a captain you take a lot of responsibility on your shoulders and you expect more. … I wasn't happy with the way I started, and I think he just put me in situations and gave me opportunities to try to work my way back into things. He was just good holding everyone accountable, myself included, and making sure that I got better."
Sullivan has only been Pittsburgh's coach for a year, and that's the exciting part. Of course, there are a few wrinkles from time to time, and not every win is clean, but there's no doubt this is a better team than a year ago – by a long shot.
Sullivan has brought winning hockey back to Pittsburgh and, with this season already in good shape, there's no reason to think this brand of hockey won't continue for years and years to come.