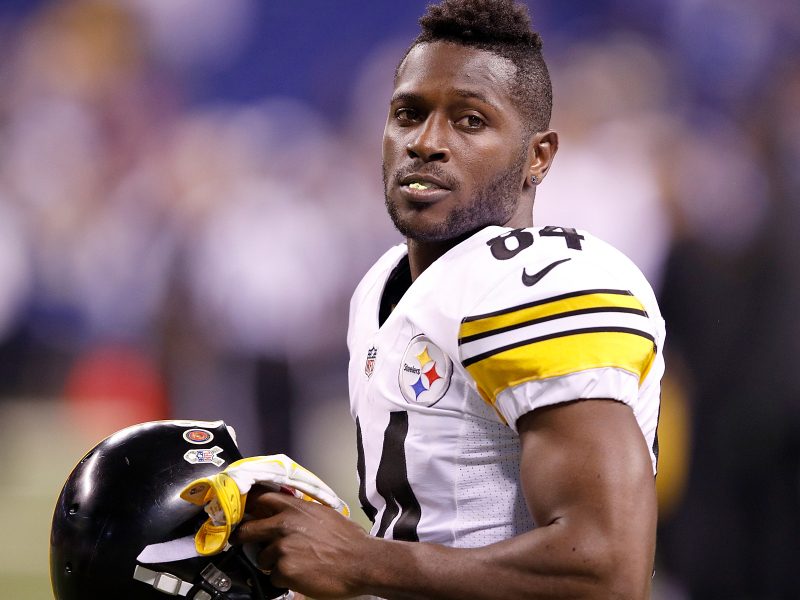 (Photo by: Joe Robbins/Getty Images)
There may be no "I" in team, but there is one in "Antonio."
According to NFL Network's Aditi Kinkhabwala, the Pittsburgh Steelers have become concerned that wide receiver Antonio Brown cares more about his individual statistics than his team's performance.
Sunday, in the AFC Championship Game against the New England Patriots, Brown apparently "pouted" after quarterback Ben Roethlisberger found running back DeAngelo Williams for the touchdown and not Brown — while the rest of the Steelers were celebrating cutting the score to 10-6.
Kinkhabwala said: "Antonio Brown was wide open in the back of the endzone, and he pouted because he was wide open (and) Ben Roethlisberger didn't go to him."
Roethlisberger then waited for Brown (he was the last player to return to the sidelines), and the two spoke.
"Instead of spending those moments with Todd Haley, (Roethlisberger) had to sit and worry about Antonio Brown's ego," Kinkhabwala said.
This kind of behavior from Brown isn't all that new. Last season, Pittsburgh head coach Mike Tomlin had to talk to Brown and tell him to stop chasing stats and start chasing championships.
Brown, who can usually be found all over social media, has been relatively quiet since Pittsburgh's loss to the Patriots. The wideout, who finished the AFC Championship Game with seven receptions for 77 yards, declined to speak to reporters following the season-ending loss.
Brown has one year left on his contract.