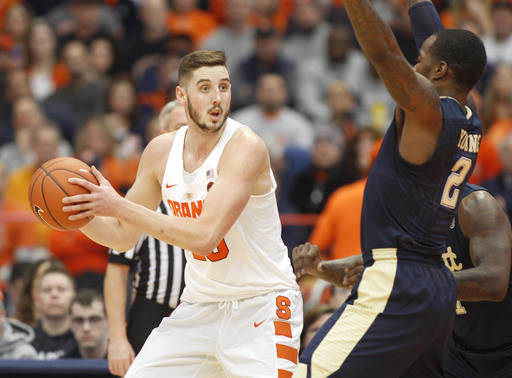 (Photo by: Nick Lisi/AP Photo)
The Pittsburgh Panthers didn't have a win streak for very long.
Saturday, the Panthers were defeated by the Syracuse Orange, 77-66. The loss came just one game after the Panthers defeated the No. 11 Virginia Cavaliers on Wednesday.
Pitt hoped to revive its former five-game winning streak, however, due to a lack of points scored by the bench — only the starters scored — the Panthers were defeated in New York.
Head coach Kevin Stallings blamed the defeat on the defense.
"There were times when our defense certainly wasn't where it was supposed to be and wasn't as good as it needed to be," Stallings said. "But there were also a number of occasions where we defended them pretty well, and it would get late in the shot clock and they would jump up and make one in our face. And so you just have to give them credit."
Jamel Artis led the Panthers with 23 points, while Michael Young scored 17 points, and Sheldon Jeter scored 12 points. Both Cameron Johnson and Chris Jones scored seven points, finishing off Pitt's scoresheet. Jeter led the team in rebounds (11), while Johnson led the team with four assists. Jeter also led the team in steals and blocks with three each.
For Syracuse, Andrew White III scored 21 points, leading the team, while John Gillon followed closely behind with 20 points. Tyus Battle scored 15 points, and Tyler Lydon scored 13 points, giving Syracuse four double-digit scorers. Both Taurean Thompson and Tyler Roberson scored four points. Roberson, who was the only player to come off the bench, led the team with 10 rebounds, while Gillon led the team with 11 assists. Battle led the team with three steals, while Roberson had six blocks.
"Especially when you're on their home floor, if you let somebody get off to a fast start — 3 after 3 after 3 after 3 — it's going to be hard to put out that fire," Jeter said. "A lot of them got really hot."
What's Next?
The Panthers (12-4) will travel down south to face the Louisville Cardinals (13-3) on Wednesday, January 11. Tip off is scheduled for 7 p.m. EST.