The West Virginia Mountaineers got the attention of the voters in the Associated Press Top 25 poll this week with their 41-17 victory over Liberty University and Mountaineer Field on Saturday.
WVU quarterback Skylar Howard went 21-for-26 for 263 and threw three touchdowns as the Mountaineers rolled over the Flames, who are an FCS school.
Running back Wendell Smallwood chipped in with 15 carries for 88 yards and two touchdowns of his own. The defense didn't allow a score until 4:35 remained in the third quarter, having started the season with a 100:25 scoreless streak.
Dana Holgorson's squad now sit just outside the Top 25, coming in second amongst other teams receiving votes, and are just 11 points behind 25th-ranked Oklahoma State.
Ohio State remains the No. 1 ranked team in the county, although no longer unanimously so. Michigan State earned two first-place votes, but are ranked fourth overall, after their Saturday night victory over No. 12 Oregon.
Northwestern (No. 23) and Wisconsin (No. 24) are the other Big Ten teams ranked. In the Big 12, TCU remains at No. 2, while Baylor dropped one spot to No. 4. Oklahoma is ranked 16th. Three ACC teams are ranked: Florida State at No. 9, Clemson at No. 12 and Georgia Tech at No. 14.
The full rankings are available here.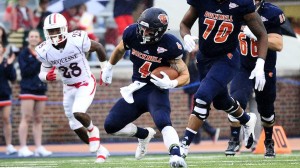 • In FCS news, the Duquesne Dukes won their second straight game with a 26-7 road victory over the Bucknell Bison.
Quarterback Dillon Buechel threw three touchdown passes to three different receivers and finished 15-of-28 for 172 yards. Kicker Austin Crimmins added a pair of field goals and the Duquesne defense kept the Bison off the board until the outcome of the game was no longer in doubt.
The Dukes (2-0) are now in tied with Sacred Heart for first place in the Northeast Conference. Duquesne travels to Dayton for a 1:00 p.m. kickoff next Saturday.
Photo credit: WVU Sports (main) Bucknell Athletics (inset)