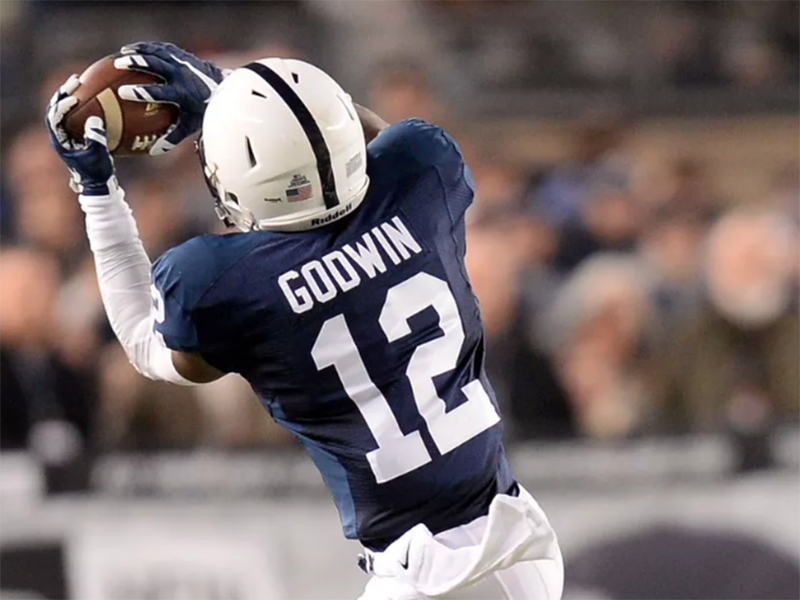 (Photo by: Joe Camporeale/USA TODAY Sports)
Penn State enjoyed a resurgent 2017 that put the Nittany Lions back in the national picture following years of mediocrity during the school's sanction era. Two of the players who stuck with the team amid the sanctions find themselves gearing up for the NFL Combine this weekend: defensive lineman Garrett Sickels and wide receiver Chris Godwin.
Both had career years for James Franklin's Big Ten champion squad in 2017 with Godwin finding the end-zone a career-high 11 times and Sickels finding the opposing team's quarterback six times.
Players invited to the combine go through a battery of psychological and medical testing while also interviewing with individual teams prior to working out on field. On the field, the players will go through individual position drills as well as timed and measurable drills such as the 40-yard dash, shuttle run, 3-cone drill, bench press, vertical leap and broad jump.
Chris Godwin
Career Highlights: The junior wide receiver had a knack for performing in big games — three of his biggest games came in the postseason. Godwin burst on the scene with a 140-yard performance in the New Era Pinstripe Bowl as a freshman.
Godwin hauled in seven passes and a touchdown in Penn State's Pinstripe Bowl victory in 2014. As a sophomore, he followed up his 2015 bowl game performance with a 133-yard performance in the 2016 TaxSlayer Bowl against Georgia.
But it was his performance in the 2017 Rose Bowl Game that Godwin will be most known for. The junior wideout found himself in the endzone twice against the USC Trojans, while hauling in nine passes for 187 yards.
Chris Godwin vs Adoree' Jackson pic.twitter.com/WUaa8FuYZj

— Marcus Mosher (@Marcus_Mosher) February 9, 2017
What to expect at the combine: Godwin won't blow teams away with his numbers or performance at the combine, but the wideout has been training for the combine with former All-Pro receiver Calvin Johnson.
And while Godwin's combine performance will be good, it will be the film that teams have on him from his career at Penn State that will help improve his draft stock. What NFL teams will get in Godwin is a wide receiver who blocks well in the passing game and has the ability to make plays all over the field.
Godwin's ball skills were among the best in the Big Ten last season, and his ability to go up and get jump balls is sure to set him apart from other receivers in this year's draft class. It's projected that Godwin will be a slot-type receiver at the next level.
Drills to watch for: Godwin, who will be performing at the combine on Saturday, March 4, will be looking to have good performances in the 40-yard dash, the 3-cone drill, the shuttle run and the vertical leap to help improve his draft stock.
Garrett Sickels
Career Highlights: Sickels played in 14 games for the Nittany Lions in 2017, amassing 47 total tackles with 12.5 of those coming for a loss. The junior defensive end benefited from improved playing time following defensive linemen Carl Nassib, Anthony Zettel and Austin Johnson getting drafted in 2016.
After being suspended for the first half of the Ohio State game, Sickels exploded in the second half of the season for nine tackles and two-and-a-half sacks in Penn State's upset win over the Buckeyes. Sickels went on to finish with six sacks on the season.
A member of Penn State's chapter of Uplifting Athletes, Sickels will be raising money for those with rare diseases at the combine. With each rep he does during the brench press portion, he'll raise money through Reps for Rare Diseases.
What to expect at the combine: Sickels isn't going to overwhelm scouts in attendance with his performance, but he should put up competitive numbers in each drill he'll take part in.
On tape, however, Sickels is very up-and-down in his performance. He tends to have games like the ones against Ohio State and Michigan State this year where he's on a mission and one of the best players on the field, then he'll follow those performances up with games like the ones against USC and Rutgers where you don't really know he's on the field.
At the next level, Sickels is going to have to be more consistent in his performance game-to-game if he wants to see the field in multiple situations. With a good motor and quick feet, he'll be looking to find a home with a team who is in dire need of a quality pass rusher.
Drills to watch for: Sickels will be competing Sunday, March 5 at the combine. Look for him to have a good performance in the bench press and 3-cone drill as those are big indicators for quick feet and strength for defensive linemen at the combine.