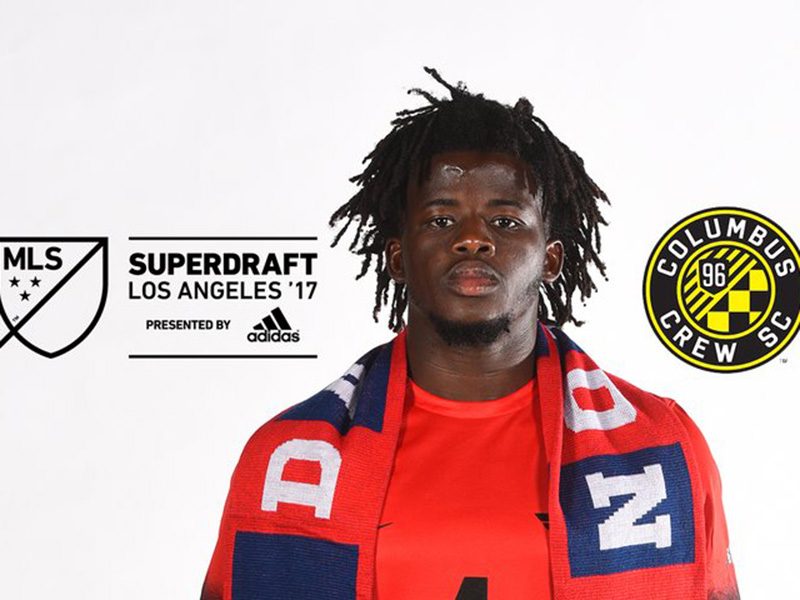 With their defender numbers dwindling, the Pittsburgh Riverhounds turned to their MLS counterpart for some help. The Columbus Crew SC sent defender Lalas Abubakar to the Riverhounds on a "match-to-match" basis loan.
Pittsburgh defender Gale Agbossoumonde will be out for this weekend's match against the Charleston Battery due to two cautions and a red card last Saturday against FC Cincinnati. Also expected to miss this Satuday's match is defender Ryan Adeleye, who is dealing with a lower-body injury.
Abubakar, a 22-year-old defender from Ghana, was drafted by the Crew with the fifth overall pick in the recent 2017 MLS SuperDraft.
In his college career at the University of Dayton, Abubakar made 61 appearances, starting 60 matches. He scored four goals and notched six assists during his collegiate career and was named the Atlantic-10 Conference Defender of the Year in his senior year. His junior year, he was named Dayton's Defensive Player of the Year.
During his time at college, he appeared for the Charlotte Eagles in 2015 and the Michigan Bucks in 2016. Both teams are part of the USL's Premier Development League. He made 12 appearances with the Bucks and 14 with the Eagles. He was more successful with the Bucks, as Abubakar was on the team that won the PDL League Championship.
In 2016, Abubakar was named the USL PDL Defender of the Year.
The Riverhounds will travel to South Carolina to face the Charleston Battery on Saturday. The match will kick off at 7 p.m. ET at MUSC Health Stadium. The Riverhounds will then return to Highmark Stadium for a game on Wednesday, April 12, to face St. Louis FC.