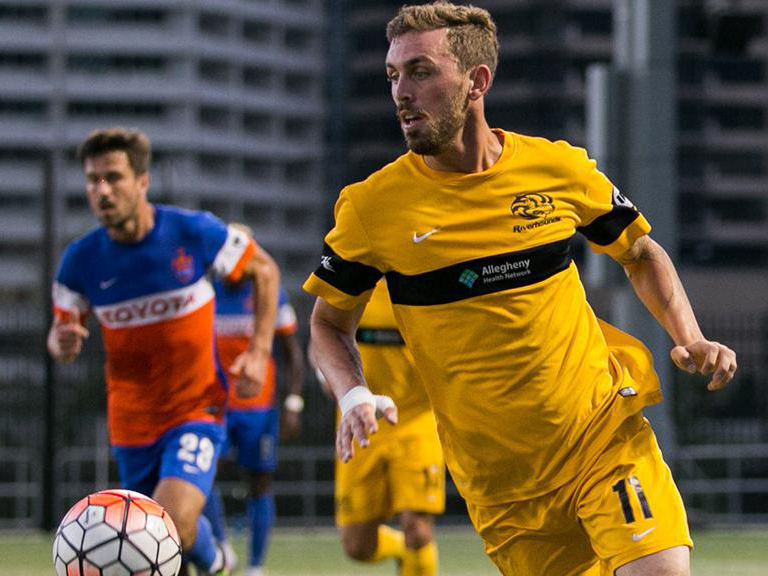 (Photo by: Chris Cowger/Pittsburgh Riverhounds)
Just call Corey Hertzog the Pittsburgh Riverhounds' utility man.
The striker continues to add to his goal count this season — and not just with his feet. Saturday, Hertzog scored the game-winning goal for the Riverhounds against the Charleston Battery with his head. That header, which occurred in the second half's stoppage time, was assisted by captain Kevin Kerr and gave the Riverhounds 2-1 win and all three points on the road.
The game started out with a goal from the Battery when Ataullah Guerra, assisted by Dante Marini, scored in the 8' minute to put Charlestown on top first.
However, Pittsburgh midfielder Marshall Hollingsworth spoiled the party for the home fans when he scored in the 59' minute. Hollingsworth's goal was assisted by rookie Kay Banjo, who was substituted on for defender Taylor Washington in the 57' minute.
The Riverhounds made a few lineup changes in the match. Because of his red card suspension, defender Gale Agbossoumonde was not available for selection. Taking his place in the starting lineup was Lalas Abubakar, who was lent to Pittsburgh by the Columbus Crew SC (the Riverhounds' MLS affiliate club) on a match-to-match basis.
Pittsburgh head coach Dave Brandt also gave Trey Mitchell his second straight start in goal, while Keasel Broome sat on the bench. Brandt also elected to give Ben Swanson, another Crew SC loanee, the start of a second-straight match.
However, Swanson was subbed out of the match in the 13' minute after being fouled by the Battery's Romario Williams. Swanson was replaced by fellow Crew SC loanee Abuchi Obinwa.
The Riverhounds had one yellow card handed out to them the entire match, with Obinwa getting one in the 73' minute. As for the Battery, they had two yellow cards shown to Williams (44') and Justin Portillo (85').
The Riverhounds (1-1-1) will return home to Highmark Stadium on Wednesday to face St. Louis FC. The match will kick off at 7 p.m. EST with gates opening at 6 p.m. EST. Tickets are still available through the team's official website and Ticketmaster.