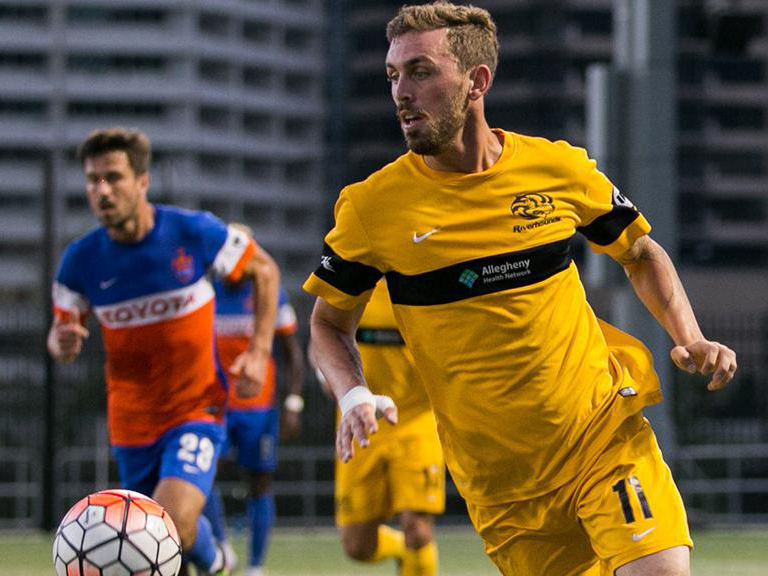 (Photo by: Chris Cowger/Pittsburgh Riverhounds)
For the first time since 2015, someone on the Pittsburgh Riverhounds' roster is the USL Player of the Week. Forward Corey Hertzog got the honor after his two-goal performance against the New York Red Bulls II on Saturday. The Riverhounds and Red Bulls II drew 3-3, with Pittsburgh captain Kevin Kerr notching the other goal.
Hertzog's first goal was a stellar chip past a defender and then past goalkeeper Rafael Diaz. To celebrate, Hertzog picked up the ball-boy and celebrated with the Steel Army, the Riverhounds' official fan group.
"I coach (the ball boy) every Monday, Wednesday, Friday, so he told me he was going to be there," Hertzog said after the match. "I told him if I score down there, I'll pick you up."
Hertzog's second goal came off a rebound from his own penalty kick. After missing his penalty kick, Hertzog beat out New York's defenders for the rebound and put the ball in the back of the net.
"First goal was good," Hertzog said. "Took a touch around the defender. I think he thought I was playing it back to Taylor. I took advantage of that tight finish. The second goal was pretty lucky. I need to finish that PK in the regular game, but the rebound came back and I just wanted to get it on target."
Pittsburgh head coach Dave Brandt elaborated on Hertzog's goal after the match.
"I thought Corey's was unbelievable," Brandt said. "I thought it was a great effort and then for whatever it's worth the photo moment — he picked up the ball boy and celebrated with the ball boy as well. I don't know who caught that and who didn't. I thought Corey's goal was a great goal."
The Riverhounds will host FC Cincinnati on Saturday at Highmark Stadium. The match will kick off at 5 p.m. ET, and tickets are still available.