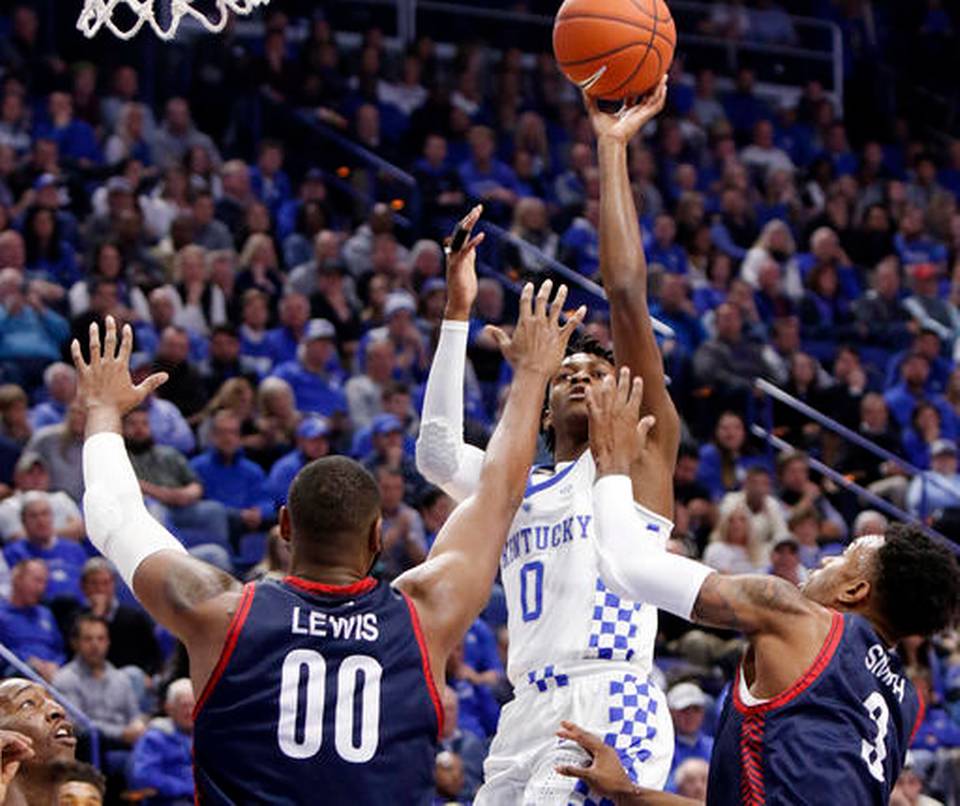 Sunday night at Rupp Arena, the No. 2 (AP) Kentucky Wildcats (4-0) defeated the Duquesne Dukes (2-3) 93-59, led by a balanced Wildcats offensive effort.
Freshman guard De'Aaron Fox led Kentucky and the floor with 16 points. Kentucky shot 46.1 percent from the field behind five players, including Fox, who put up double figures.
The Dukes were led by graduate guard Emile Blackman, who had 13 points. Sophomore guard Tarin Smith contributed 10 points, and Duquesne shot 30.4 percent from the field.
The Dukes jumped to an early 4-2 lead before the Wildcats took control of the game and went on a 7-0 run.
Duquesne head coach Jim Ferry said the Kentucky squad under head coach John Calipari is "one of the most talented teams" Ferry has seen, praising the Wildcats' length, athleticism and depth.
"When John (Calipari) gets these guys playing this hard, it's overwhelming," Ferry said. "At times, I thought we couldn't make a pass and we couldn't get by anybody, and when we did, the ball was blocked."
Kentucky recorded 10 blocks to Duquesne's one.
Calipari said his team, composed of four freshmen starters, improved on its post play.
"We came out of the gate — we were pretty aggressive defensively, and we were able to throw the ball," Calipari said. "(That is) something we haven't done so far (and) we did to them. We really worked on throwing that ball inside."
Duquesne performed well at the line, shooting 20-for-22 (90.9 percent) to Kentucky's 16-for-21 (76.2 percent) performance, and the Dukes closed out the game with a 9-2 run.
In front of likely the largest crowd Duquesne will face all season, Ferry said the 21,327 fans in attendance contributed to "the best college atmosphere."
He added: "An hour and a half before the game, there were 2,000 people here. That's something special. … It's a great advantage, and I don't know that they are going to lose another one here."
Kentucky's win means the Wildcats are now 122-4 at Rupp Arena under Calipari, extending their home win-streak to 40 games.
Sunday's game marked the second-ever meeting between the Dukes and Wildcats. Kentucky won the Dec. 17, 1982, contest at Rupp Arena, 55-42.
Duquesne returns to Pittsburgh to face the University of Tennessee at Martin (3-1) in a Bluegrass Showcase game Wednesday at 7:00 p.m. EST.
Image credit: James Crisp/AP