It's no secret that the WPIAL produces some of the country's top football talent. There are plenty of NFL players who claim Western Pennsylvania as their stomping grounds.
In the 2010 season, WPIAL on-lookers may remember a stiff battle for the area's top rushing title between Hopewell's Rushel Shell and Steel Valley's Delrece Williams. Shell has since set the career-mark for WPIAL rushing yardage by gaining over 9,000 yards on the ground, signed to play at Pitt and has moved on to West Virginia. Shell did this all out of high school. But what about Williams? Well, he's right where he wants to be at Clarion University.
Record setter
During his senior season, Williams was no easy task for opposing defenses. Leading Steele Valley to the playoffs, Williams was a force to be reckoned with. You couldn't pick up a local paper without seeing his name beside Shell's as the two battled all year for the WPIAL single-season rushing record.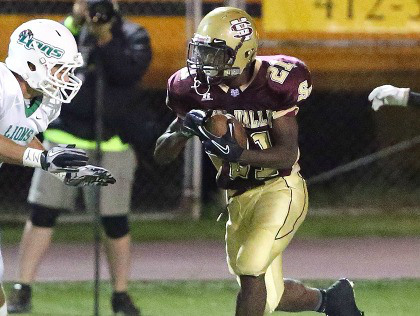 Williams' still remembers the competition between the two.
"My high school experience was crazy," Williams recalled. "It was all a team effort. Of course everyone wanted me to compete with Rushel."
Williams even remembered that it was his offensive linemen who were his top supporters when it came to the week-after-week battle for the WPIAL's top spot.
"My linemen were always checking the papers, looking at what Rushel was doing," Williams said. "Every week they'd say, 'We've got to beat him.'"
Beating Shell, who was considered one of the top high school backs in the country, wasn't at the top of Williams' list, though. His success wasn't hinged on whether or not he beat Rushel Shell. Or if he plunged into the national spotlight. He wanted to win games.
Williams' team did make the playoffs that season but bowed out in the first round.
The senior running back did, however, set the WPIAL single-season rushing record with 2,149 rushing yards. He also ran for 34 touchdowns in the regular season.
Just a misunderstanding
During Williams' senior season, just before signing day, the 18-year-old was arrested on two felony counts of receiving stolen property in connection with a pair of burglaries, according to TribLive.com. Williams, though, was released on $5,000 straight bond and chargers were later dropped.
During what is the most important time in the life of a high school athlete, Williams was juggling recruiting visits as well as the legal mix-up. But Williams said the mishap didn't affect him at all and he kept his eye on his goal of playing collegiate football.
"It was easy to brush it off. It was pretty much a big misunderstanding," Williams said, looking back on the situation four years later. "I just bounced back and my mom always told me to keep my head up."
For Williams, bouncing back was committing and signing to play football at Saint Francis, a Division I FCS school.
But Williams never played football for the Red Flash.
No place like home
Williams went in to Saint Francis a wide-eyed-and-bushy-tailed freshman, like any other recently graduated student would. But, like a good portion of college students, Williams didn't feel at home.
Nestled in the town of Lorretto, Saint Francis just wasn't the place for a city boy.
"I just didn't like the environment," Williams said. "The coaches and players were great, but the environment just wasn't for me. I'm used to if I need something I can just walk down the street. There, you had to drive everywhere."
Before getting on the football field for the Red Flash that season, Williams decided to step away from school.
With no one to guide him through the process of transferring schools, Williams took it upon himself to read up on how the process went. In the meantime, he went to community college back home and kept his grades up.
Lighting a fire
Being out of football after having such a successful high school career could be hard for some. For Williams, the word he used to describe the situation was "fun".
"I helped a youth league out and coached and kept the kids focused," Williams said. "And I let them know they're able to make it out of their system."
But while he was helping local youth, the kids may have had a bigger impact on him, he said.
"They ept the fire under me," Williams said. "They kept asking what school I was going to and I kept telling them I'll be back just watch."
And then he found Clarion.
Finding a home
Coming out of high school, Williams was recruiting by multiple schools. Among those Division I and Division II programs was Clarion. And they never gave up on the record-setting running back.
"The relationship was always there after we recruited him in high school," Clarion head coach Jay Foster said. "When you recruit a guy, you can't give up. It was never a matter of 'Did we want him?' but rather of 'Will it work out? Lucky for us, it did."
Williams came to Clarion much older than a traditional first-year student but is still listed as a true freshman on the Golden Eagles roster.
That path is one that Coach Foster, himself, is familiar with, having taken three years away from football after high school, too.
"You know what's interesting is I've been involved in football for 30 years and our best team had non-traditional guys who took a little bit of a different path," Foster said. "It brings a different demeanor to the game. They've been through tough times and realize they come out the other side."
The transition from an out-of-school athlete to a college freshman sounds like it could be a hard one to handle, but Williams said it went pretty smoothly.
"The process wasn't that bad," he said. "I was training a lot so coming into the season and getting back into it was a sigh of relief. Game speed comes real easy to me for some reason."
Williams has also found a new home with senior teammate and fellow running back Bobby Thomas. The two roomed together during camp and Williams noted that watching and learning from Thomas helped his transition greatly.
One common goal
Just as in high school, Williams' top goal remains to win games. Already taking a leadership role with Clarion, Williams has set out to put personal statistics behind him and to help lift Clarion from a dismal 4-7 record a season ago.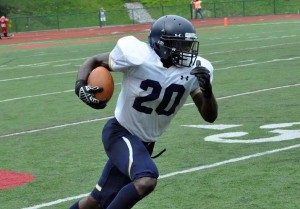 "My experience with the team so far is great. I love the guys," Williams said. "We've come together and we all have one goal."
Coaches and players alike have taken notice of Williams early on and understand that Williams brings an excitement back to the program that Foster hasn't seen in a while.
"Obviously that's an excitement we haven't had in a few years. We have a senior running back but Delrece just brings a different skill set. He has big play capability," Coach Foster said. "We had a 4th-and-6 from the six and he's stuffed in the hole and bounces off two or three guys and turns it into a touchdown run. That's the easiest way to explain Delrece."
Through five games, Williams leads Clarion with 267 yards rushing and five touchdowns while splitting time with Thomas in the backfield. He also is vital in the return game and is averaging over 100 all-purpose yards per game.
Right where I belong
Coming to Clarion is something that Williams has called a blessing.
Williams constantly uses his manners, football knowledge and skills to lead from a freshman position. He says, "yes sir" and "no sir" and then he'll juke you out of your shoes. He gives his mother, who raised Williams and his brothers and sisters as a single mother, the credit for his success after always telling him to keep his head up and that he will reach his goals.
After being around highly recruited athletes for much of his high school career, seeing those same guys head into the NFL or into top Division I schools could be a hard thing to handle. But Williams is confident that he can still go to the next level after his four years at Clarion and he's perfectly fine with where his journey has led.
"I do look at them guys like Rushel and I went to the all American game in high school, too, and there's a couple of those guys who are in the NFL now," Williams said. "But being in a D2 school – I feel like god put me here and regardless I feel like I can still make it."
Photo Credit: Clarion Athletics, CBS