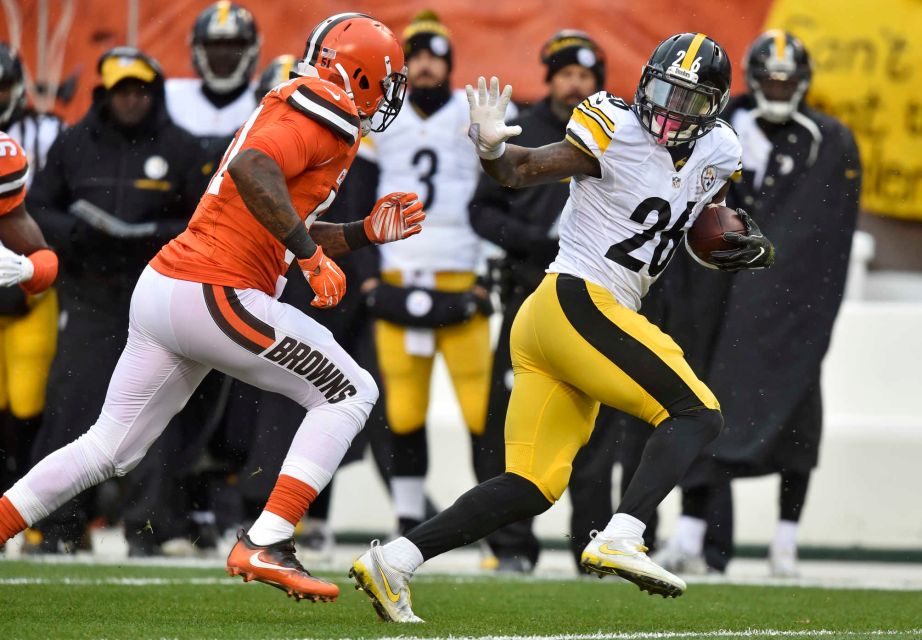 The Pittsburgh Steelers snapped a four-game losing streak with their 24-9 win Sunday over the Cleveland Browns.
Granted, it was the Browns, but, for the Steelers right now, a win's a win.
The Steelers are now tied with the Baltimore Ravens at the top of the AFC North with 5-5 records. The Bengals are behind those two teams with a 3-6-1 record, and the Browns are in last place (of both the division and the NFL) with an 0-11 record.
The Steelers will have their second away game in a row Thursday when they face the Indianapolis Colts on Thanksgiving night. The Steelers didn't have a perfect game against the Browns, and there are certainly things that need worked on before they face the Colts.
Without further ado, here are the Steelers' grades in their 24-9 win over Cleveland.
Quarterback: Ben Roethlisberger wasn't flashy, but he did lead his team down the field multiple times. If there are any negatives to take away, it would be that Roethlisberger didn't find his wide receivers or tight ends in the red zone in the first half. Roethlisberger threw for 167 yards on 23/36 completed passes but didn't throw any touchdowns. But he didn't throw any interceptions either. Grade: B-
Running Back: Le'Veon Bell bounced back after a few games under the radar. He ran for 146 yards on 28 carries, and he scored Pittsburgh's first touchdown in the second quarter on a 1-yard rush. (As a receiver, Bell totaled 55 yards on eight receptions.) Grade: A
Wide Receivers: No wide receiver totaled more than 100 yards against the Browns and their secondary; Antonio Brown led the receiving corps with 76 yards on eight receptions. The Steelers had multiple opportunities to find the endzone, but a few drops and miscues ruined that. Outside of Brown, it wasn't a good day for the receivers. Grade: C-
Tight Ends: The tight ends were totally absent in the air — Jesse James caught a lone pass for five yards — but they did help the run game a bit, opening up some holes for Bell. David Johnson caught the team's two-point conversion after Bell's touchdown. Grade: C-
Offensive Line: The offensive line kept opening the gates for Bell, making it possible for him to rush for 100-plus yards. The offensive line also did a great job of protecting Roethlisberger, as no Browns player reached the quarterback. A great outing from the offensive line. Grade: A+
Defensive Line: The pass rush defense is back! Stephon Tuitt recorded 2.5 sacks against Cleveland quarterbacks Cody Kessler and Josh McCown, and Pittsburgh nose tackle Javon Hargrave recorded one sack. However, the line's highlight was Hargrave's touchdown off a recovered forced fumble off McCown. Grade: A
Linebackers: James Harrison became the all-time leader in sacks (77.5) for Pittsburgh against the Browns. Arthur Moats recorded 1.5 sacks, and both Lawrence Timmons and Shazier had a single sack. Shazier led the defense in tackles with six ,while Timmons followed with five. Grade: A+
Secondary: Artie Burns must love playing against these AFC North teams. His first career interception came against the Baltimore Ravens' Joe Flacco, and his second came against Kessler in the first quarter. However, the secondary did allow 246 combined passing yards between Kessler and McCown, including a touchdown pass from McCown to Gary Barnidge. Grade: B
Special Teams: Chris Boswell didn't miss this week. Boswell converted three short field goals and his only extra point attempt. Jordan Berry punted three times, averaging 39.3 yards per punt. His longest punt was 57 yards, but he didn't pin the Browns inside their 20 yard line. There were no kickoff returns, and Brown returned one punt for a seven-yard gain. Grade: A-
Coaching: The coaching staff was a major improvement this week, but, the Browns weren't much of a test. The coaching staff's next test will come against the Indianapolis Colts on Thursday. Staying consistent and keeping their team hungry is the best thing head coach Mike Tomlin, defensive coordinator Keith Butler and offensive coordinator Todd Haley can do. Grade: B
What's Next?
The Steelers will play Thanksgiving football on Thursday, November 24 at 8:30 p.m. EST against the Colts. The game will take place at Lucas Oil Stadium.
Image credit: David Richard/AP