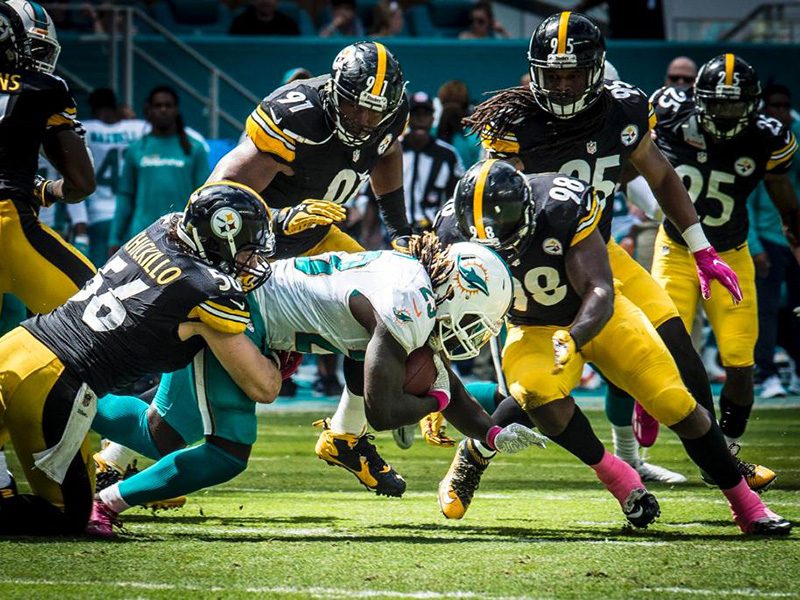 (Photo by: Pittsburgh Steelers)
While what ultimately happens on the field in Sunday's playoff game between the Pittsburgh Steelers and Miami Dolphins is what really matters, leading up to the game, the injury report can tell us a lot about how exactly the game might go.
Thursday, the Steelers and Dolphins released their injury reports heading into Sunday's meeting:
Pittsburgh Steelers:
Out:
Anthony Chickillo, linebacker (ankle)
Ricardo Mathews, defensive end (ankle)
Questionable:
Robert Golden, safety (ankle)
Ladarius Green, tight end (concussion)
Vince Williams, linebacker (shoulder)
Perhaps the best news for Pittsburgh coming out of the injury report is that defensive end Stephon Tuitt's name is nowhere to be found on it. Tuitt, who has been a star this year, has suffered both a knee and ankle injury this season and missed the last two games of the regular season. His return is especially beneficial as the Steelers get set to take on Miami running back Jay Ajayi, who rushed for 204 yards when the two teams met in Week 6.
With defensive end Ricardo Mathews out this week with an injury, the defensive line will have to rely on Tuitt, Javon Hargrave, L.T. Walton, Daniel McCullers and rookie Johnny Maxey.
The injuries to Anthony Chickillo and Vince Willams sting, but neither is a starter or an absolutely crucial member of Pittsburgh's linebacking core.
Ladarius Green listed as "questionable" isn't good news for Pittsburgh, but it's not game-over kind of news, either. The tight end, who has a history with concussions, hasn't played much this season in a Steeler uniform, so potentially not having him is nothing new. Green did have a phenomenal game against the New York Giants (six receptions for 110 yards) and has provided Pittsburgh with a viable No. 2 receiver (behind Antonio Brown), but the Steelers' wideouts are relatively healthy at the moment, and Le'Veon Bell is a phenomenal pass-catcher, so, if he can't play, it isn't the end of the world.
Miami Dolphins
Out:
Ryan Tannehill, quarterback (knee)
Doubtful:
Byron Maxwell, cornerback (ankle)
Questionable:
Jelani Jenkins, linebacker (knee)
Tony Lippett, cornerback (thigh)
Bacarri Rambo, safety (chest)
Kraig Urbik, center (knee)
Dolphins quarterback Ryan Tannehill returned to practice this week — but he still won't return in time to suit up to take on the Black and Gold. In Tannehill's place behind center on Sunday will be journeyman quarterback Matt Moore, who threw for 205 yards in last week's loss to the New England Patriots.
Byron Maxwell, a former member of the "Legion of Boom" when he played for the Seattle Seahawks, injured his ankle against the New York Giants. He missed the Dolphins' last two regular-season games and sat out of practice this week. Not having Maxwell is good news for Antonio Brown and the rest of Pittsburgh's talented wideouts.