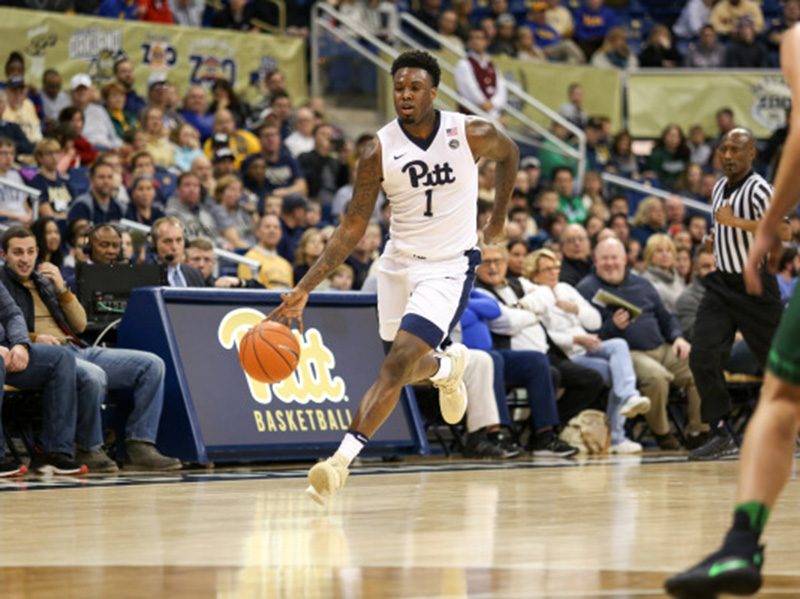 Senior Jamel Artis (1) scored 30 points in Wednesday's win over Marshall. (Photo by: PittsburghPanthers.com)
The Pittsburgh Panthers are going to have a big question mark when it comes time for seniors Jamel Artis and Michael Young to graduate — who will lead the team? Both Artis and Young have been huge for the Panthers this season, and both scored 30 points Wednesday in Pitt's 112-106 win over the Marshall Thundering Herd.
The win is Pitt's fifth in a row.
Artis and Young tied for the most points for the Panthers, but it was Sheldon Jeter who led the team in rebounds with 10. However, Artis and Cameron Johnson followed closely behind, each grabbing eight rebounds.
Freshman Justice Kithcart was the surprise player for the Panthers. The guard led in assists with eight, and he managed to put up six points. Kithcart also notched a single block and a steal.
"I've been working really hard on getting adjusted," said Kithcart, who made his first college start. "The college game is a lot different than high school. I'm getting used to my guys and the coaching staff. I feel like I'm starting to fit in great. I've just been working hard. I knew I can play the game of basketball. I've been playing since I was a little kid. I'm ready for this stage."
Pitt head coach Kevin Stallings was pleased with how his team played and liked what he saw from Kithcart.
"I thought Justice was really solid for us," Stallings said. "He did exactly what we needed him to do, which was take care of the ball and get it to the right people."
The Thundering Herd was led in scoring by a player on their bench: C.J. Burks. Burks put up 25 points and was followed by starters Ryan Taylor and Stevie Browning, who both had 22 points. Taylor also led the team in rebounds, grabbing 11, while Jon Elmore led the team in assists with six.
After the game, Marshall head coach Dan D'Antoni ripped into his players for their lack of concentration and lack of preparation for the game.
"Well, obviously, it was a tale of two halves," D'Antoni said. "I thought that we looked like we were running in mud the first half, and they looked like they were running in mud the second half. We can't allow that to happen. We've got great kids. I don't want you to take this the wrong way, but, sometimes, they will play video games or something in the room and then not be really ready to play when they hit the floor.
"They don't even know what they're doing sometimes."
What's Next?
The Panthers will host the Notre Dame Fighting Irish at the Petersen Events Center on Saturday. Tip-off is scheduled for 2 p.m. EST.