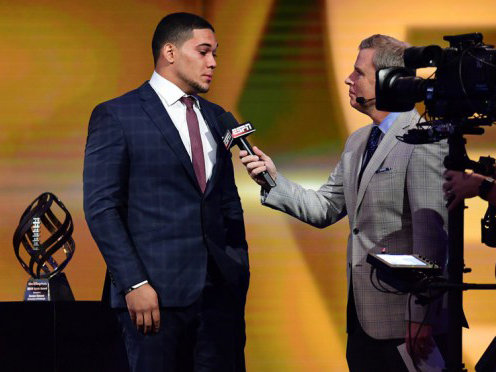 (Photo by Phil Ellsworth/ESPN Images)
With the intensity of sports, it's often easy to forget that these athletes who we all look up to and consider to be almost untouchable are, in fact, human, too.
One of the most inspirational stories in sports is Pitt Panthers running back James Conner, who was diagnosed with Hodgkin's lymphoma in late November 2015 before beating the cancer and leading his team back onto the field at the start of the 2016 season. Despite undergoing chemotherapy, the redshirt junior never let his diagnosis stop him from playing football — he would train with the team during Spring workouts, even if that meant running drills with a mask on to protect his immune system.
And Friday night, Conner was given the Disney Spirit Award, which recognizes college football's most inspirational figure. When his name was announced, all 680 people in the room stood — and some even started chanting his name. Conner, who talked to ESPN's Tom Rinaldi after receiving the award, was in tears.
Conner told Rinaldi he is "just so blessed."
"With that cancer, it don't care if you're black or white," Conner said, his voice still raw with emotion. "It comes, and it comes hard. … There's people out there fighting, and they don't get this, they don't receive any awards if they win and when they win, and so this is for all of us."
Conner dedicated his 2016 season — in which he finished with 1,060 rushing yards and 20 total touchdowns — to everyone else who is fighting cancer.
In his speech, he talked about "playing for people who can't" and about people who had an impact on him, like 5-year-old Andrew O'Neill, who had two wishes: to meet Mickey Mouse and to meet Conner. Conner also spoke directly to ESPN broadcasters Holly Rowe and Shelley Smith, who are both cancer survivors.
"We have a bond that can't be broken," Conner said to the two reporters. "We best friends now. To everybody going through this, they got a friend in me."
.@JamesConner_ has touched my life beyond measure. An honor to present Disney Spirit Award Sorry for all the crying 😩 pic.twitter.com/vrkfD8hnn3

— Holly Rowe (@sportsiren) December 9, 2016
Forever and ever #ConnerStrong.