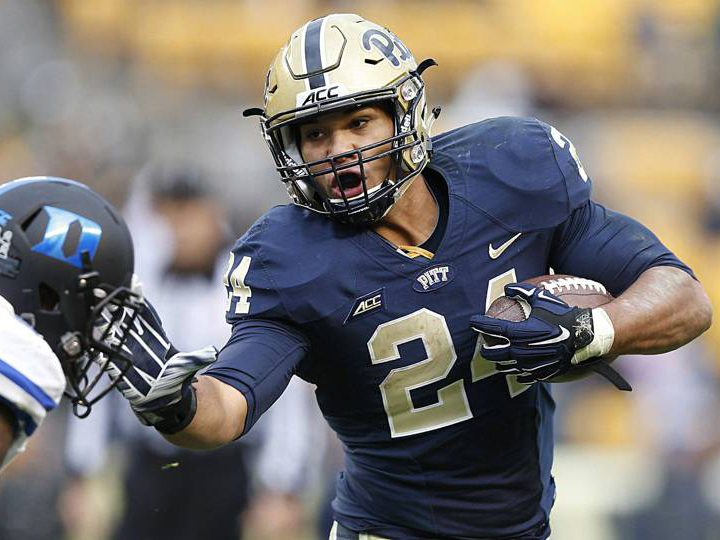 (Photo via Getty Images)
"The Heisman Memorial Trophy annually recognizes the outstanding college football player whose performance best exhibits the pursuit of excellence with integrity. The winners of the trophy epitomize great ability combined with diligence, perseverance, and hard work."
If you were curious or confused, those two sentences are used to define the qualities and characteristics a player is expected to possess and display if he wants to win what is arguably the most famous trophy in sports: the Heisman Trophy.
After reading those words, it became even more clear that no player better exemplifies those qualities and characteristics than Pittsburgh Panthers running back James Conner.
"Excellence with integrity… Great ability combined with diligence, perseverance, and hard work."
Correct me if I'm wrong, but have we seen a better example of a college football player definitively exemplifying those principles than Conner this season?
Strike that — on second thought, have we ever seen it?
That's why, if the decision was in my hands, Conner would win the Heisman Trophy in a landslide — absolutely no question about it.
This isn't a dig at the five finalists, all of whom had tremendous seasons and put up gaudy numbers for the marquee programs they represent. I'm not here to argue against the merits of any of them, I'm here to simply say if we are really talking about things like excellence with integrity, perseverance and hard work, well, I just don't see how anyone but Conner could win the award.
Sure, you can argue that a player who ranked 48th in rushing yards this season can't possibly be in contention. I mean, 1,060 rushing yards is nothing to sniff at, but it's a far cry from Conner's career year two seasons ago when he totaled 1,765 yards for the season.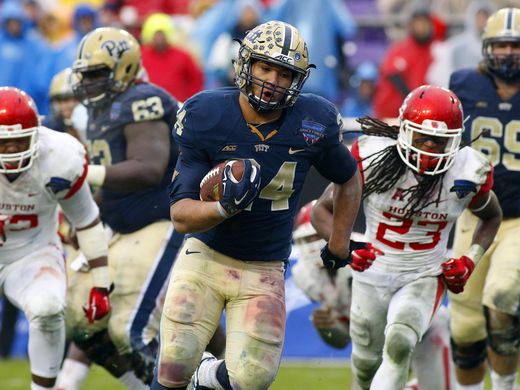 But, in a Week Two win against the Penn State Nittany Lions, a team that ended up Big Ten champions and is currently ranked fifth in the country, Conner racked up nearly 150 yards and had two touchdowns in a game that, for all intents and purposes, kept Pitt's hated rival out of the college football playoff.
Or what about Conner's epic performance in the Panthers' huge win over the then-No. 3 Clemson Tigers on the road? Conner amassed nearly 200 total yards and scored two more touchdowns to hand the playoff-bound Tigers their only loss of season.
Additionally, Conner was tied for seventh in the NCAA in touchdowns scored (20) and was the heart and soul of Panthers squad that was a handful of plays away from arguably finishing the season with an 11-1 record and making their own argument for a playoff spot.
That's right, Pitt rallied around Conner, and the players played their hearts out for their favorite teammate.
This time last year, no one was sure whether Conner would ever play football again after he was diagnosed with Hodgkin lymphoma, a type of cancer, just two months after suffering a season-ending knee injury in the Panthers' opening game of the year.
At just 20 years old, Conner faced the fight of his life.
It's the fight Conner put up and the way he's handled the remarkably difficult challenges that come with a cancer diagnosis that make his story special. From Day One, Conner handled a diagnosis no young person should ever have to hear with courage, poise and grace.
Anyone who has been affected by the dreaded disease knows about the fear of the unknown, the uncertainty of what lies ahead, the reality of having to face our own mortality. Conner faced those challenges and fears in a way that command admiration and respect. He's been effusive in his praise of supportive teammates, friends, family and, of course, the doctors who helped him go through the grueling chemotherapy treatments.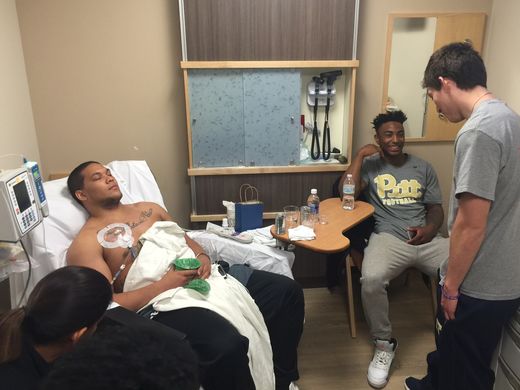 Despite the sickness related to chemotherapy, Conner was a regular participant in off-season conditioning, even though he had to often wear a mask to protect his immune system. And his dedication to not only beating cancer but joining his teammates for the 2016 season was nothing short of awe-inspiring.
Even more impressive was how Conner used his situation to be a role model to countless cancer patients across the country.
Where many would look at such tough circumstances as a reason to feel sorry for themselves, Conner embraced the opportunity to be there for others and give them the belief that cancer isn't a death sentence but, rather, a chance to persevere.
So when Conner received the news he was cancer-free this past May, there was a sense among millions of people who followed his battle that they all persevered.
I swear that I saw that word ("perseverance") somewhere in the Heisman trophy mission statement.
What I know is that the NCAA — so often bereft by scandal; by corruption; by players, coaches and administrators who have done much to embarrass the game — lost a golden opportunity to put the deserving Conner in the spotlight on one of sports' biggest stages in New York City when the Heisman trophy is presented.
That's not to say Conner's remarkable season has gone unnoticed. Anyone who had a chance to see his acceptance of the Disney Sports Spirit Award probably cried tears right there with him. His camaraderie with fellow cancer survivors Holly Rowe and Shelley Smith from ESPN was nothing short of amazing and shows the maturity of a man twice his age.
To me, as wonderful as that moment was, I don't think it's enough.
Respectfully, seeing someone like Lamar Jackson or Deshaun Watson win the Heisman just seems to ring hollow.
Again, it's not that they didn't have great years, but it's that every time I read that mission statement and I see all Conner did to live up to the credo that I just can't understand how the award could go to anyone else.
I doubt Conner cares one bit about what I consider to be an obvious and egregious oversight in snubbing his Heisman candidacy. In typical fashion, he'd probably spend his time praising those who will be in New York tonight, lauding their achievements and deflecting his remarkable accomplishments along the way.
That's just the type of guy James Conner is.
Excellence with integrity? Great ability combined with diligence, perseverance and hard work?
Sounds like you're talking about the guy who'd get my Heisman vote.