Penguins head coach Mike Johnston will be coaching this afternoon with a heavy heart, as he deals with the loss of his mother Sheila Johnston, who passed away on Friday in Dartmouth, Nova Scotia. Mrs. Johnston was 81 years old.
Coach Johnston is expected to coach both of the team's games this weekend before returning to Canada for the funeral on Tuesday. After Sunday, the team does not play again until Wednesday.
"The Penguins offer their deepest sympathy to Mike and his family during this difficult time," the team said in a statement released on Friday evening.
TODAY'S OPPONENT: The Penguins and Arizona Coyotes are no strangers at this point in the season, having played one another in the Glendale, Arizona just last week. The Penguins won that contest, 3-1.
[youtube width="560″ height="315″ link="https://youtu.be/qKDQOGcuc_M"]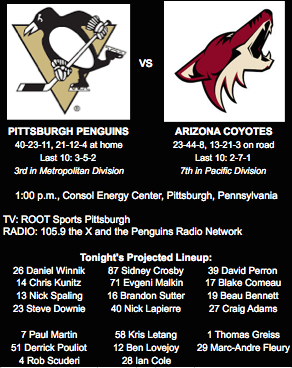 Coming into this week, the Coyotes had lost eight straight games and 18 of their last 19, but they've won each of their last two contests, a 5-4 overtime victory in Detroit on Tuesday and a 4-3 OT win in Buffalo on Thursday. Arizona is 5-3 in games ending in overtime this season.
The Coyotes are comfortably in second-to-last position in the NHL. They lead (trail?) last-place Buffalo by six points and have three fewer points than third-to-last Edmonton. The top two teams at the end of the season will have the best odds at drafting either Erie Otters center Connor McDavid or Boston University forward Jack Eichel.
THE 4077: Center Evgeni Malkin (lower body) was a full participant in practice on Friday and is expected to be good to go this afternoon. Patric Hornqvist (upper body) also made his return to practice, but is could need more time before he gets back in the lineup.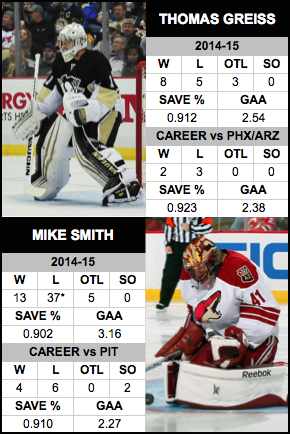 "They'll probably be a game-time decision, but they're both really close," Johnston said.
The duo's return should immediately resolve some of the goal-scoring issues that have plagued the Penguins over the last month.
"They're a big part of us generating (offense)," Johnston said. "Geno can do a lot on his own and I thought that Geno and (Chris Kunitz) and (Blake Comeau) were a really good line there for a stretch. Patric, he's our net front guy. He creates a lot of action in the crease, and that's what we need right now. We need more of that from more players."
Meanwhile, defenseman Christian Ehrhoff (upper body) will still be out for some time.
"I don't anticipate that he'll skate until next week some time," Coach Johnston said on Friday.
Steve Downie missed practice on Friday, but Johnston classified it as a maintenance day and he is expected to play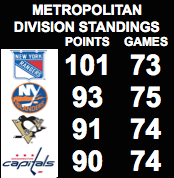 SCOREBOARD WATCHING: The New York Rangers are the first Metropolitan Division team to seal a Stanley Cup Playoffs berth as a result of a 5-1 victory over the Ottawa Senators on Thursday. The Rangers visit the Boston Bruins this afternoon in a 1:00 p.m. start on NHL Network. The New York Islanders host the Anaheim Ducks. That game is also a 1:00 p.m. start. The fourth-place Washington Capitals host the Nashville Predators in the early game at 12:30 p.m.
MINOR MATTERS: The Wilkes-Barre/Scranton Penguins (38-21-7, 2nd in AHL East) beat the Binghamton Senators 3-1 in Binghamton, NY on Friday. Matt Murray made 25 saves for his 22nd win of the season. He carried a shutout into the final five minutes of the game.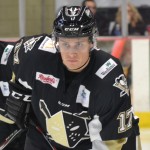 Jayson Megna got the game-winner, a shorthanded goal late in the first period. Scott Wilson and Carter Rowney also scored for the AHL Penguins, who will travel to Allentown, PA to take on the Lehigh Valley Phantoms tonight at 7:05.
Former Robert Morris captain Cody Wydo made his debut for the Wheeling Nailers (31-30-2, 4th in ECHL North) on Friday night, scoring a goal and an assist in his first professional game. Sahir Gill also had a goal and an assist, and got the game-winning goal. Eric Hartzell made 35 saves for his first win in three starts. The Nailers host the Reading Royals tonight at 7:35 p.m.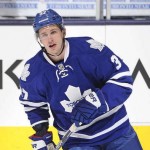 BLUE AND WHITE: Former Penn State forward Casey Bailey made his NHL debut with the Toronto Maple Leafs on Thursday. Bailey played for 12th minutes on Toronto's fourth line and was a plus-1. He is the first former Nittany Lions player to play in the NHL.
#CAWLIDGEHAWKEY: The NCAA hockey tournament began yesterday with regional semi-finals from Providence, Rhode Island and Fargo, North Dakota taking place. The full bracket is available here.
All three Pennsylvania schools (Robert Morris, Penn State and Mercyhurst) have been eliminated, but Pittsburgh hockey fans can probably get behind the Minnesota State-Mankato Mavericks. The top overall seed boasts three Western Pa. connections.
Junior center Teddy Blueger was the Penguins' second-round pick in the 2012 NHL draft. Junior forward Dylan Margonari is from Greensburg, Pa. and played his junior hockey with the Youngstown Phantoms and sophomore defenseman Casey Nelson played his final year of junior hockey with the Johnstown Tomahawks.
The Mavericks take on the RIT Tigers today at 4:00 p.m. in South Bend, Indiana.
Photo credit: Pittsburgh Penguins