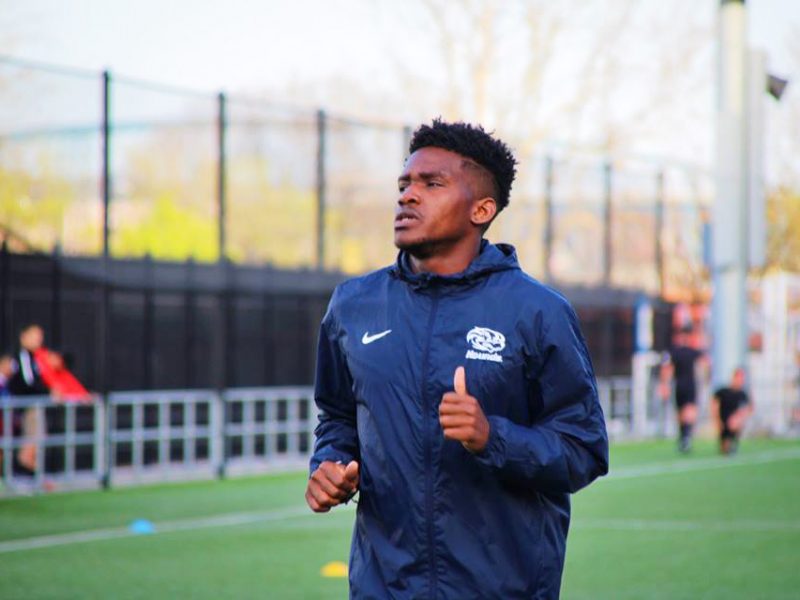 It was a long road for Riverhounds forward Kay Banjo, but he couldn't be happier in Pittsburgh. (Photo by: Rachael McKriger)
Kay Banjo almost gave up on soccer.
Almost.
"I was struggling, an injury occurred, and my way of thinking at the time wasn't good," Banjo says. "I just felt like people weren't there when I needed them. But a lot of things change, and I thank God and my family for staying with me."
Banjo, who struggled to find a college that would accept him, recently made his first professional start as a forward for the Pittsburgh Riverhounds, who he signed with in November 2016. In his first professional start, Banjo, 24, scored in the fifth minute.
But he might not have gotten to this point if it weren't for two colleges: Towson University and the University of Maryland Baltimore County. Banjo attended Towson from 2010-12 and made 43 appearances, scoring 15 goals, for the Tigers.
"They're not a big soccer school," he says. "I had top schools trying to get me, but I went to the U-16 FIFA World Cup with Nigeria, so I missed out on the whole getting committed, and I didn't tell anybody I left, which really backfired. When I came back, Towson reached out, and I thought I would only stay for the first year. I ended up staying for a second and a third year."
Banjo graduated from Towson University with a degree in business and sports management. However, he had one more year of eligibility left, and the University of Maryland Baltimore County (UMBC) made him an offer.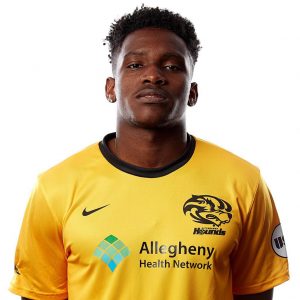 Banjo, a dual citizen of the U.S. and Nigeria, called UMBC a "great experience."
"I was there for a semester, and that was probably my best year in soccer because it got me this far," Banjo says. "It's where my name really got out, and I couldn't thank them enough. I was done and out, but they contacted me and told me to come play again. That's how I got here."
How he got here, in Pittsburgh, was due in large part to Riverhounds head coach Dave Brandt. Brandt, previously a coach at the U.S. Naval Academy before joining the Hounds mid-last season, coached opposite Banjo when he played at UMBC. While Banjo didn't play in that specific match, he mentioned that Brandt knew about him and gave him a call.
"He heard about me, so when he heard that I didn't have a team, he contacted me and had me come up and try out," Banjo says, referring to his trial with Pittsburgh in November. "And, yeah, the rest is history."
Banjo is one of many new faces around the Riverhounds locker room. Brandt revamped and revised the squad during his first offseason as head coach. Bringing in Banjo was one of Brandt's first moves, but he also brought in a bunch of other rookies like Ben Fitzgerald, Victor Souto, John Manga, Ritchie Duffie and Tobi Adewole.
However, despite the large mixture of rookies and veterans, Banjo doesn't see anything but camaraderie in the locker room.
"We're all just together," Banjo says. "In the locker room, it feels like everyone is one, and there's no 'I'm better than you' or, 'I've been here forever.' My teammates are always encouraging me, and I do the same for them. It's just a great atmosphere to be in. There's no ego, which makes everyone feel comfortable."
As for Brandt, Banjo sees him as both a coach and a mentor.
"I literally talk to him like a father," Banjo says, smiling. "He treats me like a son. He's always on me at practice and always finds something to be on me for. And I take that as, I'm used to the constructive criticism. I tell him every day to get on me."
Brandt seems to like Banjo, too, making the decision to start him against St. Louis FC in his first professional start due to an injury to Rich Balchan. Despite making his professional debut, Banjo stays humble and calls starting that match as "just doing my job."
"I don't really talk much about being a professional," Banjo says. "It's just do your job, get it done. I don't let the hype get to me. I'm always thankful about where I'm at. At the end of the day, I want to get wins and get goals."
And in that first start, he did get a goal.
"It was a great feeling obviously, my first professional goal," Banjo says. "It's a blessing. I pray every morning for this, and it just so happened to come in a loss, but I'm still grateful for it."
Now Banjo, who just recently became an owner to a new puppy, Hope, will continue to terrorize opposing goalkeepers with his quick feet and fast strikes. Banjo and the Riverhounds will face the Charlotte Independence on Saturday in North Carolina. Kickoff is at 7 p.m. ET and can be viewed on the USL's official website.