The City of Pittsburgh and Allegheny County honored World Cup champion Meghan Klingenberg with a proclamation ceremony on Friday afternoon, with Pittsburgh Mayor Bill Peduto declaring August 14, 2015 to be "2015 Women's World Cup champions day."
Klingenberg, a 27-year old graduate of Pine-Richland High School and a Gibsonia native, was wowed by the ceremony held in her honor and the response her hometown has had to the national team friendly being held on Sunday. Market Square was packed with fans and admirers of the local product turned world champion.
"I'm so excited to be back in my hometown, because we sold 41,000 tickets to this game on Sunday." Klingenberg said to the crowd gathered in Market Square on Friday afternoon. "And I know you guys are going to show up and you're going to be so loud and you're going to rock that stadium."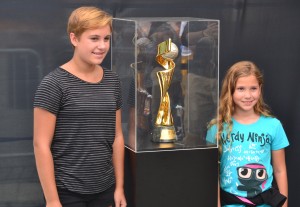 Fans were not only able to meet Klingenberg, but were also able to take photos with the World Cup trophy that the team brought back from Canada last month.
Klingenberg was welcomed by her hometown after a whirlwind summer that saw her play every minute of the national team's seven-game World Cup run while traveling back and forth across the continent.
"I love being here," she added. "I love being able to give back to my city and this is one of the ways that we're able to, so I'm so glad to be here."
If Klingenberg has worn down due to the nonstop attention of suddenly being a world champion, she hides it well.
"I'm totally exhausted, but when you see people this happy to see you, and you see how excited they are about the World Cup, you can't be tired anymore."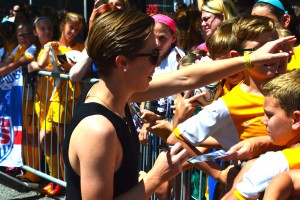 Part of Klingenberg's excitement is about finally getting to share her hometown with her teammates. The national team hasn't played in Pittsburgh since 2004.
"I already have everything set up," she said of her plans for a Pittsburgh tour. "We've got Primanti Brothers sandwiches set aside, we're going up to check out Mt. Washington, we're going to hit up Lawrenceville and the Strip, those are my two favorite parts of the city, so we're going to be all over. It'll be fun.
I've been talking up Pittsburgh for years to my teammates, so I think that their standard is really high, so I have to give a really good tour."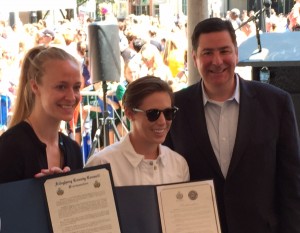 Fellow USWNT defender Becky Sauerbrunn, who accompanied Klingenberg to the ceremony on Friday, is ready to take her friend and teammate's tour of the town.
"Meghan has been talking about Pittsburgh for so long, and she's been asking me to do this for so long, so I'm glad that I'm going to finally get to experience the city," Sauerbrunn said. "So far, it's been great."
Mayor Peduto heaped praise upon Klingenberg, whose skill and poise on the soccer field has been matched only by her ability to connect and interact with her fans.
"Not only is she a role model for young women athletes, she's a role model for any athlete," Peduto said. "She's got a great personality that goes along with the skills that she's been blessed with. She represents Pittsburgh and the United States very well."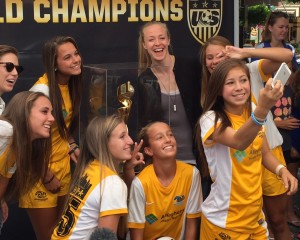 The Mayor also got caught up in the World Cup excitement and was pleasantly surprised by Pittsburgh's reaction, as well.
"We put together a big screen in Schenley Plaza for the championship, assuming that a couple hundred people would come out," he said. "We had a couple thousand people come out.
"I think one thing this team did is pull us together as a country. There's lots of ways we find to separate ourselves. It's so wonderful to have something so inspiring to bring us together."
As for Klingenberg, she's still soaking it all in.
"I'm trying to be in the moment and enjoying it," she said. "This doesn't happen very often. Being in Pittsburgh and being able to celebrate with my hometown is something that I'm going to cherish for the rest of my life."
Klingenberg, Sauerbrunn, and the rest of the U.S. Women's National Team will take on Costa Rica in an international friendly at 1:30 p.m. on Sunday at Heinz Field. Tickets are still available at ussoccer.com, Ticketmaster outlets and at the Heinz Field box office on match day.