Tara Catone grew up a football fan. But, more importantly, she grew up a Pittsburgh fan.
Growing up in Irwin, Catone's childhood room was a shrine to football. Sure, she was a girl, but that didn't stop her from hanging a life-sized Jerome Bettis poster on her wall. She was what she called a "die-hard Steelers fan," even though she was a John Elway fan.
Living in a house with two older brothers, Catone learned the value of a good backyard football game quickly.
"We were always outside running around and playing a lot of backyard football," she said. "Whatever sport they were playing I wanted to play."
All of that running with her brothers turned into a successful career as a track star for Catone, who ran at Slippery Rock University. She even spent a season at Cal (Pa.) on the basketball team in 2009-10 before transferring to SRU. In high school, she was a three-time letterman in both track and field and basketball. She was named the 2009 Westmoreland County track and field championships MVP. At SRU, she ran both indoor and outdoor track, competing in the 55m, 60m, 100m, 200m, 800m, 60m HH, 100m HH, 400m HH, long jump, shot put, pentathlon and heptathlon.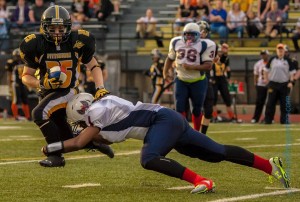 To this day, though, football has always been big in her life. Catone still fancies the likes of Ben Roethlisberger and Le'Veon Bell, two current standouts on Pittsburgh's team.
But while she continues to look up to those great football players, Catone is building her own legacy on the gridiron in a city that has a rich football background.
Catone is in her first season as a running back with the Pittsburgh Passion, a women's football team in the Steel City.
The rookie wasted no time making her presence felt in the league as the Passion opened the 2015 season with a win over Toledo. Catone ran for touchdowns on her first two carries of the game and finished with three carries for 62 yards and the two scores. She came right back a week later and ran for 121 yards and a TD in the team's home-opening win over Philadelphia.
The very next game, though, was one that will always stand out as it's solidified into the Passion record books. Catone ran for 277 yards against the Passion's rival, the New York Sharks, setting a new team single-game rushing record.
"It was a really good feeling. We executed our game plan on offense and the O-Line was incredible," Catone said of the record-setting performance. "It is great to know you played your best especially against a tough New York team. When we all do our part on offense and get a solid victory over our rivals, nothing beats that feeling."
For the season, Catone has ran for 557 yards and four touchdowns as her squad is sitting pretty with a 4-0 record.
Catone said she knew about the Passion for quite some time, being from the Pittsburgh area. She knew that once she was done with college, playing football was always an option.
"I knew about the Passion for a few years, and once I was done running college track, I knew I wanted to be a part of the team and play football for a great program," she said.
Coming in as a rookie, Catone had to learn the system and put her speed to good use. With a few veterans still on the team at her position, working into a key role was no easy task.
But she put her nose in the playbook and never hesitated to ask questions.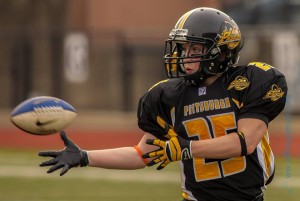 "I studied and learned a ton in preseason. But I also made some personal goals for the season," she said. "My biggest goal is to always learn from each game and improve for the next. Even if it is something small, I can never stop learning to elevate my game. I have some fantastic coaches and veterans that really have been patient and guided me through my game development the last few months."
Knowing that Pittsburgh comes with such a rich football tradition, Catone said it's an honor to represent the city, and said that the fan support has been tremendous.
"I was really surprised at the amount of fans and support we get and the home game atmosphere is amazing," she said. "It makes the games enjoyable and a 'Friday Night Lights' feel to it."
The season is just getting started for Catone and the Passion, who have so far defended their IWFL championship to perfection. As the seasons goes on, Catone said the she encourages more fans to give the sport of women's football a try — players and fans alike.
"Even though football is an aggressive sport and many people believe it should be reserved for men, they should look at the fact that it is giving women the opportunity to play and learn a sport that we weren't able to play as kids with other girls," Catone said. "It's an amazing game and great opportunity to compete with other women that share the love and passion for football."
Photo Credit: Pittsburgh Passion