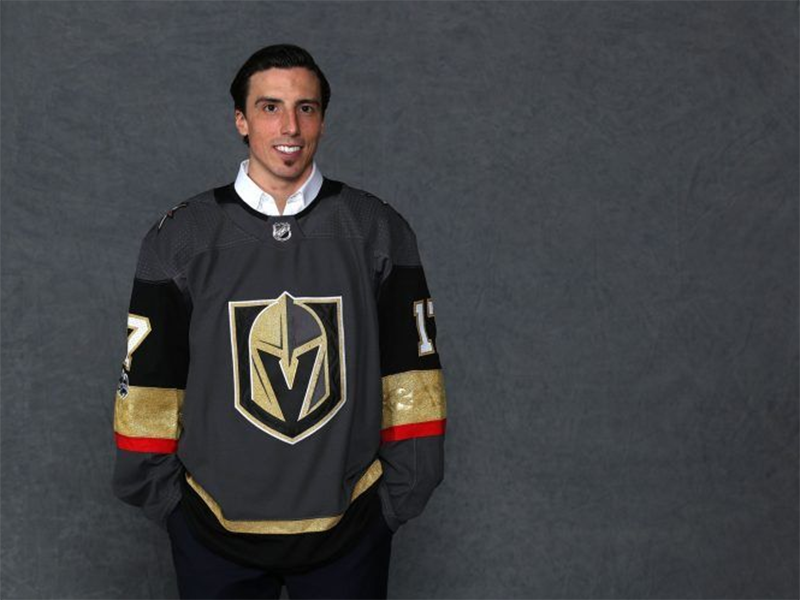 It's no secret that Marc-Andre Fleury is beloved in Pittsburgh.
In his 14 years wearing a Penguins uniform, "Flower" captured hearts both on and off the ice.
So, naturally, fans were broken-hearted when it was announced that Fleury was heading to the Las Vegas Golden Knights as part of Wednesday night's NHL expansion draft. Heck, the Penguins' official Twitter account even added a flower emoji to its handle.
Here are some reactions from fans across social media.
hey girl, you want to come over to my place & cry until fleury is taken in the expansion draft

— ego (@EvgeniMaIkinEgo) June 21, 2017
Fleury is the most caring & selfless person I've ever met. He's a class all of his own. They'll never be another Flower. He'll be missed -SK pic.twitter.com/qHwo62Z4Uo

— Merci Fleury 🌸 (@PensInsideScoop) June 22, 2017
Go ahead and argue about Marc-Andre Fleury the goalie. Don't ever question Marc-Andre Fleury the human being.

— Mike J. Asti (@MikeAsti11) June 20, 2017
6/21was the longest day of the year for everyone in the northern hemisphere but it was even longer for us @penguins fans who lost our Fleury

— Dan Musch (@Dan_Musch64) June 22, 2017
Words cannot describe how much I love fleury. I'm gonna miss him a lot. @penguins @GoldenKnights gotta buy another jersey I guess 😁

— Jack Crowley (@fletchjack95) June 22, 2017
Fleury on his way to Vegas. We'll miss you Flower! pic.twitter.com/VujvsoqlmS

— 961 KISS (@961KISS) June 22, 2017
The classiest Pittsburgh Penguin ever pic.twitter.com/M7xUXqGkUk

— Sidney Crosby's Ego (@SidneyCrosbyEgo) June 22, 2017
(Says through clenched teeth) Las Vegas you'd better appreciate that man. Goddamnit you appreciate him.

— Dave DiCello (@DaveDiCello) June 22, 2017
penguins fans trying to keep flower on the team pic.twitter.com/rJA6uJE2tP

— zander (@NYQUISTSNIPE) June 21, 2017
Man, this looks so weird. Hope Fleury has a blast in Vegas. pic.twitter.com/WN1f7Do9dw

— Jeff Veillette (@JeffVeillette) June 22, 2017
Where can I buy 1,000 Fleury jerseys? @GoldenKnights

— Sidney Crosby's Ego (@SidneyCrosbyEgo) June 22, 2017
Au revoir to Marc-Andre Fleury, the greatest goaltender in #Pens history. Epitome of class. Grade-A human. He will be missed.

— Josh Getzoff (@PensJG) June 22, 2017
This photo by @peterdianapghpg of Marc-Andre Fleury a few weeks after the Penguins drafted him in 2003 explained him perfectly: pic.twitter.com/FTIjU27GqY

— Seth Rorabaugh (@SethRorabaugh) June 22, 2017
IF VEGAS DOESNT CHERISH THE SHIT OUTTA MY BOY MARC ANDRE THEY BETTER CATCH THESE HANDS

— charcoal🌻 (@chorkshork) June 21, 2017
I've given myself this entire season to accept it and it still hasn't sunk in that Marc-Andre Fleury isn't going to be a Penguin anymore

— ㅤ (@PenguinsWorId) June 20, 2017
we should never forget that Marc-Andre Fleury, a 14-year veteran, handed the Cup to the kid who took his job and became his biggest fan

— coconut&mojito mike (@MikeDarnay) June 22, 2017
A nice moment as Mario thanks Marc Andre Fleury for everything he has done for Penguins. pic.twitter.com/xdTinV9Y34

— David Amber (@DavidAmber) June 22, 2017
Marc Andre Fleury please come home😭😭😭😭😭 you've been gone for a couple hours and I miss you already

— Nick Clarke (@clarkenick23) June 22, 2017
Just got home from my hockey game to soak up all the Vegas/Marc Andre Fleury news and cry myself to sleep #MerciFleury

— Jeff Phillips (@freefreeP) June 22, 2017
It was an obvious choice, but having it happen feels like mourning a loss to death. Goodbye Marc-Andre Fleury. Good luck! We'll miss you!💔😢

— ℳegan.🐐 (@MeganxAutumn) June 22, 2017
Sad night seeing a Pittsburgh legend in another jersey. One last time, thank you Marc-Andre Fleury. #29forever

— Richard Vicary (@richardvicary19) June 22, 2017
marc andre fleury is so much better than any of us deserve and i hope he is just as happy in vegas as he was in pittsburgh

— bee | 🌼 is a 🐧 (@hockeybees) June 22, 2017
Woke up to Marc-Andre Fleury being a Vegas Golden Knight so catch me crying in the airport!!!!

— jennifer (@JenniferIs_Lame) June 22, 2017
No one I'm gonna miss more than Marc-Andre Fleury :( my fav Pens player of all time! Vegas is lucky 🐧#MerciFleury

— Nilay Agarwalla ® (@pittmaniac_24) June 22, 2017
Forever in our hearts. Much luck to Marc Andre Fleury. Thanks for 14 great years, 3 Stanley Cups and your generosity to our community.

— FrancesGJoyce (@Fg83cjgmailcom1) June 22, 2017
I was 12 years old the last time the Penguins didn't have Marc-Andre Fleury on their roster 😕#flower #3xchamp

— Matt Maurice (@Matt_Maurice) June 22, 2017
J'pas capable de voir Marc-André Fleury dans un uniforme qui n'est pas celui des Penguins. J'ai mal. J'veux pas.

— Lina Heckenast (@linaheckenast) June 22, 2017
You bet your sweet keister that I'm getting a Marc-Andre Fleury Golden Knights jersey

— Henry Palattella (@HellaPalattella) June 22, 2017
It's not often you see a bond like the one between all of Pittsburgh and Marc-Andre Fleury

— Kait🌸 (@kaitregss) June 22, 2017
To me Vegas is just the island of misfit toys and Marc-Andre Fleury.

— Mitch (@Reinhart_23) June 22, 2017
if marc-andre fleury hit me with his car, i would apologize, shake his hand, & pay for the damages

— ego (@EvgeniMaIkinEgo) June 22, 2017
Still bummed about Marc-Andre Fleury leaving my Penguins. I've had to keep from sticking my bottom lip out whenever I think about it.

— Angelia N. Levy (@angelialevy) June 22, 2017
I can't stop crying. Fudgesticks, Flower! 😭💔 #MarcAndreFleury #Pens https://t.co/mOIvFDDfKW

— Felice (@feliceabuckley) June 22, 2017
Man this legit sucks! Lose. World class goalie AND a World class HUMAN BEING! I straight up can't sleep! #ThankYouFlower #Marcandrefleury

— Todd Stefan (@ToddStefan) June 22, 2017
Honesty can't wait for the night Marc Andre Fleury has his number retired in Pittsburgh. #MerciFleury

— Matt McCord (@mccord3219) June 22, 2017