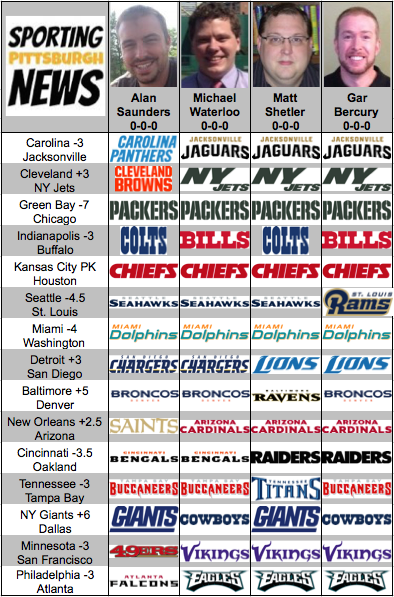 Four members of our Pittsburgh Sporting News staff will be making their NFL picks each week this season.
Editors Michael Waterloo and Matt Shetler, Steelers writer Gar Bercury and Penguins writer Alan Saunders (what's he doing here?) will pick each Sunday and Monday game of the 2015 NFL season.
At the end of the season… um… something will happen to the winner, and… something else (hopefully worse) will happen to the loser.
Clearly we didn't really think this out very well.
Do you agree with someone's picks? Think we're all idiots? Think you can do better? Post your own picks in the comments below.
How about a (strictly non-monetary) suggestion for what we should do with the winner and/or loser?
Let us have it, NFL fans.
Photo credit: Getty Images
Lines courtesy: Bovada