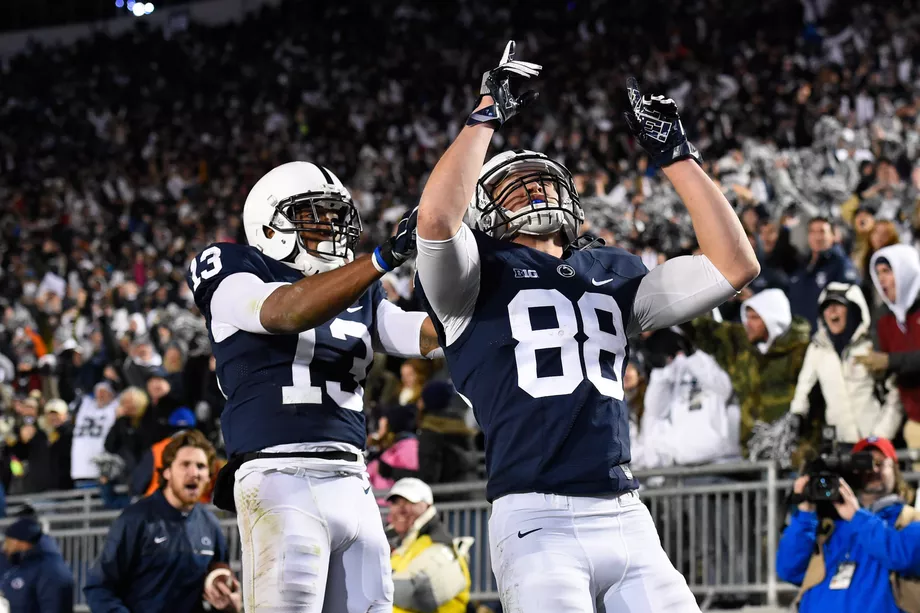 #7 Penn State Nittany Lions vs. Michigan State Spartans
The Records: Penn State (9-2, 7-1 Big Ten); Michigan State (3-8, 1-7 Big Ten)
The Head Coaches: Penn State: James Franklin, third season, 47-29 overall, 23-14 at Penn State; Michigan State: Mark Dantonio, 108-58 record overall, 90-41 at Michigan State.
The Game: Penn State welcomes Michigan State to Beaver Stadium on Saturday afternoon for the two teams' last regular season game of the season. With a win against the Spartans and an Ohio State victory over Michigan, the Nittany Lions will play in the Big Ten Championship against the winner of the Big Ten West division.
Michigan State has dominated the battle for the Land Grant Trophy in recent years, winning the last three matchups dating back to 2010. The Spartans dominated in their victories over Penn State in 2014 and 2015 — winning by 24 and 39 points, respectively.
Last week, Michigan State fell to No. 2 Ohio State 17-16 in East Lansing, while the Nittany Lions dismantled Rutgers 39-0. The Spartans have struggled in 2016, getting their first conference win two weeks ago against Rutgers en route to a dismal 3-8 overall record thus far.
But while its 3-8 record says otherwise, Michigan State is playing some pretty decent football. Six of the Spartans' eight losses have been by 14 points or fewer, and they lost to Ohio State and Michigan by 10 points combined.
Running back L.J Scott leads the Spartans' rushing attack and has continually gotten better throughout the season; he's now on pace to reach 1,000 yards on the ground for the season. Scott has rushed for 100 or more yards in each of his last two games.
Michigan State's Tyler O'Connor leads the passing attack in his first year as the starting quarterback for Mark Dantonio's offense. O'Connor has thrown for 1,852 yards on 137 completions with 16 touchdowns leading into Saturday's game.
Where O'Connor has struggled is in turnovers. The senior signal caller has thrown nine interceptions to go with his 16 touchdowns this season, throwing multiple picks in games against Wisconsin and Ohio State.
Penn State will need to make O'Connor try to force the ball downfield if the Nittany Lions want to replicate the success Wisconsin and Ohio State had against the Spartans. Penn State's defense has been stifling of late, allowing only 87 total yards to Rutgers on Saturday.
Nittany Lions running back Saquon Barkley continues to wear down teams, as the sophomore sensation had 97 yards on the ground before exiting the Rutgers game in the third quarter with things already out of hand. Barkley comes into Saturday's game averaging 5.6 yards per carry for a killer Penn State ground game.
Last year against Michigan State, Barkley failed to find the endzone. However, he did manage 103 yards against a stout Spartans defense.
Quarterback Trace McSorley continues to lead not just Penn State in passing but also the Big Ten conference with 2,600 yards through the air this season. McSorley's ability to throw the ball or keep it and run with it has allowed the offense to improve its points-per-game average from 23.2 ppg last year to 35.8 ppg this year under first-year offensive coordinator Joe Moorhead.
Penn State can to make it to Indianapolis and play for the Big Ten Championship if things fall in the team's favor with a win over the Spartans and a win by the Buckeyes against Michigan.
The outcome of the Ohio State-Michigan game will be known just prior to kick-off, but it's up to head caoch James Franklin and company to keep calm and take down the Spartans. Forcing turnovers will be key for the defense, but getting the offense going early — and often — will warm up the late-November crowd and help put Michigan State away early.
Time: 3:30 p.m. EST
Location: Beaver Stadium; State College, PA.
TV/Radio: ESPN/Penn State Radio Network
Prugar's Prediction: Penn State, 35-17
Image credit: Mike Carter/USA TODAY Sports