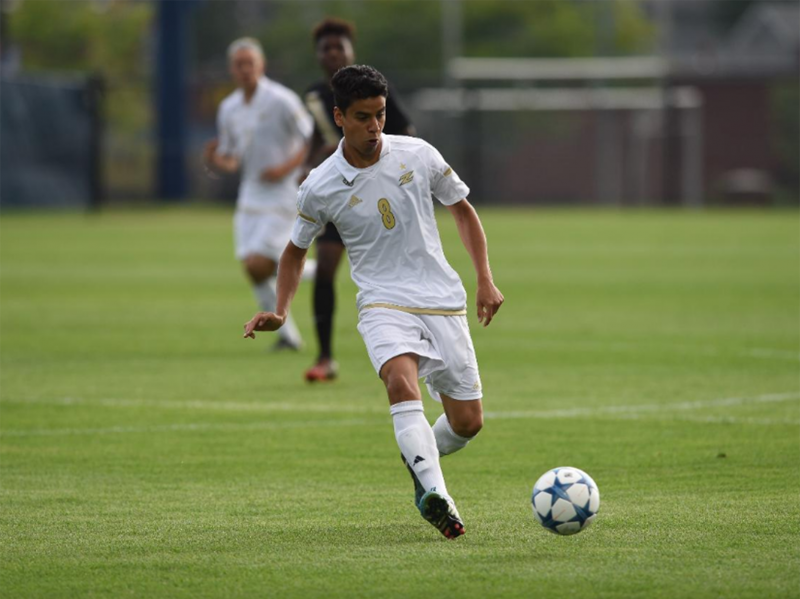 (Photo by: GoZips.com)
Victor Souto started playing football when he was five.
Yes, football. No, there weren't any shoulder pads or helmets involved.
Souto was born and raised in Brazil, where "futebol" (American soccer) is at the heart and soul of the nation. The country is a haven for "o jogo bonito" ("the beautiful game), football players — think: Pelé, Ronaldinho, Marta — and fans. It's a place where instead of dreaming of being the next Tom Brady, kids dream of being the next Neymar and making a living playing the sport they love so dearly.
And those dreams are about to come true for Souto. The 24-year-old midfielder signed his first professional contract with the Pittsburgh Riverhounds in December.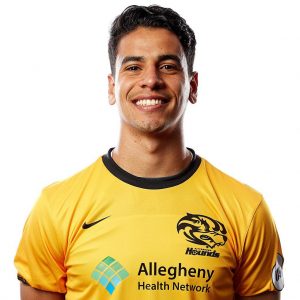 As a little kid in São Paulo, Brazil, his hometown, Souto took quickly to football, Brazil's most popular sport. His father and brother got him familiar with the sport and when Souto was seven years old, he joined the Corinthians Academy, where he remained for 12 years. At Corinthians, he played both football and futsal (which is sort of similar but is played on a smaller hard court), but he stopped playing futsal at 14 to focus on football.
"Football in Brazil is very competitive," Souto said. "Kids start making money early. We needed to mature very quickly because the pressure was on us 24/7 and we were treated like professional players even though we were still in the Academy.
"In Brazil, football is a way to a good and successful life."
But as much as Brazil is a part of him, the next phase of his journey took him to the United States — more specifically to Middle America, Ohio — when he elected to go to college at the University of Akron.
Souto decided to attend Akron because he wanted to go to a good school in the U.S. with strong academics and an excellent football program, both of which the University of Akron has. Souto met Jared Embick, the head coach of the Akron Zips men's soccer program, when Souto attended a showcase in Florida in 2012. Embick offered Souto a full scholarship to Akron, a day Souto considers to be one of the "best days of my life."
"In Brazil, football is a way to a good and successful life."
However, moving from south of the equator wasn't easy. There were times when he struggled. He didn't know any English when he went to school, but he "liked the way the language sounded."
"When I watched American movies growing up in Brazil, I'd mock the actors even though I didn't know what they were saying… When I came to America, I could kind of understand what people were saying to me, but it was a struggle to speak the language, write papers and to get assignments done."
But Souto wasn't alone. He had the support of his coaches at Akron, his teammates and even his family, who were all the way back in Brazil.
"My family is everything, and I put them before myself in life," Souto said. "However, I had to make the toughest decision of my life in leaving them back in Brazil to live the American Dream, to make something special and remarkable in life. When I explained that to them, the 'goodbye' wasn't as tough. My brother, dad and mom now have a son/brother (who) graduated from the University of Akron in business administration and professional selling with Summa Cum Laude recognitions. They are so proud of me."
Souto was relatively successful at Akron, starting all of his 66 caps. He finished his collegiate career with nine goals and three assists, and was named to the First Team All-MAC in 2013, Second Team All-Mac in 2014, First Team All-Ohio in 2014 and MAC All-Tournament Team in 2015.
"I had to make the toughest decision of my life in leaving (my family) back in Brazil to live the American Dream, to make something special and remarkable in life."
Despite a small setback in his senior season — he was dismissed from the team for an unspecified rules violation — Souto only looks at his time at Akron with positivity and gratefulness.
"I went to Akron when I was 20, which is very old for a freshman, but I used that as an advantage to do well since my first year in college," Souto said. "Even my freshman year I was one of the oldest on the team, which helped me. I had to adapt my game to the college game in America, which was more physical and faster paced than it was in Brazil, where teams are more technical and study each other more and players are a little bit more technical and creative.
One of his college highlights came when the Zips went to Brazil to play against some of the top clubs in the country. Souto's family came and got to see him play football in his home country.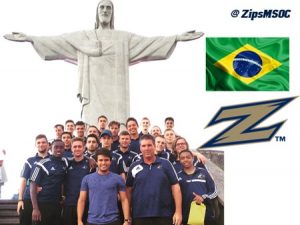 "I will never forget that trip, that year, that experience," Souto said.
Now, Souto's journey has taken him to Pittsburgh, where he recently finished up a rigorous pre-season under Riverhounds head coach Dave Brandt.
"We have a great relationship, I would like to think so," Souto said of Brandt. "He is a very intense coach that pushes us over the limit both physically and mentally, and I like that a lot. He is very knowledgeable about the game, which is helping me to become a better player. But the most interesting thing about him is that he wants us to become better men in life. I have never heard anything like that from a football coach."
This season, Brandt revamped the Riverhounds' roster, keeping only 11 players who wore the jersey last season. Souto says the team's chemistry is building, and they're ready for the season to begin.
"I don't want to be a suck up, but I like everyone so far," Souto said. "We hang out off the field, and Coach Brandt has organized events for the team to build chemistry off the pitch. So far it's been good, the older guys are helping the younger ones like me, and the team benefits from that. Everyone is working hard to get better every day through snow, rain and rain. We are becoming a strong team through the struggle."
The start of the season begins Saturday, March 25, against the New York Red Bulls II (the defending USL champions), and Souto said he's ready for whenever he's called.
"It is a dream coming true," Souto said. "I have worked so hard throughout my life to be where I am now. I am very excited and focused to do right things and to help my teammates to win the game."