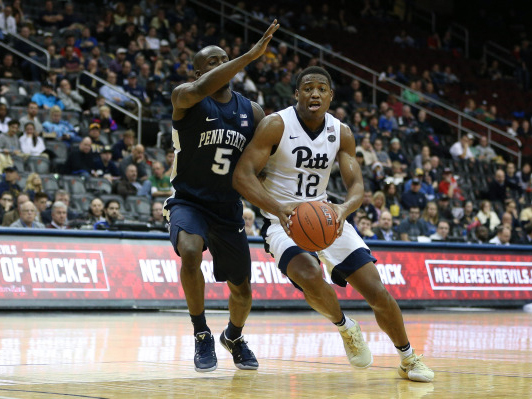 The University of Pittsburgh and Penn State University have always had a rivalry. In academics, in athletics, on the football field (see: earlier this year) — and on the basketball court.
The Pitt Panthers and Penn State Nittany Lions met on the court Saturday night, and it was the Panthers that earned the win by a 81-73 final score. Pitt was led in scoring by senior Michael Young, who scored 29 points. Every Panthers player put up at least a single point, with other double digit points coming from Jamel Artis (16) and Cameron Johnson (10).
The Panthers were led in rebounds by Sheldon Jeter, who grabbed 10 rebounds. Artis led the team in assists (5), while Chris Jones led the team in steals (2).
After the game, head coach Kevin Stallings praised his team's performance, especially in the first half.
"We were pretty spectacular in the first half," Stallings said. "We have to build on those positives. That looked like a lot of our games to me so far this year. Really good play on both ends in the first half. Second half, offensive play was probably good enough. Defensive play was not very good."
The Nittany Lions relished the opportunity to play against the Panthers, as head coach Pat Chambers said.
"What an awesome event," Chambers said. "Incredible day for our program to be on this stage with these great teams, players and coaches. (It was) a tale of two halves. Not sure where we were in the first half. Maybe the bus was late. But we showed up in the second half and competed like a Penn State basketball game."
The Nittany Lions were led in points by forward Mike Watkins, who scored 17 points. Tony Carr and Payton Banks both scored 13 points, while Shep Garner put up 12 points. Watkins also led the team in rebounds, with 15. Lamar Stevens led the Nittany Lions in assists (4), and Josh Reaves recorded three steals to lead the team.
What's Next?
The Panthers (8-2) will host the Rice University Owls (6-2) at the Petersen Events Center on Saturday, Dec. 17. Tip-off is scheduled for 7 p.m. EST.