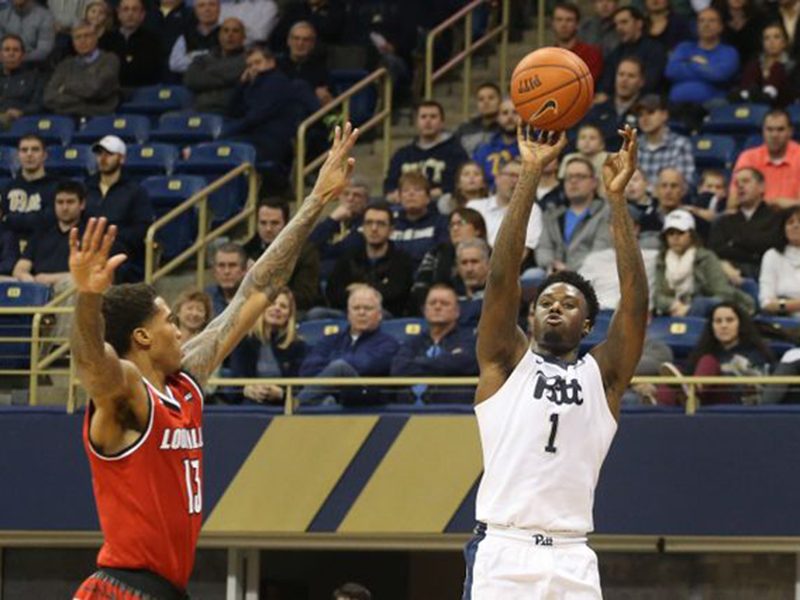 Panthers forward Jamel Artis scored a team-high 16 points in the Panthers' loss. (Photo by: Charles LeClaire/USA TODAY Sports)
The Pitt Panthers are still riding the losing-streak train.
The Panthers dropped their sixth-straight game against Clemson on Saturday at the Petersen Events Center by a final score of 67-60. And this despite the fact that Pitt led Clemson 36-31 at the end of the first half.
Granted, the loss wasn't as bad as the Panthers' most recent loss (an embarrassing 106-51 defeat at the hands of the University of Louisville Cardinals), but a loss is still a loss for Pitt head coach Kevin Stallings.
"We are disappointed, obviously," Stallings said after the game. "I think we competed a lot harder and smarter today than we have in previous games. The start of the second half was really our undoing. We are the type of team that can't have a bad three- or four-minute stretch. We don't have that margin for error. We didn't play well enough to win, but we certainly played a lot harder."
Sophomore guard Cameron Johnson and senior guard Jamel Artis led the team in points, scoring 16 points each. Forward Michael Young, a senior, followed close behind with 14 points. Young and Sheldon Jeter, another senior forward, tied with eight rebounds to lead the team. Jeter also led the team in assists, contributing four.
On Pitt's bench, only redshirt junior guard Jonathan Milligan contributed points, scoring six. And only Milligan and freshman guard Justice Kithcart had any rebounds by a player coming off the bench, with Kithcart contributing three boards and Milligan grabbing one.
After the game, Artis noted that while the team didn't get the win, the Panthers were aggressive.
"Our mindset going in was to win," Artis said. "We wanted to be the aggressor. I thought we were aggressive in the first half, but, in the second half, we let them come back and win. They got some stops on us. Overall, our mindset was to come in today and win — and we didn't."
Clemson was led by senior Jaron Blossomgame's 25 points. Only one Tiger failed to score (junior Legend Robertin). Donte Grantham, who finished with six points, led the team in rebounds with eight, while sophomore Shelton Mitchell, who finished with 12 points, led the team with six assists.
"Today I thought we got good production from a bunch of different players, certainly our best player Jaron Blossomgame," said Clemson head coach Brad Brownell. "He showed why he is one of the best in our league. Defensively, we made strides. We are very pleased to come away with a road win against a very well-coached team."
What's Next?
The Panthers (12-9) will hope to stop their skid when they travel down south to face the University of North Carolina Tar Heels (19-4) at the Dean E. Smith Center on Tuesday. Tip-off is scheduled for 7 p.m. EST, and the game will be broadcast on ESPN2.