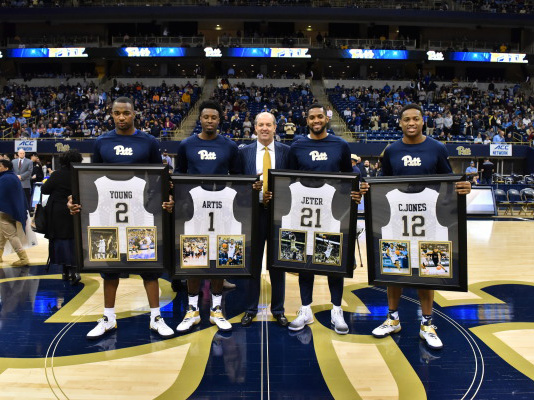 After losing Wednesday, the Pittsburgh Panthers men's basketball team has now made it two losses in a row after falling to the No. 8 University of North Carolina Tar Heels, 85-67, on Saturday.
After the game, head coach Kevin Stallings lamented the loss, while also providing his sympathies to the team's seniors, who were honored before the game.
"It's disappointing, obviously," Stallings said. "I feel bad for our seniors. I certainly didn't want them to go out in this fashion. They've meant a lot to this program and have accomplished a lot, both individually and as a group. I feel badly for them, that we couldn't put together a better game today to make this a bit more competitive."
Michael Young, one of four Pitt seniors recognized (the others were Jamel Artis, Chris Jones and Sheldon Jeter), expressed his disappointment about losing on senior recognition day.
"Obviously we would have liked to come out with a win, and it's very disappointing," Young said. "We thought we had a good chance to win, but we didn't go out and play as hard as we could have. I think we learned how important the defensive side and rebounding are to winning a game."
The Panthers were led in scoring by Artis and Young, who each had 17 points. Jones was the only other member of Pitt to scored double-digit points (10). Young and Rozelle Nix led the team in rebounds, both grabbing eight. Artis led the team in assists with five.
On the Tar Heels, junior Justin Jackson led the team in points with 23. Double-digit scorers included Joel Berry II (19 points), Kennedy Meeks (18) and Tony Bradley (10). Meeks led the team in rebounds with 10, while Theo Pinson led the team in assists with seven.
After the game, head coach Roy Williams was pleased about the win, but he also badgered his team for its fouling on defense.
"We're very pleased to get the win," Williams said. "On the inside game, we wanted to get the ball in the lane area by dribble or pass, and we scored 42 points in the paint. We wanted to try to do a better job of guarding (Pitt) at the three-point line than we did at our place. They had 13 threes there, and today they only had seven. Seven out of 24. One of the other goals that we set was to try to play defense without fouling. We didn't do that very well."
Pitt is currently fighting for a March Madness tournament bid. However, with its 15-14 record, the tournament certainly doesn't look likely.
What's Next?
The Panthers will travel down south to face Georgia Tech University (16-12) at the McCamish Pavilion in Atlanta on Tuesday. Tip off is scheduled for 9 p.m. EST.