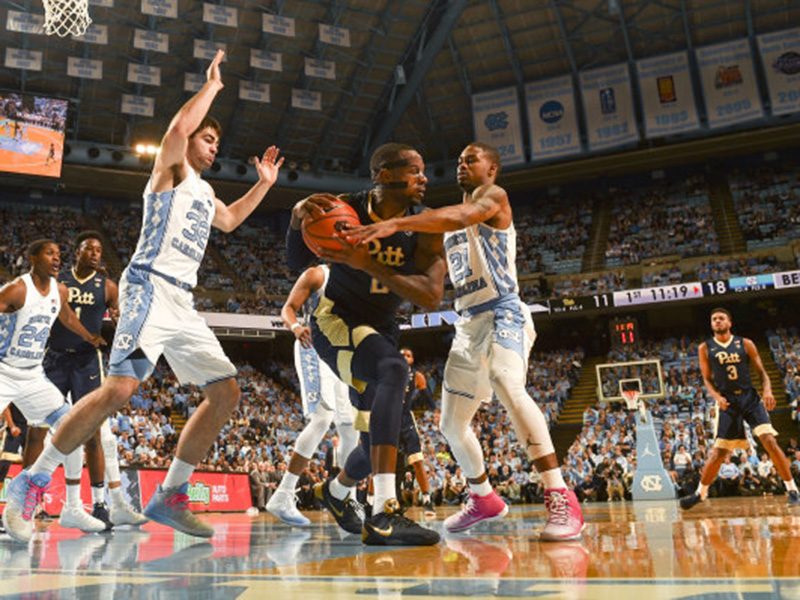 Forward Michael Young (2) led Pitt in rebounds and added 19 points in the Panthers' loss. (Photo by: Bob Donnan/USA TODAY Sports)
The Pitt Panthers are keeping their basketball games close, but it's not enough for the win column.
The Pitt men's basketball team (12-10) was narrowly defeated by the No. 12 University of North Carolina Tar Heels (20-4) on Tuesday night, 80-78, as Panthers senior forward Jamel Artis missed the go-ahead 3-pointer with time expiring.
This loss is Pitt's seventh in a row.
"I'm really disappointed for my guys," head coach Kevin Stallings said after the game. "I thought that, under the circumstances, they gave a terrific effort, and I was really proud of how they competed and proud of how we hung in there in the second half and how we got the game closed."
In a positive outlook, the Panthers did outscore the Tar Heels in the second half, putting up 42 points to the Tar Heels' 38 points. However, the Tar Heels outscored the Panthers in the first half 42-36.
Pitt outscored UNC in the second half, putting up 42 points to the Tar Heels' 38 points. However, the Panthers were outscored in the first half, 42-36.
Redshirt sophomore guard Cameron Johnson led Pitt in scoring with 24 points to tie his career-high for points in a single game.
Johnson was followed closely on the stat sheet by senior forward Michael Young, who had 19 points, while Artis scored 17 points and redshirt senior Chris Jones scored 12 points to round off Pitt's double-digit scoring. Young also led the team in rebounds, grabbing 10 boards, while Artis led the team with five assists.
On the bench, freshman guard Justice Kithcart was the lone player without points. Redshirt junior center Rozelle Nix and sophomore guard Damon Wilson, who combined for 26 minutes off the bench, scored two points each.
"It would have been a lot better, obviously,  if we could have won the game, but I think that we've had some bad performances, and we've had some unfortunate things happen to us," Stallings said. "I'm hopeful that (the players) can derive some confidence. As I told them after the game, 'Let's not take any comfort in the fact that we played well and almost this and almost that. We lost, and, until you win, you lose.'"
UNC junior Justin Jackson led the team with 20 points. Also scoring double-digit points were junior guard Joel Berry II (19 points), senior forward Isaiah Hicks (18) and senior forward Kennedy Meeks (10). Coming off the bench, freshman guards Brandon Robinson and Seventh Woods didn't score.
The Tar Heels were led in rebounds by Hicks, who grabbed eight rebounds. Jackson and Berry II both led the team in assists with three each. Meeks, who stands tall at six-feet-10-inches, had three blocks.
After the game, Tar Heels head coach Roy Williams complemented the Panthers' effort and focus.
"They really shot the ball well, they played well," Williams said. "If Kevin (Stallings) gets that kind of concentration and that kind of effort and that kind of focus, they are going to have a nice run. They have had some close games, and then they've had two blowouts.
"They were really a good team tonight."
What's Next?
Pitt (12-10) will face the Duke Blue Devils (17-5) at the Cameron Indoor Stadium in North Carolina on Saturday. Tip-off is scheduled for 1 p.m. EST, and the game will be broadcast on CBS.