In the Metropolitan Division, the four teams currently ranked in the top four– the New York Islanders, New York Rangers, Pittsburgh Penguins and Washington Capitals – are very likely going to make the playoffs.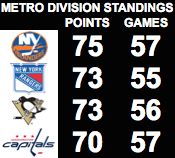 The fourth-place Capitals hold a 12-point lead over fifth-pace Philadelphia and a 10-point lead over the Florida Panthers for a wild-card spot.
The four Metropolitan opponents will spend the next month and a half jockeying for position in order to see who will be first-round opponents in the Stanley Cup Playoffs. That makes games against divisional foes loom especially large in the race for first place.
The Penguins have struggled mightily against the division in general (7-9-4) and more specifically, against the group of teams vying for playoff position (2-6-2). Included in those figures are a 0-2 record against tonight's opponent, the Washington Capitals.
Not only haven't the Penguins beaten the Capitals this season, they haven't scored a goal against them, with two shutout losses, the first of which was by a 3-0 margin at home on December 27.
"The first time we played them, looking back on that, I was surprised how many players we had from (Wilkes-Barre) in the lineup," said Penguins head coach Mike Johnston. "I thought that was a little bit of a factor, and then they got a 1-0 lead and held onto it into the third period."
The second game, a 4-0 loss in Washington on January 28, had a much more decisive feel, with the Capitals outshooting the Penguins by a large margin.
"I thought in Washington, they really jumped on us quick," Johnston said. "That's the most important thing tonight: how we play as a team against Washington. It has to be better than we played in previous two games."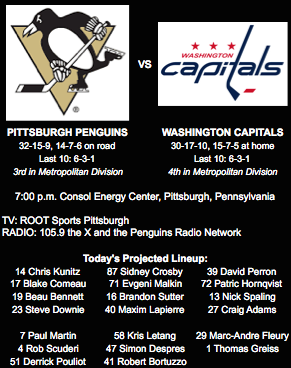 TONIGHT'S OPPONENT: The Capitals are lead by first-year head coach Barry Trotz. Trotz was the longtime head coach of the Nashville Predators before coming to Washington last offseason. He had a 9-8-2 record against the Penguins in his 15 seasons in Nashville.
Atop the NHL's goal-scoring leader board is a familiar face: the gap-toothed mug of Washington Capitals superstar Alexander Ovechkin. His 36 goals in 57 games has him one ahead of the New York Rangers' Rick Nash in the lead for the Rocket Richard Trophy. That's a familiar spot for Ovechkin, who was won the award four times since joining the league in 2005 and is attempting to be the first player ever to win it in three consecutive seasons since the award was introduced in 1998.
Feeding Ovechkin the puck – and leading the league in assists – is center Nicklas Backstrom. The Swedish center has 43 assists, one more than Philadelphia's Jakub Voracek.
While the duo does play together at even strength, much of their offensive prowess is featured on the Capitals' fourth-ranked power play. Washington is scoring at a 23.5% clip with a man advantage on the season. Ovechkin leads all NHL players with 16 power-play goals and Backstrom is fifth with 23 points on the power play. Their loaded top unit will be a steep challenge for Penguins penalty killers.
MEN IN MASKS: Marc-Andre Fleury will get the start in goal for the Penguins. In his career against Washington, he is 16-9-2 (3 shutouts) with a .916 save percentage and a 2.50 goals-against average.
Fleury is still on pace for career-best marks in save percentage (.924) and goals-against average (2.19) in addition to leading the league with eight shutouts.
Braden Holtby will be in goal for the Capitals. Holtby hasn't allowed a goal against the Penguins in 132:44 of ice time, which dates back to November of 2013. Prior to his current two-game winning streak, he had lost all four career starts against the Penguins.
On the season he has played an NHL-leading 48 games and 2812 minutes for the Caps, while piling up six shutouts. He also has a .923 save percentage and a 2.20 goals-against average.
THE 4077: Defenseman Christian Ehrhoff (concussion) is still working his way back into the lineup. He took the team's game-day skate this morning, but will not play tonight.
"We'll see (on Wednesday); we'll have a full practice," said Johnston. "We'll get a chance to see if the trainers and doctors let him partake in a full practice."
MINOR MATTERS: The Wilkes-Barre/Scranton Penguins (28-18-6, 2nd in AHL East) released Mount Lebanon, Pennsylvania native Tyler Murovich from his AHL contract last Thursday. Murovich had spent all of the season with the Wheeling Nailers (22-23, 5th in ECHL North), scoring four goals and six assists in 39 games.
On Sunday, Murovich signed with the Orlando Solar Bears, also of the ECHL. Murovich had played most of his 2013-14 season in Orlando.
The Nailers game scheduled for Monday against the Elmira Jackals was re-scheduled due to weather concerns. The game will be made up on Tuesday, March 3 at 7:05 p.m. at WesBanco Arena.
#CAWLIDGEHAWKEY: The USCHO.com polls were released on Monday, and Robert Morris (20-5-5, 1st in AHC) remains nationally ranking, dropping one spot from 18th to 19th over their off week. Penn State (15-9-4, 3rd in Big Ten) dropped out of the top 20 after being swept by Michigan State last weekend. The Nittany Lions are currently second amongst others receiving votes.
The Lions also took a big hit in the PairWise Rankings, which are used to determine the at-large bids in the 16-team NCAA tournament field. Penn State had been ranked as high as 20th, but has fallen into a tie with Robert Morris at 24th.
When Penn State returns to action on Friday against Minnesota, they will be without the services of junior alternate captain David Glen, who was suspended for one game by the Big Ten for a butt-ending incident in last Saturday's game against the Spartans. No penalty was called on the play.